An increasing number of employers are requiring job applicants to be fully vaccinated, as the majority of Australians support workplace vaccination mandates for COVID-19, a survey found.
Melbourne Institute's latest Taking the Pulse of the Nation survey (pdf) reported that 70 percent of Australians were either strongly or somewhat in favour of a vaccine mandate for employees, while around 15 percent expressed opposition.
"There is quite high support among employees for their own employers to mandate vaccination and, perhaps more importantly, few employees are strongly opposed to such a mandate," the report author Professor Roger Wilkins said. "Government or employer vaccine mandates are therefore likely to be reasonably popular, effective and involve minimal loss of workers."
Fewer female employees (two-thirds) were supportive of mandates compared to male employees (three-quarters). But the report said this was because more women were neutral towards mandates rather than opposed.
People in New South Wales and Victoria had higher support for employer vaccine mandates compared to South Australia and Western Australia. The report said it showed a strong correlation between community transmission and support for mandates.
It also noted that while there was strong support for employee vaccine mandates, there was still a significant portion of employees that were either neutral or not supportive.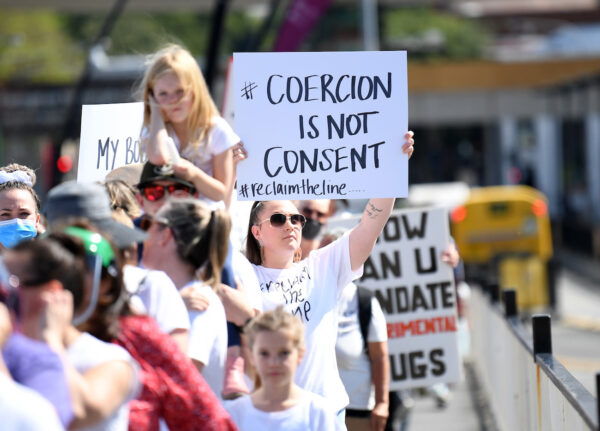 Its September results showed that the industry that showed the strongest support for the mandates was information media and telecommunications, with 85 percent in favour and 7 percent opposed.
The wholesale trade, transport, postal, and warehousing industry showed the least support, with 62 percent indicating support and 26 percent opposed. The education and training industry had the next largest group that opposed mandates, at 25 percent.
"Indeed, considerably more employees are willing to be vaccinated than are supportive of worker mandates," Wilkins said. "Universal mandates on all workers may therefore not be viewed as appropriate."
Data released in September by data analytics firm Purpose Bureau (pdf) revealed there was a surge in job ads that required applicants to be fully vaccinated, most of which was for health care industry positions.
In May, there were 15 job ads requiring COVID-19 vaccinations per 10,000 job ads, which jumped to 203 in September.
"These numbers show an undercurrent of momentum in workplace vaccine requirements which the focus on large corporations isn't capturing," Purpose Bureau CEO Nick Kamper said. "There are a lot of government agencies but there are also plenty of smaller companies, such as removalists or landscape companies, which make sense as there occupations with a lot of mobility in the workday."