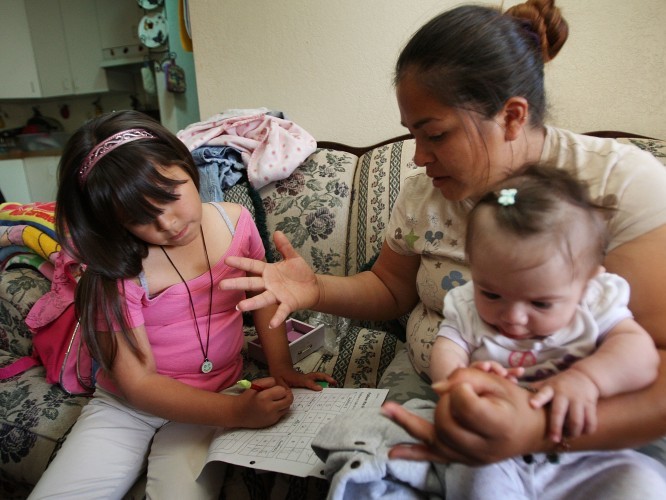 Unmarried women give birth far more often today than they did 40 years ago. It's not teens but adults in their 20s and 30s who are contributing to this increase the most. The structure of the American family is changing too, as an increasing percentage of women who give birth out of wedlock live with the father of the baby.
These findings are from "Child Trends Research Brief," published in November 2011, which draws upon data from the National Vital Statistics Reports and National Center for Education Statistics in the Department of Education. Child Trends is a nonprofit, nonpartisan research center that studies children.
Overall, the percentage of all births to unmarried women rose steadily from 1 out of 10 in 1970 (11 percent) to 4 out of 10 (41 percent) in 2009. The report says that preliminary information indicates that the data is stable and the percentage in 2010 will be about the same as in 2009.
The common perception that unwed teens are having most of these babies is wrong. In 1970, teen girls accounted for nearly half of all nonmarital births (49 percent), but by 2009, they accounted for only one out of five (21 percent). Women in their 20s are responsible for the majority of nonmarital births (62 percent).
Unwed births have increased a great deal for slightly older mothers. In 1970, women 25 and older accounted for only 18 percent of all nonmarital births. By 2009, they accounted for 41 percent.
Within age categories, the proportion of nonmarital births out of all births has been skyrocketing. Nonmarital births to teens grew from 30 percent in 1970 to a whopping 87 percent in 2009. The age category 20–24 also shows a dramatic increase of nonmarital births, from 9 percent in 1970 to 62 percent in 2009. For ages 25–29, the increase of nonmarital births rose during the period 1970–2009 from 4 percent to 34 percent.
Assuming birth rates are similar for women 20–29, and combining the teen data with the 20s data, it appears that today, the majority of births for women under 30 are nonmarital.
Deterioration of the American Family
Historically, black women had higher rates of nonmarital births. The late New York senator, sociologist, and diplomat Daniel Patrick Moynihan caused a stir when he wrote the Moynihan Report in 1965 in which he said the "fundamental source of the weakness of the Negro community" lies in the "deterioration of the Negro family." In the 1960s, the accepted term for this minority was Negro. It was later replaced by black or African-American. Dr. Moynihan called attention to the fact that nearly a quarter of the births by black women were nonmarital.
"The white rate was 2 percent in 1940; it was 3.07 percent in 1963. In that period, the [black] rate went from 16.8 percent to 23.6 percent," he wrote.
Moynihan died in 2003. If he were alive today, he would be alarmed that the high percentage of nonmarital births in the black community has spread to the white and Hispanic communities. According to the "Child Trends Research Brief," 29 percent of births to white women are outside of marriage. This was an increase from 17 percent in 1990.
Thus, there is now an even higher rate of unmarried births by white women than Moynihan found in 1965 for black women.
For Hispanic women, unmarried birth rates rose from 37 percent in 1990, to a majority, 53 percent, in 2009. For black women the increase is not as dramatic as for white or Hispanic, but the rate was already very high. In 1990, 67 percent of births to black women were outside of marriage. In 2009, nearly three-fourths (73 percent) of births for black women were outside of marriage.
Moynihan's thesis in the 1960s, attributing the breakdown of the black family as the source of other social problems, such as poor socialization of youth, is now widely accepted by social scientists.
Cohabitation Replacing Marriage?
More statistics round out a new picture of the American family.
Contrary to common perceptions, fewer than half of all nonmarital births are firstborns. In 2009, the majority, 59 percent, was second or higher order births. For example, in the older 20s age category (25–29), three-fourths of births to unmarried women were higher order births.
According to the study, formal marriage may be losing its appeal, and cohabitation replacing it. A child born to an unmarried woman is more likely now to be born into a family with two unmarried parents.
According to the brief, in 2001, 52 percent of all births outside of marriage occurred in a family of cohabitating adults, compared to 38 percent in the early 1990s. The cohabitating relationship varies greatly by race and ethnic group. Only 30 percent of black couples are cohabiting when their child is born.
It is well to bear in mind that the increasing number of births outside of marriage cannot be understood without also taking into account the effects of poverty and education, which are not analyzed in this study.