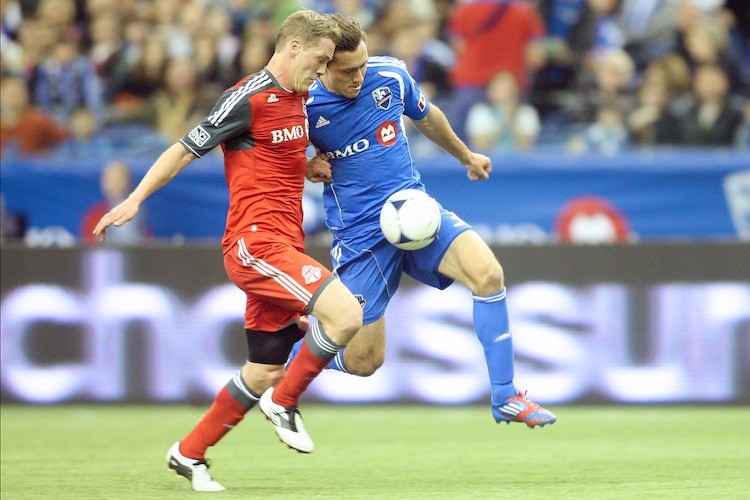 MONTREAL—It was a historic day of firsts for the Montreal Impact, Major League Soccer's newest franchise. After having taken just one point from five games to start their inaugural season, the Impact came up with a well-deserved 2–1 victory over fellow Canadian side Toronto FC.
With the Montreal Impact and Toronto FC emulating the poor form of their NHL counterparts the Canadiens and the Maple Leafs, the stage was set for one of the two strugglers to take charge—and Montreal did just that.
The Impact's top draft pick Andrew Wenger got the first goal of his MLS career in the second half after another new face, Sinisa Ubiparipovic, put Montreal ahead 1–0 in the first half.
Danny Koevermans got a late consolation goal for a disappointed Toronto FC, which has lost all four of its MLS games to start the season.
The artificial turf at Olympic Stadium hurt the quality of the play, as players were somewhat unsure of their footing throughout the game. With the multiple seams created from rectangular pieces of turf, the ball bounced a lot more across the surface as opposed to rolling nicely.
The Impact took control of the match when midfielder Lamar Neagle dispossessed TFC's Canadian midfielder Terry Dunfield easily and fed a pass to Ubiparipovic. The man from Bosnia and Herzegovina side-footed a shot past Milos Kocic.
Defensive mistakes have undone TFC this year and while this one was not the fault of the defenders, Dunfield's defensive effectiveness as a midfielder has to be questioned after that play.
In the 36th minute, Koevermans fired a point-blank header, which was saved by Donovan Ricketts, after a nice combination between Joao Plata and Dunfield. Toronto FC's attack depended heavily on the big Dutchman scoring late last season, but so far this year, he hasn't been able to find that rich form.
At the end of the first half, the Impact was clearly the stronger side although the score could've easily been tied 1–1. One critical defensive error had undone Toronto FC.
Second Half
Toronto FC got off to a better start in the second half, meaning play was more balanced, but after Logan Emory was sent off for a foul on the speedy Sanna Nyassi, it was never going to be easy to win the game.
Despite being down to 10 men, TFC produced more quality attacking chances. Koevermans couldn't get his left-footer into a tight angle with Ricketts in no-man's land and then a cross from Nick Soolsma had to be cleared off the line.
The feel-good story for Montreal continued when Wenger, who had come on for Italian Bernardo Corradi, went one-on-one with TFC's Ty Harden.
Harden was always going to come out second best against the former collegiate star, and Wenger put the Impact up 2–0 in the 81st minute.
"Good to just get it out of the way, always nice to get the monkey off the back," said Wenger after game about his first goal. "It's great to win. The locker room's much different. We finally put together a full game."
"It's a big moment and a big win for the club," said Impact head coach Jesse Marsch. But Marsch also cautioned, "The reality is that the work's just getting started."
"I wanted them to feel validation for all the positive energy they've given for the club and all the commitment. We fought hard to get to one win but now we've got to continue to push ourselves to become a really good team," said Marsch about his hard working and positive squad.
Marsch had plenty of praise for his young star Wenger saying, "We seriously considered starting him today.
"We saw some really great things in him. He's a good kid. He works hard. From the start, we knew we were getting a good player."
Meanwhile, the frustration mounts for winless Toronto FC after their Champions League exit on Wednesday.
"I think it's a case of getting back to the training field and starting again really," said defender Richard Eckersley.
"It's a pride thing, knowing that we're just giving teams goals. It's pride and it's responsibility and it's something we have to deal with ourselves," said Emory.
Montreal and Toronto can now look forward to a week off before their next game after a busy period, especially for Toronto FC. But that week off will feel a lot better for the team in blue, the Montreal Impact who now have their tails up.

Follow Rahul on Twitter @RV_ETSports