Montreal Canadiens Fire Head Coach Jacques Martin
December 17, 2011 6:01 pm Last Updated: October 1, 2015 3:00 pm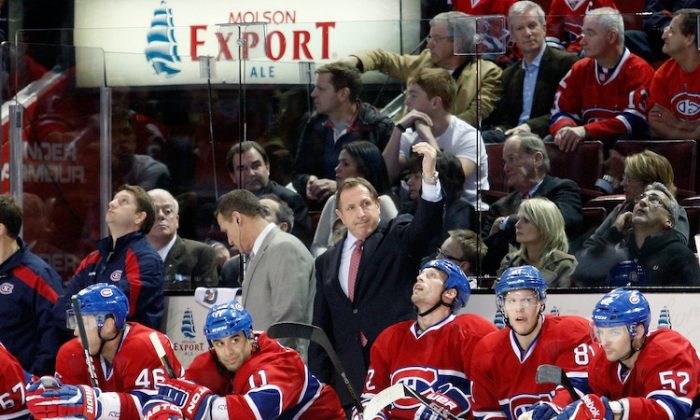 Early Saturday morning, the Montreal Canadiens fired veteran head coach Jacques Martin. For some time, it was felt that Martin had to go after the disappointing start the Habs had gone through and the inconsistency in their performances night after night.
Randy Cunneyworth, 50, was named interim head coach until the end of the season. He had been one of the assistant coach under Martin with Montreal and brings eight years of head coaching experience from the AHL.
"It's a wake up call for our team," said defenseman Hal Gill in an interview with TSN. "We realize it's a business. We got to do our job."
As Montreal general manager Pierre Gauthier put it, the Canadiens were "not measuring up to expectations."
"The last few weeks, we didn't really know what was coming out of the box every night," said Gauthier. Gauthier's comments speak to the lack of consistency in Montreal's play and not having a Jacques Martin team play like a Jacques Martin team.
Martin was well-known for having his system and achieving success by players buying into it and following it to the letter. Lately, that hadn't happened as Montreal found themselves unable to hold onto third period leads and having a woeful 5–6–6 home record prior to facing New Jersey Saturday night.
A Jacques Martin team is expected to be predictable in terms of how it approaches playing a hockey game, but that hadn't been the case recently.
According to RDS, players found out the news at 9:30 a.m. Saturday morning. Martin was apparently fired around 7:00 a.m. Saturday morning.
"It's disappointing. Took everyone by surprise this morning when we came in," said Montreal winger Erik Cole.
To Martin's defense, he had been deprived of his top defenseman Andrei Markov who has been battling a serious long-term knee injury. Furthermore, veterans Mike Cammalleri and Tomas Plekanec have been underachieving, while the highly paid Scott Gomez has missed most of the season through injury.
In 196 regular season games as Canadiens head coach, Martin compiled a 96–75–25 record. He'll be most favorably remembered for taking the Habs to the Eastern Conference finals after pulling off upsets of the Washington Capitals and Pittsburgh Penguins in his first season as head coach.
Cunneyworth captained the Ottawa Senators with Martin as head coach and was a highly competitive player. As a coach, he believes very strongly in getting his points across with the use of video equipment. He aims to model his coaching style after his playing style. "Hopefully, I'll coach very hard," said Cunneyworth.
Cunneyworth becomes the first English-only speaking head coach for the Canadiens since Al MacNeil in the early 70s. He will be under some pressure to make strides toward improving his French and he appears to be very open to the idea.
Gauthier has also designated French-speaking Larry Carriere as an assistant coach. Carriere was the assistant general manager under Gauthier and has no prior coaching experience.
Follow Rahul on Twitter @RV_ETSports