Tali Orad, 39, never thought she would start her own company. It was motherly instinct that motivated her to find a solution to her biggest challenge: getting her children to turn off their devices once in awhile.
She was fed up with beeping at dinnertime and staring at the "top of their heads." And she didn't want to have to fight with them to do their homework. "Sometimes I just want to have a conversation with them," she said in a recent telephone interview.
Her invention, Screen, is a groundbreaking technology that allows parents to manage all devices in the home from an app on their phones. That means powering down smartphones, iPads, Kindles, iPhones, androids, PCs, Xbox, PlayStation, Roku, Chromecast, Kano (a computer and coding kit for children), Apple TV, and TVs—anytime, and from anywhere mom or dad chooses.
Now Screen manages it, and I don't need to worry about it.
, Screen
Orad said she had tried every combination of options on the market for parental control, and nothing worked. There was no one-stop solution to manage everything, she said.
As a software developer by profession, she said she was able to envision how a real solution would work. After assembling a team of engineers, it took about a year to get a prototype.

Screen comes with a hardware box that hooks up to the TV, set-top box, and game systems, an app for parental administrators, and an app for the children. The hardware and software system works together seamlessly, and can accommodate an unlimited number of devices.
"Now Screen manages it, and I don't need to worry about it," said Orad. And, perhaps the best thing for frazzled parents: Beta testing of the product has shown that Screen reduces arguments over screen use by taking the parent out of the equation. Now that is a smart technology.
The New York-based startup, incorporated as LimitScreen Inc., recently secured a $1.9 million seed equity investment led by Lerer Hippeau Ventures, with Collaborative Fund, Advancit Capital, Novel TMT Ventures, Box Group, Maveron Capital, and angel investor Peter Hershberger, according to Crunchbase.
Orad said every potential investor who was a parent immediately got the problem, and the solution, and this made securing the funding easier. Her husband, Amir Orad, co-founded the company with her.
Both husband and wife have been entrepreneurs before.
Tali Orad worked for seven years founding the tax-exempt, nonprofit B.E.CPR, promoting infant and child CPR. Amir Orad is known as an industry pioneer and thought leader in the application of big data and analytics in the FinTech and cybersecurity domains. He is currently the CEO of Sisense, a fast-growing business analytics company.
The investment will fund Screen's manufacturing, which will be done in China, and help bring the product to market. The company is taking preorders now at www.getscreen.com for delivery midyear.
Bringing Screen Into the Home
It has been a few months that Tali Orad has been testing the current beta version of Screen with her own children of 6, 9, and 12 years. How's it going?
"The kids tried to sabotage it by unplugging and uninstalling the app," she said matter-of-factly. Orad saw what happened immediately via a notification on her app.
Screen is a tool that families may use to take back control from the encroachment of their devices.

"They will be resistant," but that provides the opportunity for parenting, she explained, likening the implementation of Screen in the home to introducing better-for-you foods, such as whole wheat bread.
Screen is a tool that families may use to take back control from the encroachment of their devices. Research shows that tweens (ages 8–12) use screens for an average of 4:36 hours a day; teens (ages 13–18) are watching screens for 6:40 hours a day, not including just listening to music and school-related media activities, according to the nonprofit advocate for children and families, Common Sense Media.
The Common Sense Census: A Day in Teens' Digital Lives
When Orad's children resisted Screen, her response was to say, "I know you don't like this, but this is why we do it." Or, it may be time to reconsider the rules that decide when screens are on or off, she said.
When a family welcomes Screen into their home, the first thing that is recommended is to get everyone together to discuss, and agree on rules for screen use. The device comes with defaults, but customization is easy to do, and in the future, a recommender system could make choosing even easier.
Two of the most obvious choices are all screens off over dinner hour, and screens off at bedtime. Rules can also set limits on video game playing and TV watching, and allow for homework on the laptop.
Once the rules are agreed upon, everyone signs, and a family contract is made. 
About homework—just in case—parents can check in by using the app and to see exactly what their child is doing on the computer. This is important, since at least half the teenagers surveyed by Common Sense said they often or sometimes watch TV (51 percent), use social networking (50 percent), text (60 percent) and listen to music (76 percent) while doing homework.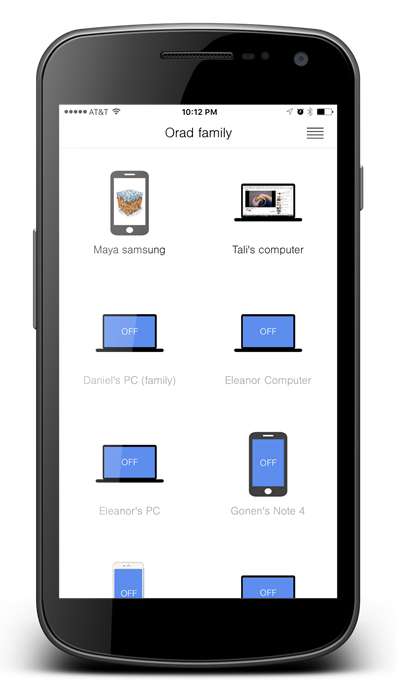 Educating the Child
Orad was strategic in the way she wanted Screen to work. "There is hidden, added value," she said. Moving forward, she intends for Screen to be a thought leader in the market (if it isn't already).
It was important for Orad that Screen not be about parents being the police.
Rather, the technology is designed to teach children skills such as time management and negotiation, and to remind young people that there are other fun things to do that don't involve a screen.
One of the biggest problems with children staring at a black screen is that they will say they are bored.
Orad and her team reached out for advice to a child neurologist, a child psychotherapist, and Andrea Bastini Archibald, a developmental psychologist who is known for her work with the Girl Scouts.
They wanted to make sure that Screen would not be damaging to the child's development, and of course they wanted to optimize how it worked.
One of the biggest problems with children staring at a black screen is that they will say they are bored, that there is nothing to do, said Orad.
To solve this problem, Screen pops up a customizable message with activities for the child, such as play with LEGO, run outside, or read a book.
Screen also comes with multiple warnings before the screen turns off, so the child can log out of their online activity, and they have time to mentally prepare. The advisers recommended making the numbers visual and child friendly.
Less Screen Time, Better Health
Screen can help families guard against some of the potential ill health effects from too much screen time.
Researchers at Harvard Medical School have discovered that the blue light screens emanate can suppress the natural secretion of melatonin by the body, which the body normally produces after the sun goes down.
Looking at screens late at night has been correlated with a greater risk of some cancers, diabetes, heart disease, and obesity, in addition to affecting our ability to sleep. 
Orad believes the family is the most important social network.
There is also a painful condition called text neck, which refers to the damage sustained by the unnatural posture of looking down at a device for too long. According to an article published by Spine-health, a website run by medical professionals, children and teens are especially at risk for developing the condition.

Cybersickness is another area of concern.
The onset of consumer-facing virtual reality technologies has prompted new research into the affect of moving screen imagery on our health.
Researchers at the University of California–Irvine documented physiological affects normally associated with motion sickness, such as vomiting, nausea, and lightheadedness.
In one study, cybersickness affected 80 percent of people exposed to virtual reality for 10 minutes. The more realistic, the greater the potential negative affect. 
Orad said she wants to make it really clear that Screen is not meant to be an anti-technology device.
"We use it. It's okay, as long as its done in moderation, and it doesn't take away from other things we need to do," she said.
Orad believes the family is the most important social network. With the help of Screen, her family recently took up knitting, and each made a winter hat with a colorful pom pom.
Now that is the kind of family time truly worth bragging about.

Breakdown of Teen (13–18) Screen Use
39 percent passive consumption, such as watching, listening, or reading
25 percent is interactive, such as playing games, or browsing the Web
26 percent is communication, such as social media, or video chatting
3 percent is content creation, such as writing, coding, or making digital art
Source: Common Sense Media "Media Use Census"