In the wake of the federal election on Sept. 20, Saskatchewan Premier Scott Moe lambasted the campaign as "pointless," while Quebec Premier François Legault, who had criticized the Liberals during the campaign, said he will work with Prime Minister Justin Trudeau "to advance the interests of Quebec."
Moe's criticism came on Sept. 21 after the Liberals won another term as a minority government. 
"The Prime Minister spent $600 million of taxpayers' dollars and five weeks further dividing the country to arrive at almost the same result as where we started." 
Moe stressed that the time and money put into the campaign "could have been spent working to address real issues faced by Canadians, including properly funding Canada's chronically underfunded health system, working with provinces to increase vaccination rates in some of our hardest-to-reach communities, and positioning Canada and its provinces as leaders in the global economy." 
Legault issued a congratulatory message to Trudeau early in the morning on Sept. 21. 
"I congratulate @JustinTrudeau for his victory. I will work with him to advance the interests of Quebec," he wrote on Twitter. 
However, in a press conference on Sept. 9, Legault criticized the Liberals, NDP, and Green Party, saying they weren't ready to transfer power to his government over immigration, and that they didn't exclude being part of the lawsuit against Bill 21 which bans the wearing of religious symbols by some public employees. 
"I think we have to be careful with those three parties," he said, adding that the three parties "want to give us less autonomy. I find that dangerous."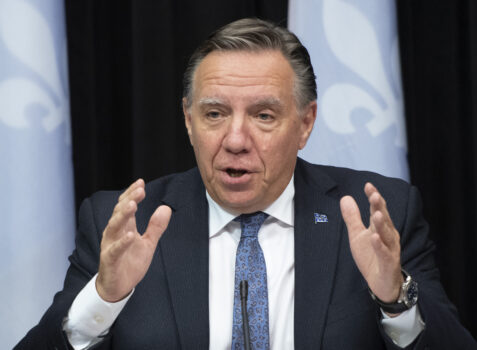 At the time, Legault spoke in favour of Conservative Leader Erin O'Toole, specifically on his promise to increase health transfers to Quebec without conditions.  
During a press conference on Sept 21, Legault was asked that, given his criticism of the Liberals, whether the federal or provincial government will have the "upper hand" during his first meeting with Trudeau following the election. 
"He knows very well that I want him to respect Quebec jurisdiction, so there's nothing new and nothing that was not said many times before," he replied.
In a Facebook post the same day, Legault stressed the importance of Quebec's autonomy while asking the federal government to increase its share of health-care funding. 
In March, premiers from across Canada urged the Trudeau government to increase federal health transfers from 22 percent to 35 percent, amounting to an additional $28 billion, including $6 billion for Quebec, to cover pandemic related health-care costs. However, the federal budget in April did not include the increased funding.