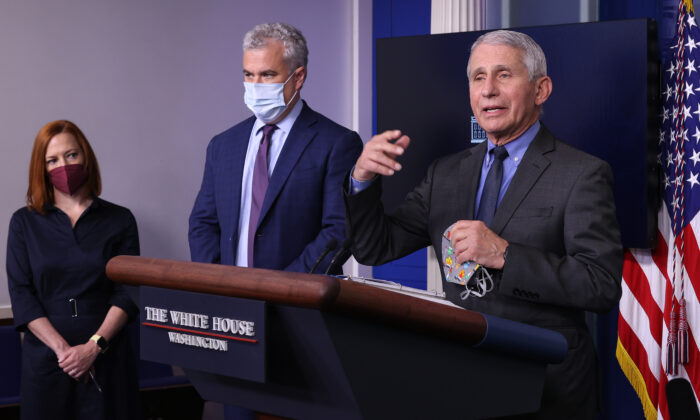 White House press secretary Jen Psaki, COVID-19 Response Coordinator Jeff Zients, and Director of the National Institute of Allergy and Infectious Diseases Dr. Anthony Fauci brief reporters in the Brady Press Briefing Room at the White House in Washington on April 13, 2021. (Chip Somodevilla/Getty Images)
Fauci Says J&J Vaccine Pause Will Only Last 'Days to Weeks,' Rather Than Months
Dr. Anthony Fauci said on Tuesday that the pause on the Johnson & Johnson vaccine would be temporary and would likely last only "days to weeks," according to his understanding of the guidance from federal agencies.
"What I heard from the previous press discussion was it's gonna be more like days to weeks rather than weeks to months," he told reporters during a White House briefing.
Fauci said the pause was done out of an "abundance of caution," and was a decision made by the Centers for Disease Control and Prevention (CDC) and the Food and Drug Administration (FDA). It would help the agencies find out more about the reports of rare blood clots among recipients. He also declined to comment on if the vaccine would be restricted or pulled, noting that it was too early for such discussions.
"It really allows both the FDA and the CDC to further investigate these cases to try to understand some of the mechanisms, some more details about the history of the individuals who are involved," he said of the COVID-19 vaccine pause. "It might shed some light."
"The other thing is to make physicians out there aware of this and there are some clinical implications for that I believe are important," he added.
Fauci, the director of the U.S. National Institute of Allergy and Infectious Diseases, emphasized that the recent reports of blood clot issues are "really rare."
"There have been 6 out of the 6.85 million doses which is less than one in a million," he told reporters.
President Joe Biden also commented on the vaccine situation during the end of a separate pool spray, telling reporters there was no need to worry about a lack of vaccines.
"I made sure we have 600 million doses … not on either Johnson and Johnson and or AstraZeneca," he said, according to pool reports. "So there is enough vaccine, that is basically 100 percent unquestionable, for every single, solitary, American."
In an earlier statement on Tuesday, Jeff Zients, the White House COVID-19 response coordinator on Johnson & Johnson vaccines, said the pause would not disrupt the overall vaccination plan.
"Johnson & Johnson vaccine makes up less than 5 percent of the recorded shots in arms in the United States to date," Zients said. "Based on actions taken by the President earlier this year, the United States has secured enough Pfizer and Moderna doses for 300 million Americans."
Zients said in the statement that the agencies are reviewing data involving "six reported U.S. cases of a rare and severe type of blood clot in individuals after receiving the Johnson & Johnson vaccine."
Former President Donald Trump also reacted to the Johnson & Johnson vaccine pause, lamenting that it would affect the reputation of the product.
"The results of this vaccine have been extraordinary but now it's [sic] reputation will be permanently challenged," he said in a statement released by his office. "The people who have already taken the vaccine will be up in arms, and perhaps all of this was done for politics or perhaps it's the FDA's love for Pfizer."
Trump added, "Remember, it was the FDA working with Pfizer, who announced the vaccine approval two days after the 2020 Presidential Election. They didn't like me very much because I pushed them extremely hard."