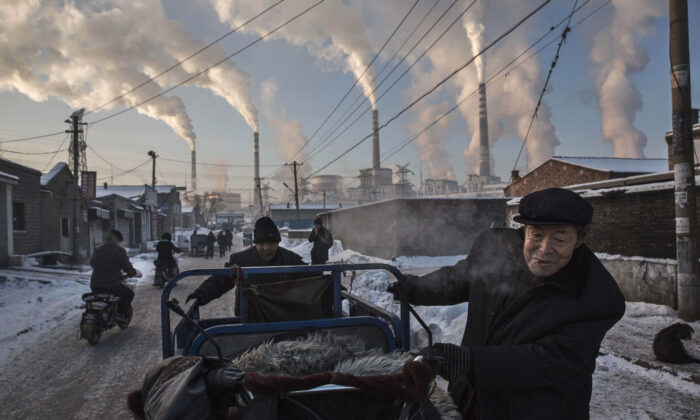 Smoke billows from stacks as Chinese men pull a tricycle in a neighborhood next to a coal fired power plant in Shanxi, China, on Nov. 26, 2015. (Kevin Frayer/Getty Images)
Climate Change Presents Opportunity for Beijing to Expand Global Power: Chinese Professor
The Chinese communist regime views climate change as an opportunity to expand its influence worldwide, according to a prominent Chinese academic.
The global emissions reduction agenda can boost the regime economically and also holds "political significance" for Beijing, Di Dongsheng, associate dean of the School of International Studies at Renmin University in Beijing, wrote in his blog on April 27.
"It can help [us] to regulate and control the social, political, and economic environment," Di said.
The regime should take a key role in addressing global climate change, he said, given the growing rifts between Beijing and Western powers over a range of issues.
"The climate issue is basically the only positive topic that China, the United States, and Europe can come together and discuss amicably," Di wrote.
The professor gained notoriety last year when he called out Wall Street's long-standing role in influencing U.S. politics on behalf of Beijing. According to his online biography, Di has worked with various bodies of the Chinese regime, including the foreign ministry and the state's planning agency, the National Development and Reform Commission.
Climate is one of the few issues that the United States and the regime have said they could work together to resolve, even as their wider relationship has fractured in recent years.
During the Trump administration, the United States progressively toughened its stance against the Chinese Communist Party (CCP) on a number of fronts, from Beijing's severe human rights abuses to its rampant theft of foreign intellectual property. The Biden administration has pledged to continue this hard-line approach, but has consistently said it's also willing to cooperate with the regime on shared interests such as climate change.
Chinese leader Xi Jinping, in his first appearance with President Joe Biden during last month's global climate summit, said the country would "strictly limit" increasing coal consumption in the next five years, and reduce it in the following five years.
China is by far the world's largest coal user. In 2020, it brought more than 38.4 gigawatts of new coal-fired power capacity into operation, more than three times the amount built elsewhere. An additional 247 gigawatts of coal power is planned—nearly six times Germany's entire coal-fired capacity.
The country is also the world's largest emitter of greenhouse gases, accounting for more than 27 percent of total global emissions. In 2019, China's emissions exceeded those of the United States and other developed countries combined, a recent report found. In 2020, about 61 percent of China's total energy consumption came from coal, according to official figures (pdf).
At the summit, Xi also repeated a pledge from last year to reach peak emissions by 2030 and achieve net-zero emissions by 2060. Lawmakers and experts, however, doubt that Beijing will make good on any promises, citing a long history of reneging on its commitments.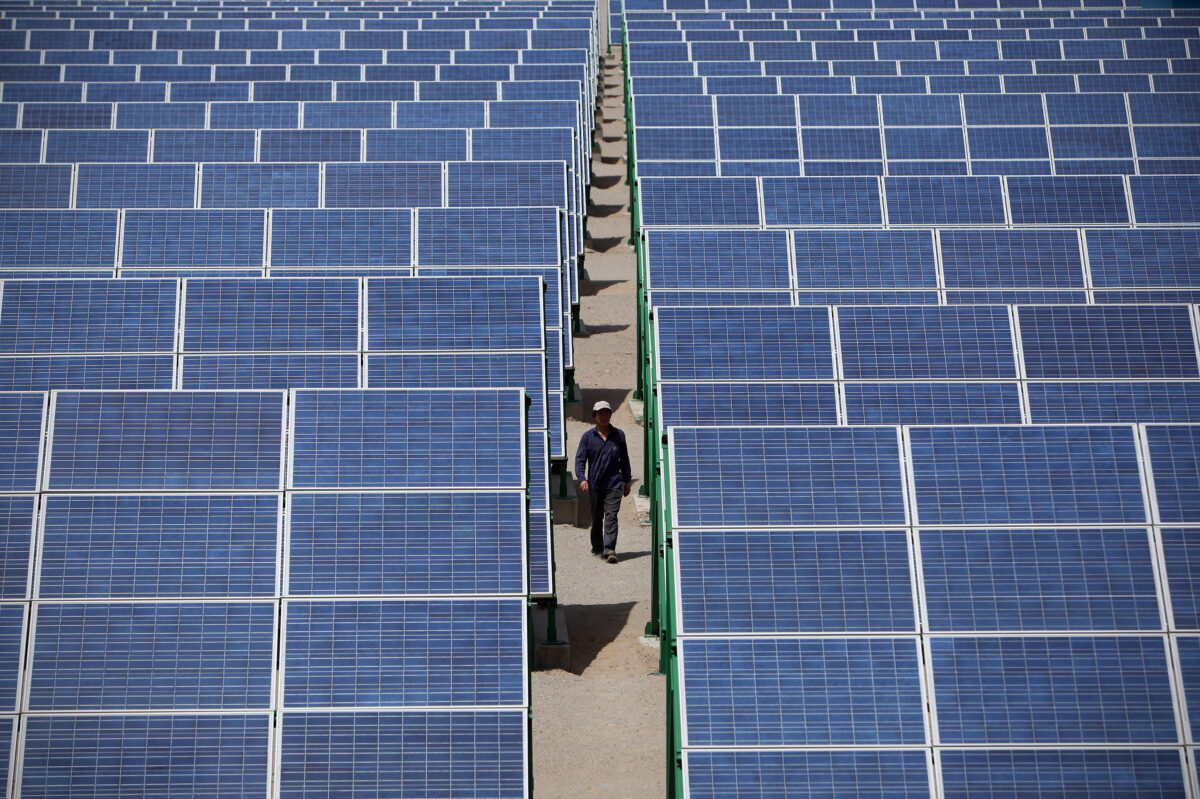 Reaping Rewards
While Di has expressed skepticism about the existence of man-made global warming, calling it a "false theory," he nonetheless believes that Beijing should seize the opportunity presented by the climate agenda to become a world leader in green technologies.
In doing so, the regime would stand to gain economically by boosting exports of clean technology worldwide, while earning political capital by being the country that sets the "green benchmark on global development issues," he said.
The professor noted that the United Kingdom led the world's first energy revolution through the use of coal, while the United States pioneered the second energy revolution on the backs of oil and gas. Now, according to Di, China could be the leader in the third energy revolution based on clean energy, and "guide humanity's development in a new direction."
"Within 10 short years, Chinese enterprises have beaten their European counterparts in wind and solar energies. In these two fields, China's production capacity accounts for over 60 percent of the world's total," he said.
China is the world's largest manufacturer of wind turbines and solar panels. But its rise to the top in clean energy industries has been fueled by an abundance of unfair trade practices that have allowed Chinese firms to dominate foreign competitors on the international market, experts say.
In solar power, for instance, government subsidies were critical in helping Chinese companies dominate the global market in the 2010s, according to a 2020 report by the Washington-based Information Technology & Information Foundation (ITIF). Chinese firms dumped cheap solar panels worldwide, gutting the solar panel industry in the United States and other countries. By the time the United States imposed anti-dumping duties on Chinese government-subsidized solar panels in 2012, it was too late to save much of the domestic industry.
China is a "leader … in stealing foreign clean technologies, pressuring these companies to transfer it [to China] when they don't want to do it, and massively subsidizing less innovative clean technology companies in China," Robert Atkinson, president of ITIF, said during a virtual discussion on April 19.
Di also suggested that the regime set incentive policies to encourage Chinese companies to convert to clean energy, since most enterprises in the country are serial polluters and energy wasters. This would lead to a significant drop in emissions, enhancing the Chinese regime's prestige on the international stage.
Left Behind
China's quest to increase reliance on clean energy will come at a cost to the country's poor, Di said.
A large segment of the Chinese population lacks heating in winter because the entire southern part of China isn't equipped with central systems. Hundreds of millions of Chinese who can't afford private heating solutions are forced to endure cold winters.
If the regime tries to cut emissions, Di fears that the people's "dream" of having heating in winter won't be realized for a long time.
Di recalled in his hometown of Qidong city in eastern China's Jiangsu Province, all people could do was shiver through winter seasons when average temperatures dipped to the freezing point. Qidong lies at the mouth of the Yangtze River, which crosses the south-central part of the country.
While most people who live in the Yangtze River region can't afford their own heating systems, the Chinese economy isn't strong enough to support the installation of central heating to all these homes, he said.