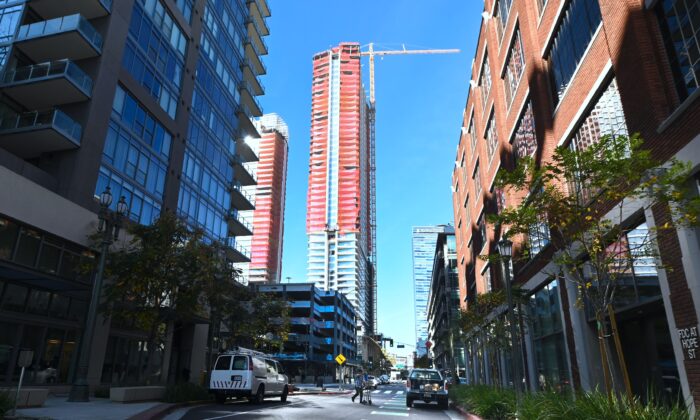 Construction has stalled at the unfinished Oceanwide Plaza in Los Angeles, California on Jan. 25, 2019, one of the biggest real estate development projects in downtown LA. ( Frederic J. Brown/AFP via Getty Images)
China Real Estate Crisis Could Mean Trouble for US Markets
News Analysis
As China's real estate crisis continues to grow, the impact on U.S. real estate is starting to take shape. Much of the impact appears likely to be felt in California and New York, where Chinese investors own many large commercial buildings, and are the main backers of several high-profile development projects.
Evergrande Group's struggle to repay $300 billion in debt obligations appears to be just the beginning of the threat of possible defaults in the Chinese real estate market. In late October, Chinese developer Oceanwide Holdings Co Ltd announced that creditors have seized two of its major California projects, including the 2-million-square-foot Oceanwide Center in San Francisco.
In New York, Oceanwide may be looking to unload a Manhattan development site for $200 million—half of what it paid in 2016—after its plans for a luxury skyscraper stalled, according to media reports. The company has invested approximately $3.5 billion on U.S. developments that are now on hold, and may need to be liquidated.
Evergrande and Oceanwide are not the only large Chinese developers in trouble. Shenzhen-based Fantasia and Shanghai-based Sinic Holdings missed debt payments in October on bonds worth $315 million and $246 million, respectively. In early November, S&P Global Ratings downgraded Sinic Holdings Group to a CCC+ rating, junk bond status, citing "a failure to communicate a clear repayment plan."
China Properties Group announced recently that its development subsidiary, Cheergain Group, has defaulted on $226 million worth of debt payments.
Shanghai-based Greenland Holdings has billions of dollars' worth of projects in Brooklyn, Los Angeles, and Toronto, all now at risk as it reports a 27 percent drop in profits compared to last year.
And last week Beijing-based developer Modern Land joined the headlines, announcing missed payments on a $250 million bond due Oct. 25.
Meanwhile, Shanghai's Yango Group has been trying to avoid default by restructuring payments on $747 million of outstanding bonds, according to a Nov. 1 filing at the Hong Kong Stock Exchange. In a statement, Yango Group blamed "tightening governmental policy, multiple credit events, and deteriorating consumer sentiment" for putting "enormous pressure on our short-term liquidity."
Seven of China's top ten developers reported severe drops in net profit in the third quarter of 2021.
A potential economic disaster looms. According to S&P Global Ratings, "The risk of default among Chinese developers is real. In the most severe scenario, the liquidity of as much as one-third of rated Chinese developers will come under pressure. We forecast a 10 percent drop in residential sales in 2022. This trend should continue into 2023."
China home sales have already fallen sharply. In October, property sales of the country's top 100 developers dropped 32 percent year-on-year, following a 36 percent drop in September, according to the China Real Estate Information Corp. Meanwhile, construction on many development projects in China has stopped completely. At risk is China's $55 trillion domestic real estate market, twice as big as the US market.
Impact on US markets
China's investments in real estate extend far beyond its borders, with big Chinese investors funding large projects in the US and around the world. Individual Chinese homebuyers are also an important factor in many West Coast markets from Vancouver to San Diego.
According to recent report by the National Association of Realtors, California has long been the most popular U.S. market for Chinese investors, with nearly 35 percent of China's $15 billion in overseas real estate investments focused in that state. New York real estate ranks second, attracting over 14 percent of Chinese investment, almost all of that concentrated in Manhattan.
The real estate crisis in China may put all this at risk.
But headwinds were being felt stateside even before the real estate turmoil, according to New York realtor Chloe Ren. "At the beginning of the pandemic I had so much demand for New York real estate. We had people on a waiting list." But things have changed. "It's a hard game right now. People are so freaked out," she said. "No one knows what is really going on, or what is going to happen."
"My clients are some of the richest people in China," she said. "Like most of the wealthy people in China, they are newly rich, not old-money types. So while these people are experts in their own business, they are very new to managing money. They are trying to learn and find ways to make their money safe. And Chinese rich people have always looked for ways to get their money out of China."
The real estate crisis in China has made the near-term economic situation in China very uncertain. "Everyone I talk to in China is scared," she said. "They don't know if the Chinese government is going to get more strict and not let them get their money out."
In recent years, the solution for China's wealthy was to buy property in the United States, but after nearly two years of urban riots, lockdowns, and rising crime, that has changed.
"We are very confident about New York property values, but the pandemic and social changes in the city are making people very scared right now. It doesn't feel as safe as before. So many homeless on the streets, lockdowns and restrictions, and crime is going up. The news is scaring people."
"Big cities in California are not a great choice either, for the same reasons. Many Chinese investors have crossed those off their lists. Many of my clients have big concerns about those cities and they are delaying making new purchases."
In California, Jeremy Liu, managing director of Creative Development Partners, sees a different possibility. According to Liu, the Chinese real estate crisis may end up driving more Chinese homebuyers to US markets.
"The kind of turmoil we are seeing in China creates big signals to move your investments out of China. This might drive individual home buyers to look outside of China to purchase real estate in coastal cities like Seattle, San Francisco, and Vancouver."
"From the point of view of affordability, that would not be a great thing, because it will add additional pressure to the California residential real estate market. You really want houses occupied by homeowners, not just investors. If that new demand from individual Chinese buyers comes to California," he explains, "that could be problematic—any additional demand from investors will continue to drive up prices."
Liu said that a new wave of Chinese homebuyers desperate to get their money out of communist China could spark a continued rise in U.S. home prices, which have already reached historic levels.
"So far California has been spared what we have witnessed in Vancouver, with vast amounts of residential real estate built just to meet demand from Chinese buyers. There are large condo towers in Vancouver that are half empty because all the owners are in China. That has caused real problems for them and has spurred things like the vacancy tax to try to control this.
California has been spared that sort of impact because there is a lot of demand for real estate here, and not just from overseas investors."
Liu continued, "The San Francisco Bay Area is still a very strong real estate market, it can draw capital from where it needs to. It can source capital from the Middle East, from U.S. pension funds, and of course from all the people who continue to want to live and work here."
He explained that while important, Chinese investment isn't key to California's real estate market. "It is such a robust market, with so much demand, it will continue to grow and find money."
In the short term, the stalled development projects are going to cause real economic pain to construction companies, communities, and city tax budgets. "It's not just the Oceanwide project that is going to be impacted by these problems in the Chinese real estate market," he said. "Many large Chinese consortiums have invested in projects all over California. These projects are going to be affected in different ways," he said. "The risks are individual, on a deal-by-deal basis each of these projects get another level of uncertainty cast upon them."
Ultimately, Liu doesn't see China's problems having a big impact on the U.S. real estate market. "I don't think we will see a cascade effect. Anytime there is a known source of large institutional capital taking a pause, of course that will affect pricing at least, but not necessarily long-term."
What happens next is unclear, with different analysts proposing anything from a simple short-term liquidity crisis, to a full bailout from Chinese authorities, to a chaotic and uncontrolled series of defaults of billions in debt, with cascading effects for global markets. If big Chinese developers continue to default on bond payments, the effects will ripple through international bond markets. Buyers of those bonds, including large institutional investors in China and the United States, will face their own crises and may postpone their real estate plans. Chinese investors may be forced to liquidate commercial and residential real estate investments in the United States.
But real estate has always been a long game. "Be patient," is what agent Chloe Ren tells her clients. "I trust that New York City can still hold its value as it has for over one hundred years. Right now it is not as lively as before. But people around the world still love New York City."
The city that never sleeps, she said, is "right now kind of like the city hasn't woken back up. We are waiting, and keep telling people it will come back one day soon. Don't wear out your patience."