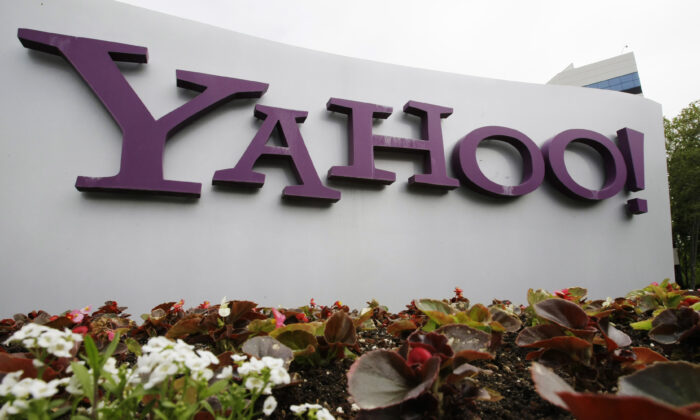 The Yahoo logo is displayed outside of offices in Santa Clara, Calif., on April 18, 2011. (Paul Sakuma/AP Photo)
Yahoo Pulls Out of China Over 'Increasingly Challenging' Environment
Yahoo has shut down its services in mainland China, becoming the second Western tech giant to pull the plug on China over the past month.
The company stopped providing content for mainland Chinese users as of Nov. 1, according to a statement from its official website. "Products and services remain unaffected in all other global locations," it said.
Yahoo made the decision "[i]n recognition of the increasingly challenging business and legal environment in China," a company spokesperson told The Epoch Times in an email on Tuesday, adding that "Yahoo remains committed to the rights of our users and a free and open internet."
The withdrawal followed that of Microsoft's social networking platform LinkedIn, which exited the Chinese market just a little over two weeks ago, citing "a significantly more challenging operating environment and greater compliance requirements in China."
The timing of Yahoo's pullout also coincided with Beijing's implementation of a data security law, which stipulates how companies operating in China handle personal data and lays out rules on how such information is stored. Yahoo, though, did not refer to this in its statement.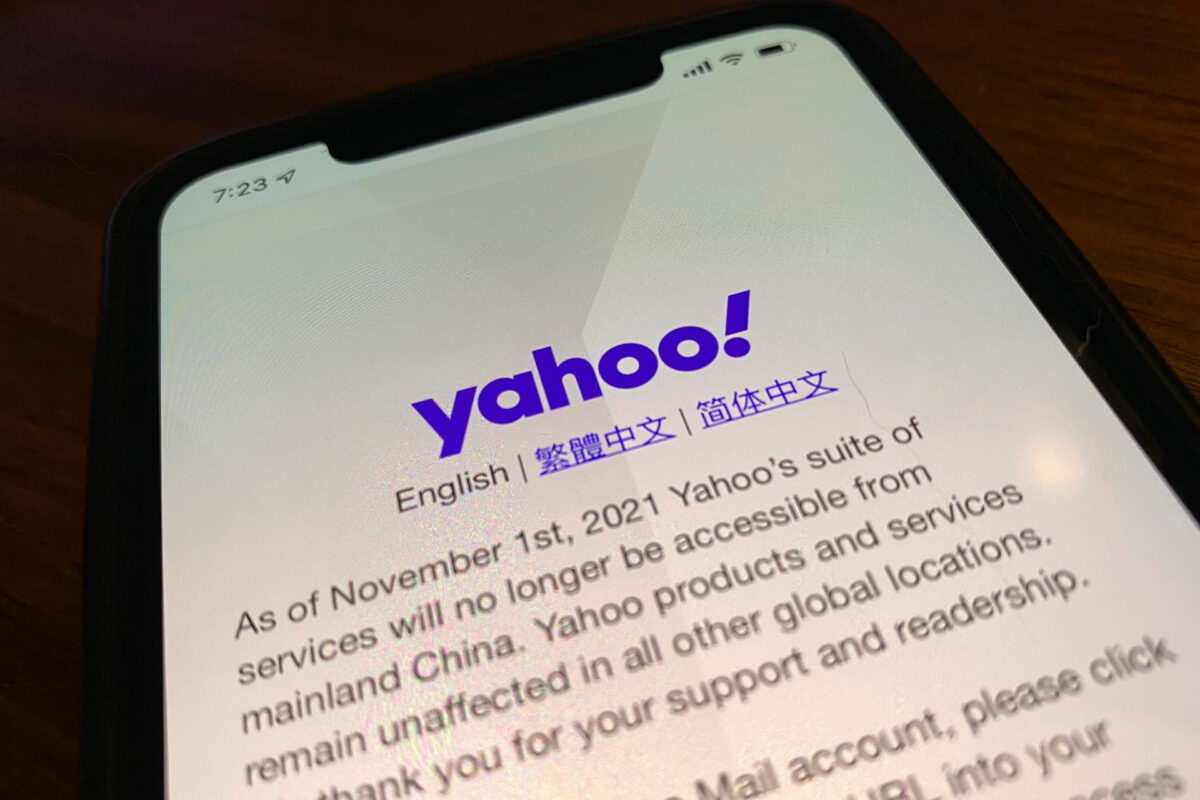 Yahoo's technology-focused blog network Engadget will also cease publishing content on its Chinese website. An announcement on its homepage instead directed users to a separate Chinese-language webpage for "more global tech coverage."
The announcement marked Yahoo's final departure from China following years of steady downsizing in the country.
Yahoo opened its Chinese website in 1998, and in 2005 invested $1 billion for a 40 percent stake in Alibaba, handing its Chinese operations to the Chinese e-commerce conglomerate.
It gradually shut down its email and news service in the early 2010s. In 2015, its last remaining presence in China—a research and development center in Beijing—was shuttered.
Yahoo attracted criticism more than a decade ago after it released details of an email sent by a Chinese journalist, Shi Tao, at the request of Chinese authorities.
Shi had used the Yahoo email service to send a Chinese government memo about restrictions on media coverage of the Tiananmen Square massacre anniversary to a human rights forum in the United States. For this, he was found guilty of disclosing state secrets and sentenced to 10 years in jail in 2005.
In a 2007 U.S. congressional hearing, Yahoo's founder and then-CEO Jerry Yang apologized to Shi's family for "what they are going through." Yahoo later set up a human rights fund to provide "humanitarian and legal support" to online dissidents. The fund supported the Laogai Museum, dedicated to exposing China's forced labor system, which opened in Washington a year later.
In 2020, Chinese activist Ning Xinhua brought a lawsuit against past Yahoo executives, including Yang, alleging that Yahoo handed his emails to Chinese authorities, aiding his imprisonment from 2004 to 2011.
Verizon Communications Inc. acquired Yahoo in 2017 and merged it with AOL to form a new entity called Oath. New York-based private equity firm Apollo Global Management later bought the media group for $5 billion. The ownership transition completed in September.