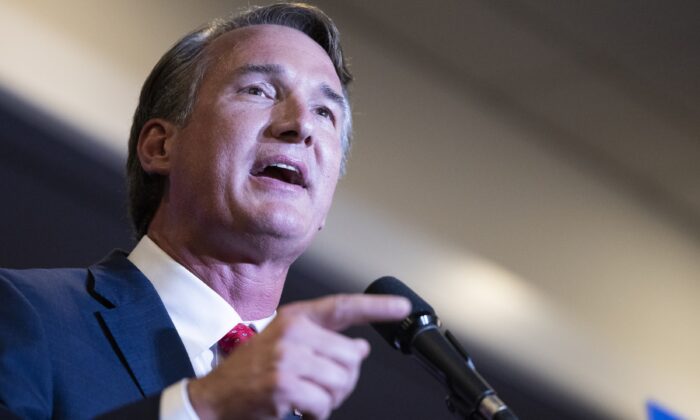 Glenn Youngkin, Virginia's governor-elect, is seen on election night in Chantilly, Va., on Nov. 2, 2021. (Anna Moneymaker/Getty Images)
Virginia Governor-Elect Says He Won't Impose or Oppose Mask, Vaccine Mandates
Virginia Gov.-elect Glenn Youngkin says he won't mandate masks or COVID-19 vaccines, but he also won't ban local authorities from imposing such mandates.
"Localities are going to have to make decisions the way the law works and that is going to be up to individual decisions, but, again, from the governor's office, you won't see mandates from me," Youngkin, a Republican, told WAVY-TV.
Republican governors in a number of states, including Texas and Florida, have banned mask and vaccine mandates. Meanwhile, many Democrat governors have imposed such mandates, including current Virginia Gov. Ralph Northam, who Youngkin will succeed in January after defeating Democratic candidate Terry McAuliffe.
Youngkin said he supports COVID-19 vaccines, noting that he has gotten one and so have his family members.
"I think it's the best way for people to protect themselves," Youngkin said.
While the vaccines are effective at preventing COVID-19 infection in the months following vaccination, their effectiveness declines as time goes on, studies and real-world data show. The waning potency has driven the push to get people who have received a vaccine to get a booster dose.
Youngkin has also declined to say whether he would challenge the vaccine mandates announced by President Joe Biden's administration, including one such directive for private employers with 100 or more workers.
"I don't believe that President Biden has the authority to dictate to everyone that we have to take the vaccine," he said during a gubernatorial debate.
The courts have stayed the private business mandate for now.
Youngkin's new comments have drawn rebukes from conservatives.
"Youngkin signals he won't ban local vaccine and mask coercion like strong conservative governors," The Federalist said in an article.
Ned Ryun, a conservative who trains activists, also spoke out against the Virginia governor-elect's position on vaccine and mask mandates
"Youngkin should 'man up' on the vaccine mandate stuff. But also, Youngkin demonstrating that he's absolutely NOT the model for future leadership in GOP," Ryun wrote on Twitter.
Youngkin said on the campaign trail that Northam's school mask mandate was "wrong."
"We have to respect parents' decisions about their own children. And I do believe if parents, teachers, and children want to wear a mask, then they can—but there should not be a schoolwide mask mandate," he said in August.
Representatives for Youngkin's campaign didn't return a request for comment by press time.
Some bans on mandates have been stopped, at least temporarily, by judges. A Texas judge halted last week the school mask mandate ban issued by Texas Gov. Greg Abbott, ruling that it violated the rights of disabled students.