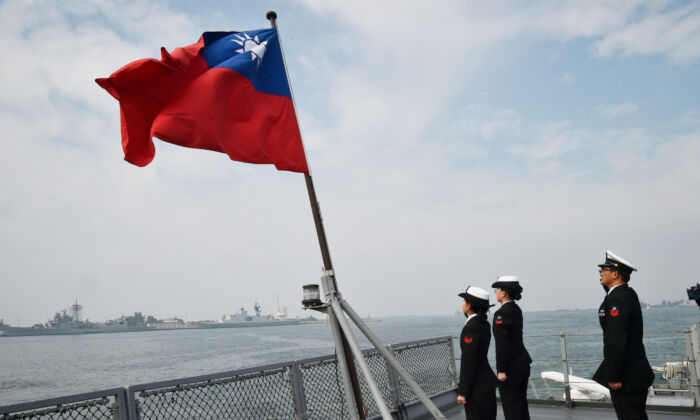 Taiwanese sailors salute the island's flag on the deck of the Panshih supply ship after taking part in annual drills at the Tsoying naval base in Kaohsiung, Taiwan, on Jan. 31, 2018. (Mandy Cheng/AFP via Getty Images)
US and Allies Will 'Take Action' If China Attacks Taiwan, Blinken Says
TAIPEI, Taiwan—Secretary of State Antony Blinken says the United States and its allies would "take action" in the event that the Chinese regime used force to unilaterally change the status quo of the self-ruled island.
However, Blinken didn't specify what kind of action Washington or its allies might take while answering questions during a Nov. 10 forum hosted by The New York Times. His response falls in line with the decades-long U.S. foreign policy strategy known as "strategic ambiguity," which means that the United States is deliberately vague on the question of whether it would come to Taiwan's defense.
"At the same time, I think it's fair to say that we're not alone in this determination to make sure that we preserve peace and stability in that part of the world," Blinken said. "There are many countries, both in the region and beyond, that would see any unilateral action to use force to disrupt the status quo as a significant threat to peace and security, and they, too, would take action in the event that that happens."
The Chinese Communist Party sees Taiwan as part of its territory and has threatened war to bring the island under its control. In reality, the island is a de facto independent country with its own democratically elected government, military, constitution, and currency.
In October, Taiwan's defense minister warned that the Chinese regime will be capable of mounting a full-scale invasion of the self-ruled island by 2025.
In 1979, Washington ended its diplomatic ties with Taipei in favor of Beijing, but it has maintained a non-diplomatic relationship with the island based on the Taiwan Relations Act (TRA). The act authorizes the United States to provide Taiwan with military equipment for its self-defense.
"We will make sure that Taiwan has the means to defend itself, because the purpose here is never to get to that point where anyone is actually trying to disrupt the status quo by force, to make sure that deterrence is there, and that no one engages in actions that could be profoundly disruptive, dangerous, to world peace and security," Blinken said.
Beijing spoke out against Blinken's statement. On Nov. 11, Wang Wenbin, China's foreign ministry spokesperson, accused Blinken of "violating international law" with his support of Taiwan, during a daily briefing. Wang also said China would never allow the United States to "interfere with its internal affairs," with regard to issues related to Taiwan.
Chen Huei-jen, deputy head of the Department of North American Affairs at Taiwan's Ministry of Foreign Affairs, thanked Blinken for his support during a briefing on Nov. 11.
Chen also said the Taiwanese government will continue to deepen its cooperation with the United States and other like-minded countries.