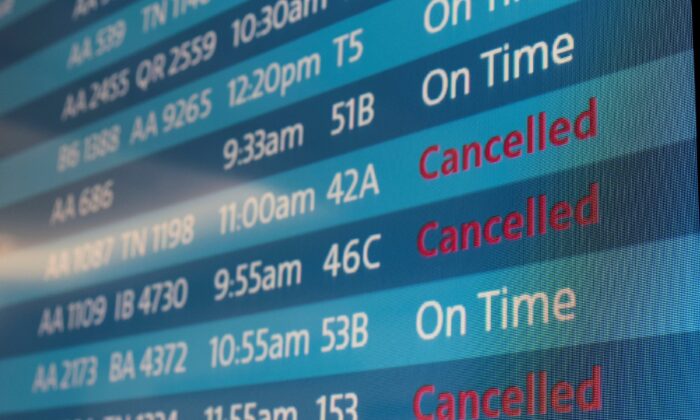 A screen showing canceled flights at Los Angeles International Airport on Oct. 31, 2021. (Carlos Barria/Reuters)
'Still Bad:' American Airlines Problems Continue as Hundreds More Flights Canceled
American Airlines canceled hundreds of additional flights on Nov. 1 as the company struggled with problems it has attributed to high winds in Texas.
Some 261 flights were canceled early on Nov. 1, according to internal data obtained by The Epoch Times. Nearly 1,000 were canceled on Oct. 31.
"Better than yesterday but still bad," Capt. Dennis Tajer, a spokesman for the Allied Pilots Association, told The Epoch Times in an email.
The union represents pilots who fly for American Airlines.
The issues started late last week, when the Dallas–Fort Worth area was hit by wind gusts reaching up to 50 miles per hour, David Seymour, American's chief operating officer, told employees in a memorandum obtained by The Epoch Times.
The weather drove cancellations and led to staffing shortages because crew members ended up outside of their regular flight sequences, according to Seymour.
An American spokeswoman told The Epoch Times in an email that the issues weren't related to American's COVID-19 vaccine mandate, a view echoed by Tajer.
American stated that the problems would be resolved soon, aided by workers returning from leave and a hiring blitz across various positions.
The union said the weather did cause problems, but blamed American for the bulk of the cancellations, noting that the weather was clear practically all weekend.
"Management is failing to connect pilots and flight attendants to the airplanes many days after the storm passes," Tajer said.
Representatives for American didn't respond to a request for comment by press time.
In addition to the cancellations, about 166 American flights were delayed on Nov. 1, according to tracking website FlightAware.
Southwest Airlines also canceled a small number of flights. Around 79 Southwest flights were canceled on Nov. 1, representing 2 percent of flights scheduled that day, with another 4 percent being delayed, according to FlightAware.
Representatives for Southwest didn't respond to a request for comment by press time.
A spokeswoman for the Federal Aviation Administration told The Epoch Times on Oct. 31 that the agency was aware of the cancelations, but referred comment to the airlines.
Jack Phillips contributed to this report.