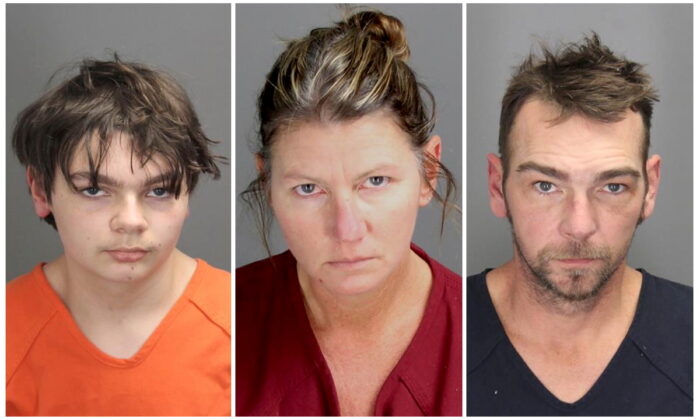 Ethan Robert Crumbley, 15, charged with first-degree murder in a high school shooting, poses in a jail booking photograph taken at the Oakland County Jail in Pontiac, Mich., on Dec. 1, 2021, in a combination photograph with his parents Jennifer Lynn Crumbley and James Robert Crumbley who were taken into custody on Dec. 3, 2021. (Oakland County Sheriff's Office via Reuters)
Michigan Shooting Suspect's Parents Plead Not Guilty, Say They Weren't Trying to Flee
The parents of a 15-year-old Michigan boy who allegedly opened fire in a high school this week pleaded not guilty on Saturday to involuntary manslaughter charges.
Jennifer Crumbley, 49, and James Crumbley, 45, appeared at the virtual Oakland County hearing after being apprehended by law enforcement at a vacant building in Detroit late Friday.
Prosecutors say the pair are culpable because they stored the firearm their son is accused of using at Oxford High School in an unlocked drawer in their bedroom, and because they didn't alert authorities of the possibility he had the weapon on the day of the shooting.
Karen McDonald, the county prosecutor, told the court that evidence showed the parents bought the gun for Ethan Crumbley, pointing to social media posts from Jennifer Crumbley in which she told followers she took Ethan to a shooting range with a weapon that was his Christmas present.
"It's clear from the facts that he had total access to this weapon and it was for him," McDonald said.
She also said the parents tried fleeing from law enforcement and urged the court to set bond at $500,000 for each defendant, arguing they may try to flee again if they post bond.
Lawyers for the Crumbleys challenged prosecutors' depiction of what happened.
Shannon Smith, representing James Crumbley, said the drawer the gun was stored in was actually locked.
"When prosecution is stating this child had free access to the gun, that is absolutely not true," she said.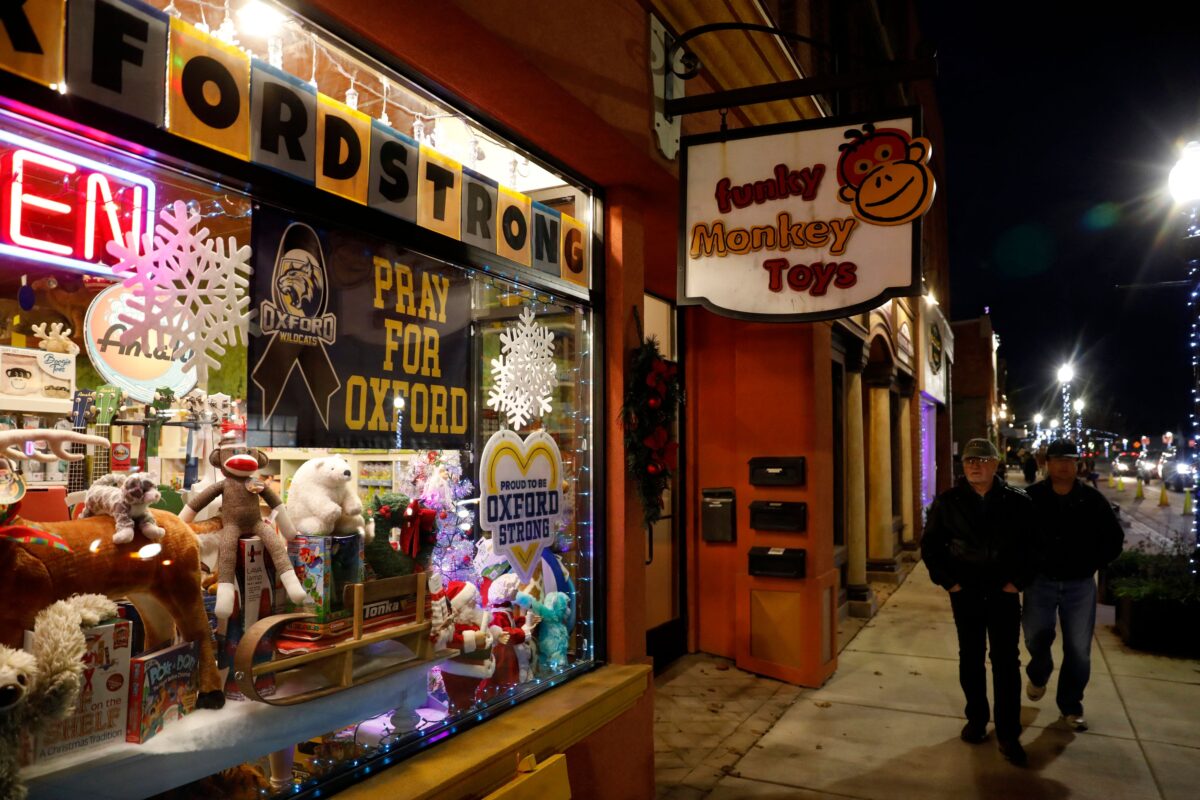 She also blamed prosecutors for creating "a media spectacle" and said attempts to negotiate a surrender on Friday didn't work because McDonald wouldn't respond to text messages or phone calls.
She asked for $50,000 bond for each parent.
McDonald said the Crumbleys didn't need permission to turn themselves in and said the heightened amount of attention on the case stems from the devastating outcome of the shooting, which left four students dead and seven others wounded.
The judge sided with prosecutors, expressing concern about flight risk and potential risk to community safety if the parents post bond.
She set the bail at $500,000 each.
If bond is posted, the defendants were ordered to test regularly for alcohol and drugs, possess no firearms or other dangerous weapons, commit no crimes, and give the court the address at which they'll be staying.
Ethan Crumbley is also in custody. He was charged earlier in the week with 24 counts, including one count of terrorism causing death and four counts of first-degree murder.