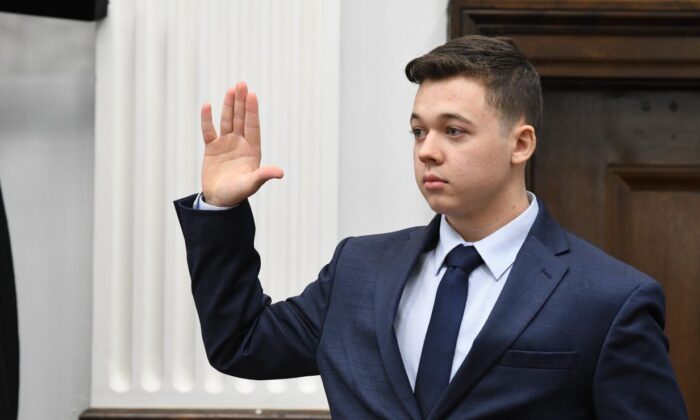 Kyle Rittenhouse is sworn in to testify during his trial at the Kenosha County Courthouse in Kenosha, Wis., on Nov. 10, 2021. (Mark Hertzberg-Pool/Getty Images)
Kyle Rittenhouse Takes Stand: 'I Didn't Do Anything Wrong; I Defended Myself'
Kyle Rittenhouse on Wednesday took the stand in his own defense in a trial on charges of killing two men and injuring a third during Black Lives Matter protests and riots in Kenosha, Wisconsin.
During his testimony, Rittenhouse broke into tears. The judge said the court would take a break to allow the 18-year-old to compose himself.
On the night of the shooting, Rittenhouse said that after he spoke to a friend on the phone, he started toward Car Source to put out fires that were set during riots.
Then, Joseph Rosenbaum "came out from behind the car and ambushed me," Rittenhouse said.
Rittenhouse, who is on trial on homicide charges, is testifying in his own defense. His defense team has argued he acted in self-defense when he opened fire.
When he described the situation, he broke down on the stand.
"I look over my shoulder, and Mr. Rosenbaum was now running from my right side, and I was cornered from … in front of me … There were people right there," Rittenhouse said.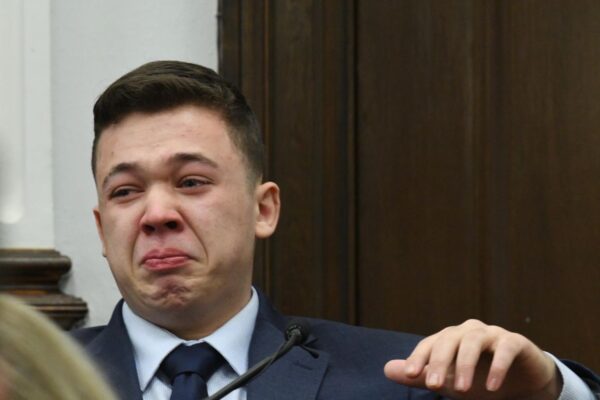 Before he shot Rosenbaum, Rittenhouse said Rosenbaum had threatened to kill him. Rosenbaum, he added, was "walking with a steel chain and he had a blue mask around his face" and "was just mad about something."
The teen said that he was trying to determine if any of the people at the protest "needed medical help" before Rosenbaum screamed, "If I catch any of you [expletive] alone, I'm going to [expletive] kill you."
"He was screaming … he said, 'I'm going to cut your [expletive] hearts out'—I'm not going to repeat the second word—but kill you, N-word," Rittenhouse testified.
He also recalled: "After he throws the bag and he continues to run, he's gaining speed on me, a gunshot is fired from behind me, directly behind me. I take a few steps, and that's when I turn around. As I'm turning around, Mr. Rosenbaum is … coming at me with his arms out in front of him. I remember his hand on the barrel of my gun."
When asked by defense attorney Mark Richards about Rosenbaum lunging at him, he replied: "I shoot him."
He testified that he continued running with the intention of going to the police. "I didn't do anything wrong. I defended myself," Rittenhouse said.
Rittenhouse later said that the other individual who was fatally shot, Anthony Huber, tried to swing his skateboard at him "like a baseball bat" before hitting him. Rittenhouse then said he ran, fell down, and was struck twice by a "concrete rock."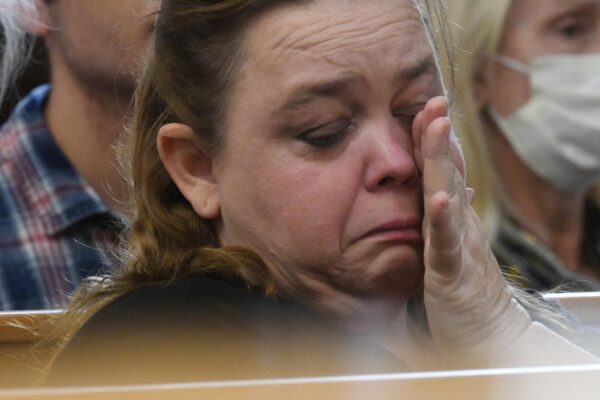 Rittenhouse stated that he was on his back. Huber then struck him in the neck with his skateboard a second time, Rittenhouse testified.
Then, Huber tried to grab his rifle and felt it coming free, the teen recalled. Rittenhouse said he fired his weapon once.
Around the same time, Rittenhouse said Gaige Grosskreutz pointed his gun at his head. Grosskreutz, who previously testified in the case that he pointed his gun at Rittenhouse, was shot in the arm.
"My rifle is down. His hands are up. His pistol is in his hand, and then he looks at me, and that's when he brings his arm down … like his arm is like that with me on the ground and his pistol is pointed at me," Rittenhouse said. "That's when I shoot him," he continued.
Prosecutor Thomas Binger opened his line of questioning by asking Rittenhouse: "Everyone you shot at that night you intended to kill, correct?"
"I didn't intend to kill them. I intended to stop the people who were attacking me," Rittenhouse said.
When he asked Rittenhouse several times he stopped these people by "killing them," Rittenhouse pushed back by saying, "two of them passed away, but I stopped the threat from attacking me."
Rittenhouse ultimately agreed with Binger that he intentionally used "deadly force" but qualified his statement: "I didn't know if it was going to kill them, but I used deadly force to stop the threat that was attacking me."
Rittenhouse, a former police youth cadet was 17 when he went to Kenosha during riots and protests in the summer of 2020 with a rifle and a medical kit in what he said was an attempt to safeguard property from unrest.
Rittenhouse could get life in prison if he's convicted of the most serious charge against him. His defense team has argued that he acted in self-defense when he opened fire.