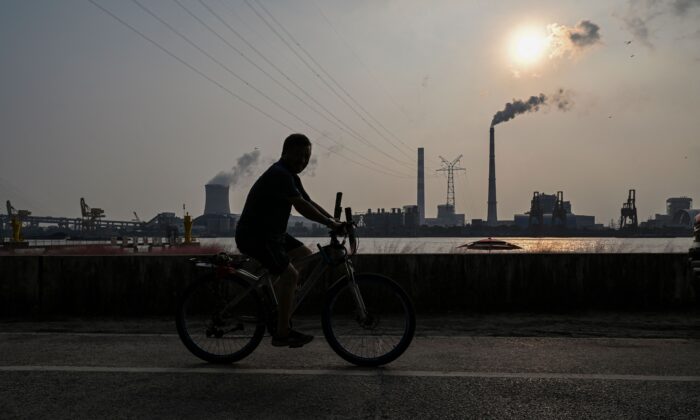 A man rides a bicycle at a promenade along the Huangpu river across the Wujing Coal-Electricity Power Station in Shanghai on Sept. 28, 2021. (Hector Retamal/AFP via Getty Images)
China's Power Crisis Threatens Xi Jinping's Bid to Stay in Power: Expert
TAIPEI, Taiwan—China is in the midst of an unprecedented power crisis with at least 20 provinces across the country grappling with electricity cuts of varying degrees since August. The problem has been exacerbated by early winter, as freezing temperatures have already been recorded in parts of central and eastern China.
The power shortage has been caused by rising coal prices and a government mandate to reduce emissions, Chen Shih-min, a political science associate professor at National Taiwan University told The Epoch Times. The ensuing disruptions to industries and people's daily lives, however, could have serious political ramifications for Chinese leader Xi Jinping since the crisis could breed social instability.
Chen Shih-min said that the power crunch could last for months, possibly until February or March next year when winter comes to an end. By that time, Xi could be confronted with a spate of social problems in connection with the energy shortages, he said.
"If the power crisis continues, it could lead to some level of public grievances, such as people being upset by a lack of heating to stay warm during winter, or people losing their jobs because of stoppages," Chen Shih-min said.
He added: "There could also be supply chain imbalance caused by factories shutting down, driving up product prices, and causing inflation. If these problems worsen, they could have an impact on Xi's prestige."
In October or November 2022, Chinese Communist Party (CCP) officials will gather to hold a twice-a-decade Party congress, during which a new group of top leaders will be chosen. Xi is seeking an unprecedented third five-year term in office after becoming paramount leader in 2012.
Any stain on Xi's reputation would pose challenges to his bid to stay in power, according to Chen Shih-min.
Chen Chien-fu, the head of the Graduate Institute of China Studies at Taiwan's Tamkang University, also warned about possible social unrest. In an email to The Epoch Times, he said that Chinese Premier Li Keqiang's recent decision to allow electricity prices to increase by as much as 20 percent may ease the energy crunch in the short term, but could negatively impact high-energy consuming industries. For instance, companies could lay off workers, resulting in the unemployed starting a new wave of public protests.
Power Crunch 
China is the world's biggest producer and consumer of coal. Most of this coal is being used to power China's coal-fired generators; Around two-thirds of the country's electricity comes from burning coal.
This reliance on coal has been put to the test since earlier this year when the country's coal price started to surge. On Oct. 14, January thermal coal futures in China's Zhengzhou Commodity Exchange closed at 1,615.8 yuan ($252) per tonnes, having risen more than 200 percent year to date.
The current power shortage is caused in part by coal-fired power plants having had to reduce their electricity generation to shore up losses for these high prices, said Chen Shih-min.
Beijing's ban on imports of Australian coal has also contributed to China's energy woes, Chen Chien-fu said, preventing China from adequately stocking its coal inventory. What's more, Australia's thermal coal boasts better combustion properties and boiler efficiency than China's domestic coal, he added.
According to Reuters, China imported 197.69 million tonnes of thermal coal in the first eight months of this year, down 10 percent for the year.
Political Infighting
Chen Shih-min believes that the country's power troubles could have been averted.
The crisis, he suggested, was precipitated by political disagreements within the CCP, at the central and regional levels, about Beijing's emissions reduction strategy, known as the "dual control" policy.
In September 2020, Xi made an environmental pledge, declaring that China's carbon dioxide emissions would peak before 2030, and the nation would reach carbon neutrality by 2060.
Following his pledge, China's "dual-control" policy, which has been in place for years, became elevated as an important political agenda. The policy requires provinces to lower energy consumption and intensity, defined as the amount of power used per percentage of the gross domestic product.
In August, China's National Development and Reform Commission, the regime's economic planning agency, announced that 20 provinces in the first half of this year had failed to meet at least one of the two requirements under the policy.
In response, provinces that had failed to meet these targets began ordering high-energy consuming companies to shut down and instituting power rationing measures.
Some regional authorities may have disagreed with the emission targets set by Beijing, and thus may have made little effort to comply with the policy, Chen Shih-min said. Then, when these regional governments saw the opportunity to institute measures that they knew could trigger public anger, such as by directing impromptu power cuts, they didn't hesitate to— knowing that the blame would fall squarely on the shoulders of China's central authorities headed by Xi.
"The next 12 months is a sensitive period of time and it remains to be seen whether Xi could smoothly retain his power," Chen Shih-min said. "Many regional officials got to their current positions before Xi came to power."
"I strongly believe in the possibility that there are CCP officials unhappy at Xi … and they are more than willing to make some moves behind the scenes to prevent Xi from smoothly securing a third term in reign."
Rival political factions at the regional level, who would never dare not challenge Xi openly, have thus found a weapon to destabilize the Party leader, according to Chen Shih-min. Accordingly, they would also have no incentive to ease public anger directed at Xi.
Taiwan
Both professors expressed concerns that China's power crisis will have an impact on Taiwan, a self-ruled democratic island that Beijing claims as a part of its territory.
If social problems caused by the power crunch deteriorate by next year, the Chinese regime could potentially make "more radical military maneuvers" against Taiwan, in a bid to deflect domestic attention away from the crisis, Chen Shih-min said.
This would come at a time when the CCP is already ratcheting up military pressure towards the island.
For four consecutive days at the beginning of October, the Chinese regime flew a record number of military planes, 149 in total, into Taiwan's air defense identification zone, raising cross-strait tensions to a new high. Australia, Japan, and the United States have since expressed concerns about Beijing's escalated aggressions.
According to Chen Shih-min, any radical military moves against Taiwan would only happen after the Beijing 2022 Winter Olympics Games closes in late February, since the Chinese regime wouldn't want to risk international condemnation leading to countries boycotting the games.