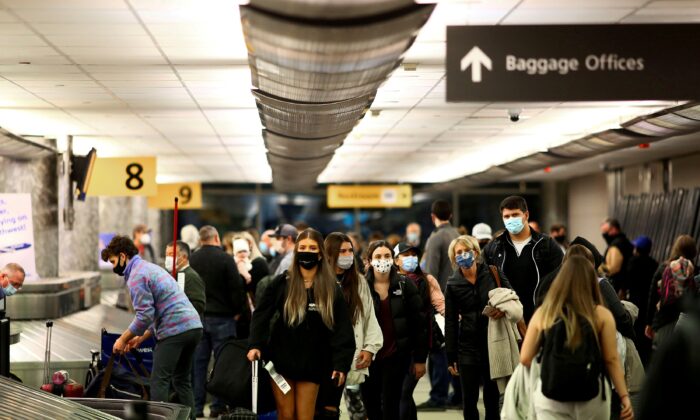 Travelers reclaim their luggage at the airport in Denver, Colo., on Nov. 24, 2020. (Kevin Mohatt/Reuters)
CDC: Fully Vaccinated People Can Travel Without Testing, Self-Quarantine
Americans fully vaccinated against the virus that causes COVID-19 can travel without taking a test or self-isolating, the Centers for Disease Control and Prevention (CDC) said Friday in updated guidance.
Once two weeks have elapsed after the final COVID-19 vaccine, people can travel at low risk to themselves, the CDC said.
"Fully vaccinated people can travel within the United States and COVID-19 testing or post-travel self-quarantine are not required as long as they continue to take COVID-19 precautions while traveling–wearing a mask, avoiding crowds, socially distancing, and washing hands frequently," it added.
Within the United States, a negative COVID-19 test should not be required when a fully vaccinated person is traveling, according to the updated guidance. Additionally, people shouldn't worry about self-quarantining at all after taking a trip.
"For example, fully vaccinated grandparents can fly to visit their healthy grandkids without getting a COVID-19 test or self-quarantining, provided they follow the other recommended prevention measures when traveling," Dr. Rochelle Walensky, the director of the CDC, told reporters during a virtual briefing.
Americans traveling outside the country also do not need to self-quarantine when returning, unless required to do so by a state or local jurisdiction, but they should still obtain a negative test before they board their flight and get a second test between three and five days after their return, the U.S. health agency said.
The guidance for unvaccinated persons remains unchanged. The testing piece is the same as that for international vaccinated travelers. Unvaccinated travelers are also recommended to self-quarantine for at least seven days upon their return.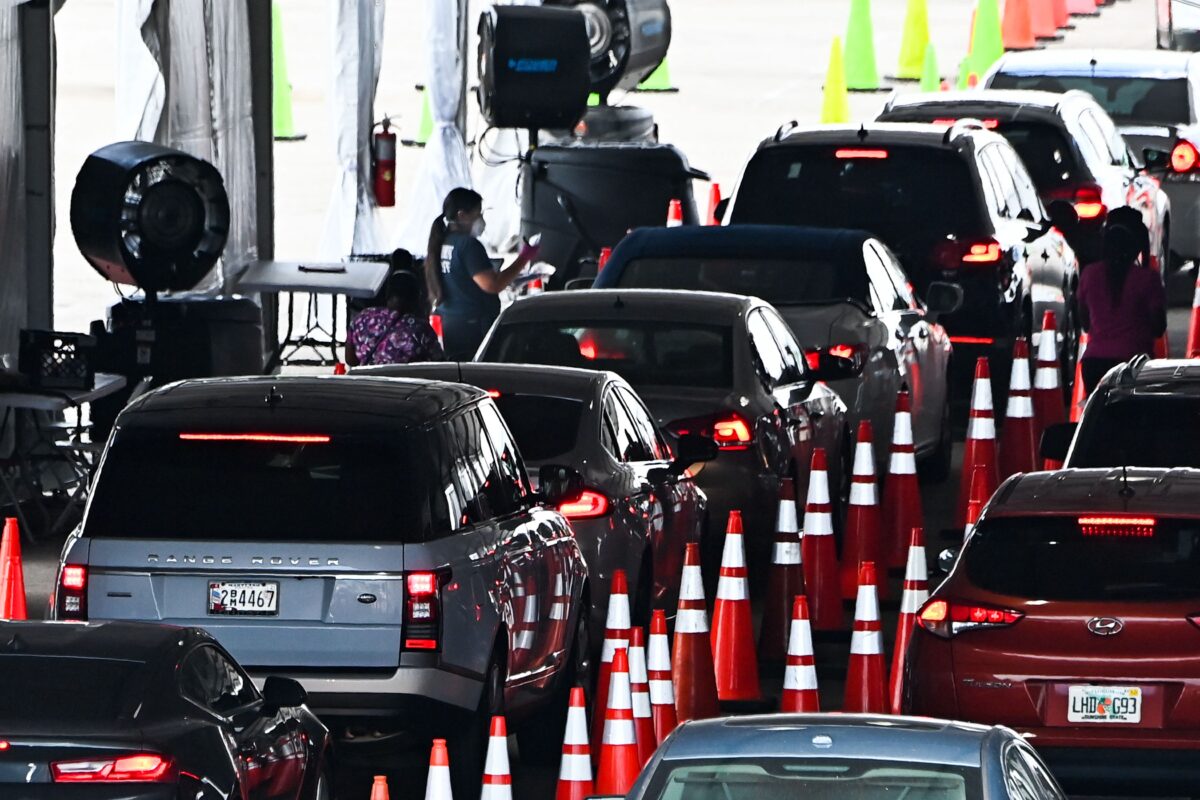 The CDC cited a growing body of evidence that indicates the real-world effectiveness of COVID-19 vaccines, including one its researchers recently completed.
"Every day you get more data, and you change your guidance based on the existing data," Dr. Ali Khan, dean of the University of Nebraska's College of Public Health, told the Associated Press about the updated guidelines, which he said reinforces how safe and effective the vaccines are.
The updated guidance also drew criticism from some who believe it remains too strict.
"This is the insanity of the @CDCgov. Must be vaccinated [because] that keeps us safe. But get vaccinated, keep doing those ineffective things that never kept you safe. Play the public like a puppet. Fear, inconsistent messaging," Michael Brown, former undersecretary of the Department of Homeland Security, wrote in a tweet.
Walensky during the briefing said people who get vaccinated should still not travel.
"While we believe that fully vaccinated people can travel at low risk to themselves, CDC is not recommending travel at this time due to the rising number of cases," she said.
Walensky earlier this week said new data "suggests that vaccinated people do not carry the virus, don't get sick." The CDC walked back those comments on Thursday.
The agency initially issued guidance for fully vaccinated persons in February, advising them that they did not have to quarantine if they were exposed to someone who had COVID-19. The agency released updated recommendations in March, saying fully vaccinated persons could gather indoors without masks or social distancing.
Fully vaccinated refers to people who have gotten both shots if they're receiving vaccines from Moderna or Pfizer, or Johnson & Johnson's single shot.
As of April 1, nearly 100 million people in the United States have received at least one COVID-19 vaccine dose, including 56 million who are fully vaccinated.
COVID-19 is the disease caused by the CCP (Chinese Communist Party) virus.