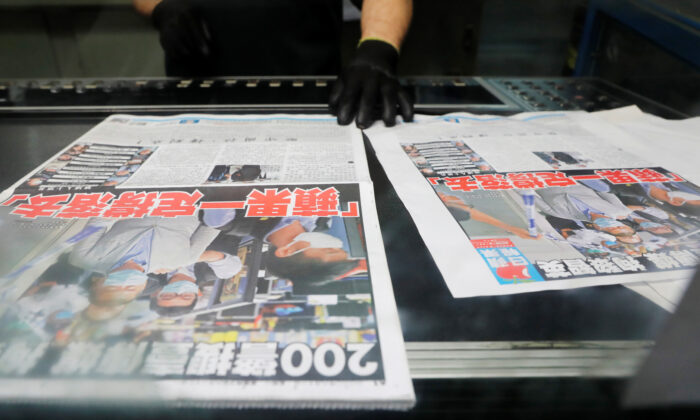 An employee checks the print quality of copies of the Apple Daily newspaper, published by Next Media Ltd., with a headline "Apple Daily will fight on" after media mogul Jimmy Lai Chee-ying, founder of Apple Daily, was arrested by the national security unit, at the company's printing facility in Hong Kong, on Aug. 11, 2020. (Tyrone Siu/Reuters)
Hong Kong Officials, Beijing-Backed Media Threaten to Shut Apple Daily Newspaper
'Let's stand tall in fallen times,' Apple Daily says
Pro-Beijing media and government officials in Hong Kong have set their sights on efforts to shut down local independent newspaper Apple Daily—one of the city's few remaining free media outlets.
Apple Daily was founded by Hong Kong media tycoon Jimmy Lai, who on April 16 was sentenced to 14 months in prison for participating in Hong Kong's mass anti-Beijing and pro-democracy protests in 2019.
During the opening ceremony of Hong Kong's newly introduced "National Security Education Day" on April 15, the city's chief executive, Carrie Lam, stated that the local government would "strengthen publicity, guidance, supervision, and management of schools, social organizations, media, and the internet regarding national security issues," based on the national security law imposed by China's ruling communist regime in Beijing last year.
Critics say the vaguely worded law, which punishes offenses such as secession and collusion with foreign forces, has been used as a tool to suppress dissidents. Since it took effect, the city has seen a drastic rollback of its freedoms, as dozens of pro-democracy figures have been charged or convicted under the legislation or similar laws. The clampdown has also stoked fears of further restrictions on press freedom in the city.
The same day, Hong Kong Police Commissioner Chris Tang told reporters the police would "strengthen the supervision of the media" and criticized Lai's Apple Daily without directly identifying it. He also threatened the remaining press by saying, "If there is evidence that someone uses fake news to incite hatred, they will be arrested and prosecuted."
Apple Daily editor-in-chief Luo Weiguang said Tang's remarks against the media represent typical rhetoric from an official shirking his or her responsibility to the people, in effect making way for the government to suppress the media.
The Hong Kong Journalists Association also issued a statement that condemns Tang for "making unreasonable remarks [about the media] without substantive evidence." The association requested that Tang retract his statement.
On April 16, Hong Kong's Secretary for Security, John Lee, said at a legislature meeting that "saboteurs and Hong Kong independence advocates" are in the government's sights as they continue to spread their message through the media.
Hong Kong Chinese language newspaper Ta Kung Pao, which is controlled by the Chinese Communist Party's liaison office in Hong Kong, also published an editorial calling for a ban on Apple Daily. The article accused the Apple Daily of "engaging in collusion with foreign forces, inciting violence, and making fake news, as well as challenging national security"—all illegal under Beijing's National Security Law.
Apple Daily responded to the accusations by citing Lai, "Let's stand tall in fallen times."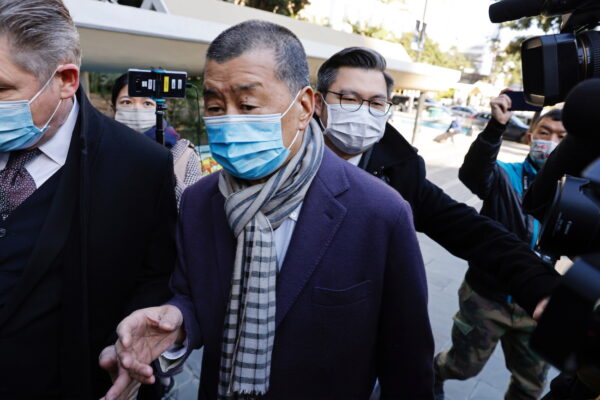 Apple Daily is widely regarded as the benchmark of Hong Kong's press freedom, and observers are worried that the Beijing-backed Hong Kong government may start with Apple Daily to completely purge the Hong Kong media.
"I believe that the authorities will take actions against the entire Hong Kong media," Fu King-wa, associate professor of the Journalism and Media Research Center of the University of Hong Kong, told Radio Free Asia (RFA) about the situation.
He said that as one of Hong Kong's most influential media outlets, Apple Daily "must be one of the main targets," adding that the authorities are now suppressing influential media in order to intimidate and silence other media, and make it difficult for them to function as the fourth power of society to supervise the government and voice the people's concerns.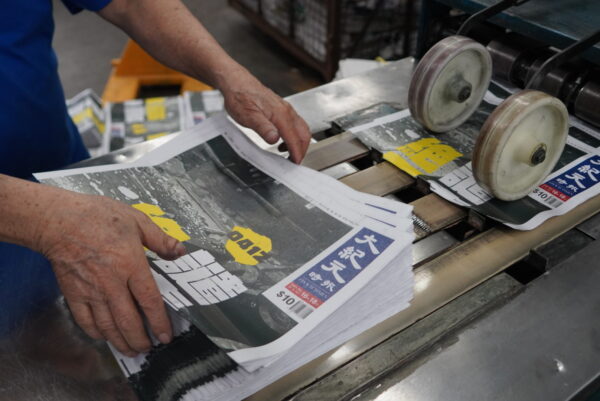 Meanwhile, as another media that's independent of the Chinese regime's influence, the Hong Kong Epoch Times's printing press was attacked and machines were damaged by unknown individuals on April 12. The international community and politicians from around the world have condemned the attack and expressed support for The Epoch Times.
Press freedom in Hong Kong has been in steady decline since the former British colony returned to Chinese rule in 1997.
Once hailed a "beacon of freedom of expression," the city's ranking on the Reporters Without Borders' World Press Freedom Index has slipped to 80th place, from 18th in 2002.