New York state health officials underreported COVID-19-related nursing home deaths by as much as 50 percent in some places, according to a report released by Attorney General Letitia James.
The 76-page report (pdf) released Jan. 28 follows an investigation by James's office into claims of neglect of patients and other conduct that allegedly led to the deaths of nursing home residents and employees.
"As the pandemic and our investigations continue, it is imperative that we understand why the residents of nursing homes in New York unnecessarily suffered at such an alarming rate," James said in a statement. "While we cannot bring back the individuals we lost to this crisis, this report seeks to offer transparency that the public deserves and to spur increased action to protect our most vulnerable residents."
The COVID-related nursing home deaths have been a flashpoint for criticism against Gov. Andrew Cuomo, a Democrat, who has repeatedly pushed back against assertions that his policy played any role in the deaths. The report is sure to trigger more debate on Cuomo's CCP (Chinese Communist Party) virus policies and how he handled nursing homes during the pandemic.
James, a Democrat, said that Cuomo's decision to order recovering nursing home patients to be returned to the facilities to free up hospital bed space may have led to more deaths. Cuomo—who has touted his administration's response to the pandemic—has often rejected the notion that this specific policy led to an increase in deaths.
Last year, the Cuomo administration flatly denied the allegations: "Admission policies to nursing homes were not a significant factor in nursing home fatalities. And data suggests that nursing home quality is not a factor in mortality from COVID."
Regarding the policy, a Cuomo spokeswoman said last year that "it was a recognition at that point that the nursing home population was very vulnerable. … There were more beds. So we said, out of an abundance of caution, you must test negative before you are released."
Officials in Cuomo's administration didn't immediately respond to a request for comment regarding James's report.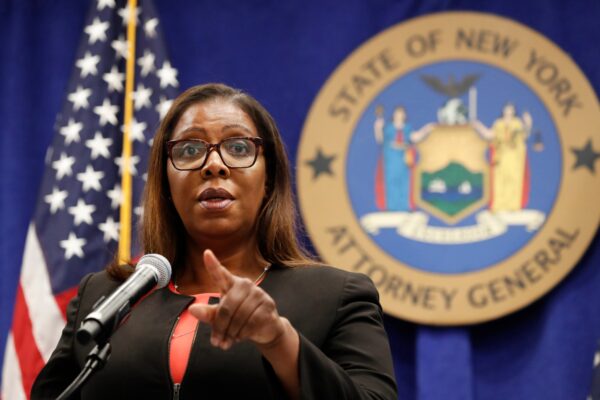 "Government guidance requiring the admission of COVID-19 patients into nursing homes may have put residents at increased risk of harm in some facilities and may have obscured the data available to assess that risk," James's report stated.
In one example, in an unidentified facility, 11 confirmed and presumed deaths were reported to the state's Health Department as having occurred at the facility. However, the attorney general's survey of the facility found that 40 deaths occurred—including 13 in hospitals and 27 in the nursing home.
"Preliminary data obtained by [James's office] suggests that many [nursing home] residents died from COVID-19 in hospitals after being transferred from their nursing homes," the report states.
In early March 2020, her office began receiving complaints of CCP-virus-related neglect, the report states. In April, she set up a hotline to take complaints about alleged abuse and neglect in the homes, noting that about 770 complaints were filed before early August 2020 and another 179 complaints were lodged through Nov. 16.
Cuomo's office earlier this month received criticism for not releasing data on the total number of nursing home residents who died from the virus for another two months.
"The state is stonewalling—plain and simple," the Empire Center for Public Policy's Bill Hammond said in a statement.
According to state data as of this week, approximately 70 percent of New York state's roughly 35,000 deaths from the CCP virus were among people aged 70 or older.
Separately, on Jan. 27, Cuomo wrote on Twitter that "residents at ALL nursing homes participating in the program have been offered the vaccine," adding that "72 percent of nursing home residents have been vaccinated by date."