Police subpoenaed a Chinese blogger because she voiced her concern for the chained woman in the rural area of Xuzhou, a child trafficking victim who was abused for 26 years by her husband and the local villagers.
Ma Panyan, a rights defender from Chongqing City, southwest China, was also sold as a child bride at the age of 12 in 2001. She however, escaped her captor. For years, she's been trying to bring the criminals to justice despite frequent harassment from police.
When she posted her thoughts about the chained woman in Xuzhou on Feb. 8,  she got into more trouble with local police.
On Feb. 11, the police issued her a subpoena of "alleged defamation" and demanded that she report to the police station by 5 p.m. on Feb. 18.
In an interview with the Chinese edition of The Epoch Times, Panyan said that she's fortunate and has remained mentally stable after so much hardship. Thus, she felt that she ought to say something on behalf of those who share similar suffering.
Experience taught her that "trying to get help from the Chinese police would be useless," she said. The police station that issued the subpoena is the same one she sought help from when she was 12. Her plea for help was actually ignored. Instead, the police notified the buyer to take her back.
Police Bribery
On May 17, Panyan phoned the police station about the subpoena; and was told by the director that they will enforce the request and come to get her if she fails to report to the police station on time.
Panyan, now a single parent with an 8-year old girl who suffers from epilepsy and autism, refused to report to the police due to the long distance and the inconvenience.
She said that she welcomes the police to come and get her, but she won't risk her child's safety by traveling to the police station. She said she has seen plainclothes police following her.
The Epoch Times called the police station at Shuanglong Town. The officer who answered the phone indicated that he's not aware of the case.
Panyan recounted what happened after she was sold as a child bride.
At the age of 12, Panyan's uncle sold her to a man 17 years her senior. She went to the police station for help, but the director had accepted her uncle's bribe—pork knuckles, eggs, and a rooster; the buyer was notified by the police and showed up to take her to his home. She was raped at the age of 13, and gave birth to a girl when she was just 14.
She said, "I ran away when I was 18, … when my sister called the police, the buyers said that "it's no use calling the police" because they had given the police station 2,000 yuan ($315.93) before they first abducted her. "They [the police] won't deal with you," the buyers told Panyan's sister.
Indeed, the police didn't respond to the call.
She hid at her sister's place, but the buyer showed up with 9 men and a woman, and took her away, despite her sister seeking help from the police.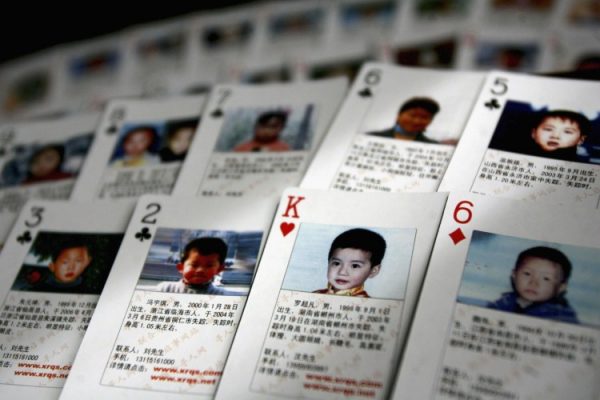 Many Chained Women in Rural China
Panyan said, "They kept me inside the house, just like the chained woman in Xuzhou, with a locked chain."
After she gave birth to a boy, the buyers let their guard down. Panyan, now 20, escaped again. Since then, she has been living the life of a displaced person, fighting for her freedom.
Panyan explained that there are many chained women in China today. She's heard stories of  women who drank pesticide to commit suicide.
Panyan's mother was also a victim of traffickers.
In 1997, when Panyan was 9, her mother killed her abusive husband. The mentally ill mother was not held criminally responsible, nor was she sent to a mental hospital. Her mother ran away from home and was picked up by another man who made her his child bearing tool.
That's when Panyan and her sisters were adopted by their uncle who later sold them as child brides.
She said her mother was abused by the man who bought her. Her teeth were knocked out, and she was chained up, stripped of her clothes even in winter, beaten, and gave birth to six children.
Panyan and her sisters finally found their mother, who was very ill by then; they took her home, and left the children with the man.
Panyan's older sister and younger sister were also sold to be child brides. When their story was exposed, the three sisters' story became widely known as the "Child Brides in Chongqing" incident.
Pressured by the public, the authorities allowed the women to divorce the men who bought them. However, neither the relatives who sold them after their mother ran away nor the men who bought them were held responsible for any crimes. The police refused to file cases for the alleged crimes such as illegal confinement and rape.
Panyan did not give up her rights and has sought justice. Her constant online posts exposing crimes of women traffickers have mad her the target of local police. She says this is how she became a rights defender.
Mary Hong contributed to this report.