The COVID-19 epidemic is rampant in China's Hebei Province. While the source of the latest outbreak of the CCP virus in the province is still unknown, the communist regime's vice premier Sun Chunlan blames "religious activities" for its spread.
Chinese citizens told The Epoch Time that the Chinese Communist Party (CCP)'s disinformation propaganda of the pandemic and its promotion of an herbal drug to treat COVID-19 might have lowered people's guard and caused this round of outbreak in the province and surrounding areas.
From Jan. 15 to Jan. 18, vice premier Sun Chunlan went to Hebei to supervise how the epidemic control measures were being implemented. This was her second visit, only one week after her last visit on Jan. 6 to Jan. 8.
The epidemic situation in the province has been difficult to control since local officials announced the confirmed cases on Jan. 2. The virus quickly spread throughout Xiaoguozhuang village and the surrounding areas in Gaocheng district of Shijiazhuang city, the provincial capital. The CCP virus infections continue to emerge in centralized isolation sites and locked down areas.
Gaocheng district of Shijiazhuang is designated as a high-risk area, and nearby cities such as Xinle and Nangong have recently been added to the list, according to a report by Chinese news portal Sohu.
Beijing's mouthpiece Xinhua covered Sun's visit in Hebei. In her speech to the local authorities, Sun admitted that the source of the latest outbreak in Hebei has not been found but blamed places of worship for spreading the CCP virus. She said, "It is necessary to learn lessons from the spread of the epidemic caused by religious activities and suspend group activities in religious places of worship and other gathering places."
Sun's speech contradicts previous announcements by local officials.
On Jan. 9, Hebei held a press conference for epidemic prevention. Li Zhanzhu, head of the Shijiazhuang Municipal Bureau of Ethnic and Religious Affairs, refuted a rumor circulating on Chinese social media that claims, "European and American priests preached in Gaocheng district and caused the outbreak." Li said, "There is currently no evidence that the source of the epidemic is directly related to religious gatherings."
Shijiazhuang city's Catholic Patriotic Association and Catholic Diocese—which are state-sanctioned religious groups—issued a statement to dismiss the rumors. They said the epidemic has nothing to do with them and warned that if the rumors continue, they will pursue legal action to hold social media platforms and individuals accountable for spreading hearsay, according to a report by RFA.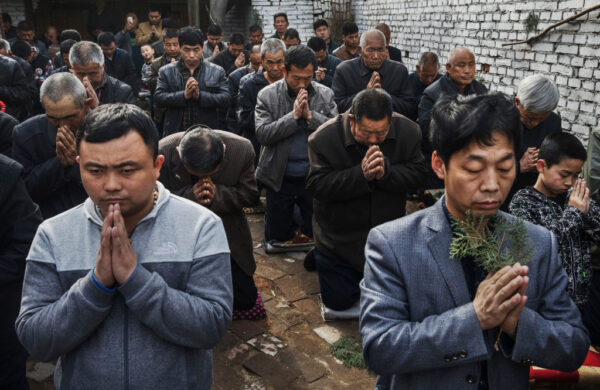 China's Center for Diseases Control and Prevention stated on Jan. 2 that the first confirmed case from the latest round of CCP virus outbreaks in Hebei was a 61-year-old woman from Xiaoguozhuang village, Zengcun town in Gaocheng district of Shijiazhuang. She had attended a local wedding banquet, according to Chinese news portal Sina.
The Epoch Times had previously reported that there were at least six wedding banquets and five funerals involving 2,643 people in Gaocheng district, Shijiazhuang last month. Many guests were infected and the virus spread to other provinces.
However, Sun didn't mention a word about the weddings, and only emphasized religious activities.
Disinformation Campaign
The Epoch Times spoke with some residents in the capital city Beijing who shared their observations about the epidemic. Beijing is surrounded by Hebei Province and only 180 miles away from Shijianzhuang.
A resident surnamed Liu said that ordinary people, farmers, and workers all listen to the Chinese regime's propaganda, but they are being misled. "The CCP's propaganda and media seriously exaggerate the epidemic situation in other countries, which makes many Chinese people think that there is no epidemic in China and they all happen abroad," he said.
A resident surnamed Xu said that the CCP's lack of transparency about the initial stages of the COVID-19 outbreak caused a global pandemic. So he does not believe in the official propaganda reports, and he chose to stay at home amid the recent surge in infections.
Another Beijing resident surnamed Wu said that the "out-of-control" epidemic in Hebei is related to the government's promotion of the traditional Chinese medicine "Lianhua Qingwen." The herbal medicine is highly recommended as an effective drug to prevent, mitigate, and treat COVID-19, and promoted by Zhong Nanshan, one of China's top epidemiologist experts. However, its efficacy is not proven and medical experts have raised concern.
Wu pointed out that the pharmaceutical factory that manufactures Lianhua Qingwen is in Shijiazhuang.
"After the people in Shijiazhuang get their hands on this medicine, they think that when they have a fever, whether it's due to the common cold or COVID-19, they will be fine as long as they drink Lianhua Qingwen, which claims to treat both," she said.
"People in the countryside like to attend gatherings such as weddings and funerals. They think this medicine is effective, so they think that there's no need to go to the hospital, which can be expensive. They didn't have symptoms at the time, so they just went to the wedding banquets."
She added, "If Zhong Nanshan didn't promote it [Lianhua Qingwen], then the common people would not have bought a few boxes of it and think they are fine [after taking it]. The most important thing [is to find out] whether or not the Lianhua Qingwen is effective." She hopes that China's National Medical Products Administration will reconsider its approval of the trial of this herbal medicine.
Luo Ya contributed to the report.