President Joe Biden announced on March 24 that Vice President Kamala Harris will be tapped to lead the administration's efforts in stemming the influx of illegal immigrants at the U.S.–Mexico border.
Biden told reporters that Harris was the "most qualified" person to handle the task. It comes as the administration faces growing pressure over how it's handling a surge at the border that started after Biden was sworn into office.
"This increase has been consequential, but the vice president has agreed … to lead our diplomatic effort and to work with those nations to accept the returnees and enhance migration enforcement at their borders," Biden said.
"It's not her full responsibility job, but she is leading the effort because I think the best thing to do is to put someone who … speaks for me, doesn't have to check with me. She knows what she's doing, and I hope we can move this along," he told reporters, according to pool reports.
Border Patrol apprehended 100,441 illegal border-crossers along the southern border in February, according to  Customs and Border Protection. The number reflects a 28 percent increase over January.
An ongoing immigration policy tracker by the Heritage Foundation found that Biden has rolled back almost all of former President Donald Trump's immigration policies.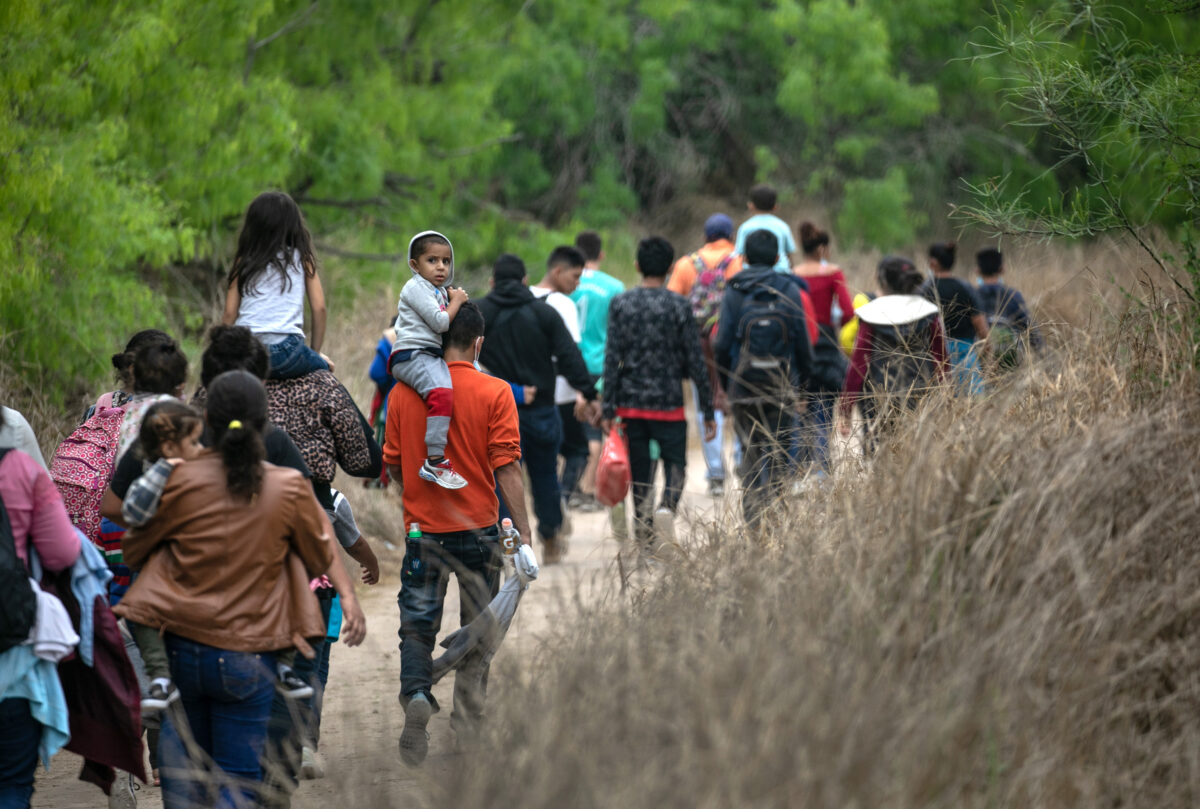 The White House and the Biden administration have repeatedly refused to use the word "crisis" when describing the historical increase of illegal immigrants crossing the U.S.–Mexico border. Reporters have in recent weeks been pressing the administration on this.
Later, Harris thanked Biden for appointing her and described what's happening at the border as a "challenging situation."
"While we are clear that people should not come to the border now, we also understand that we will enforce the law and that we also—because we can chew gum and walk at the same time—must address the root causes that cause people to make the trek," Harris told reporters.
"I look forward to engaging in diplomacy with government, with the private sector, with civil society, and the leaders of each in El Salvador, Guatemala, and Honduras to strengthen democracy and the rule of law and ensure shared prosperity in the region."
Meanwhile, Mexico's president cast the blame this week on Biden's policies, saying he created certain "expectations" that are ultimately spurring illegal immigrants into making the trip.
"Expectations were created that with President Biden's government there would be a better treatment of migrants. This has caused Central American migrants, and also from our country, to want to cross the border thinking that it is easier to do so," President Andrés Manuel López Obrador said on March 23.
Biden's changes to immigration policies have triggered a surge in illegal crossings, especially by unaccompanied minors, more than 11,000 of whom were being kept in overcrowded facilities as of March 23.
Sen. Lindsey Graham (R-S.C.) proposed an immigration measure on March 24 that aims to close loopholes in the asylum system and change policies that may be contributing to the escalating crisis on the southern border.
Graham's bill would require asylum-seekers from the Northern Triangle countries—Guatemala, Honduras, and El Salvador—to apply for refugee status at asylum centers outside the United States. The proposal would also afford equal treatment to unaccompanied minors from the Northern Triangle as those from Canada and Mexico. Under the current law, unaccompanied minors from Mexico and Canada are returned to their home countries.
Ivan Pentchoukov contributed to this report.