Carlie Trent, 9, was last seen during the afternoon hours on May 4. She was signed out of her Rogersville, Tenn., school by her uncle, Gary Simpson, 57, who has no current custodial rights.
Just three days later, Carlie's pediatrician, Dr. Chris Calendine, pledged to offer a $10,000 reward for information leading to the safe recovery of the child.
In an interview with Epoch Times, Calendine says why he felt the need to pitch in.
"I'm fortunate, there's not a lot of times in my life I would've had 10 grand," he said, adding that rural pediatricians don't quite make as much money as people think.
Calendine had initially intended to buy himself a boat with the money, but changed his mind. "It's been a busy year, I've been working a lot and had been putting away, yeah, that's kinda what we were planning toward, but I mean whether it was a boat or a trip, the bottom line is there's plenty of time for that, but none of it is worth more than helping out a little bit."
Calendine said the idea actually came from some of the kids from Rural Health Services, where he works. He said they'd been using social media to get the word out and they had mentioned raising money. He then joked about asking the near 5,000 kids within his practice to donate $2 each to raise the goal of $10,000, but he said there was no time for that.
"They're amazing kids, I've gotten to work with these kiddos, some of them for more than 15 years, and we really want them to know when they walk through our doors that we care about them and we'd do anything for them, and we're definitely sincere about that," Calendine said.
The pediatrician didn't know Trent outside of his medical practice. He said she'd attended the rural health center for primary care, for well-child checks, and sick visits, but wasn't in the office excessively. As soon as he saw her picture though, he recognized her from her visits at the center throughout the years.
"The gentleman who actually is involved [Gary Simpson], he had been one of the people that brought her to the clinic. I recognized him as well, he's very involved in her life, that's kind of been the odd thing here. At one time he had custody, and it sounds like he still had daily contact with her, so it's kind of puzzling as to why he'd take this approach."
Calendine, as well as local and state police, believes Simpson hasn't been out of the small rural area of Rogersville, stating he grew up in the area, too.
The pediatrician has been married for a year and a half, and has no children of his own right now. He says he's just been so busy with work but hopes that one day in the near future he can start a family.
"I feel like I've got a few thousand great kids, that's the best thing about a rural practice, it's a smaller community, everybody knows everybody so we get to watch these kids grow up, and we do get to know the families better—but this is a real eye opener too.
"As I step back into the clinic, I assure you, I'll be extra mindful forever in taking that extra time to interact with the kids more and show how much we care about them, and understanding things like this can happen."
A lot of people in the community are helping in the search for Carlie by foot—they have coordinated their efforts via a Facebook group and an online, interactive map that shows where each person has looked. Calendine says Rogersville is very rural and easy to get lost in, and those searching are relying on the public's help to locate her.
"We don't know if she's in the immediate area however, so we can't assume anything," he said.
At the end of the interview, Calendine spoke from the heart:
"What I've been struck by is that I have, and I think others have, become a little bit too accustomed to Amber Alerts and we kind of half listen. We don't fully take it to heart and when it hits this close to home then you realize you want everybody out there to listen to those details and know the vehicle, and what to watch for, and you want them to share that with everybody they know, and I hope that we can, as professionals, continue to do such a good job with the Amber Alerts—and from a community standpoint, can do even better about taking absolutely every one of these to heart and just as serious, because absolutely every kid deserves that platform."
On top of Dr. Chris Calendine's $10,000 offer, the U.S. Marshals Service indicated it was offering a $2,500 reward for information leading to the child and the capture of Gary Simpson. 
"We will not rest at TBI until we bring resolution to this, until we find her and reunite her with her family," said Josh DeVine, public information officer for the Tennessee Bureau of Investigation (TBI).
As of May 9, DeVine says the bureau has received 150 tips, yet none included credible sightings of either Trent or Simpson, or the van they're believed to be traveling in.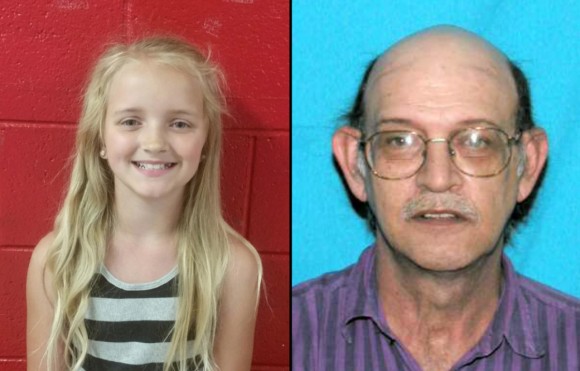 Carlie is 4 foot 8 inches tall, weighs 75 pounds with blonde hair and blue eyes, and was last seen wearing a black and gray tank top and blue jeans.
Simpson is a white male, 5 foot 10 inches tall, weighing 157 pounds. He is balding, has brown hair and eyes, and was last seen wearing a brown cap, a dark-colored shirt and jeans.
They're believed to be traveling in a white 2002 Dodge Conversion Van with Tennessee registration plates 173-GPS. The van has a dark stripe along the middle with light gold running boards and paint is chipping off of the hood.
Shortly after her pediatrician's pledge, the TBI obtained footage of who they believe is Carlie and Simpson inside a Rogersville Save-A-Lot grocery store on the day she was picked up from school.
Warrants have been issued for Simpson for kidnapping.
If anyone has information that may prove helpful, they may contact the TBI at 1-800-TBI-FIND.