Miss New York Kira Kazantsev became Miss America 2015 on Sunday night.
The 22-year-old hails from Manhattan and graduated from Las Lomas High School before attending Hofstra University, where she majored in political science, global studies and geography.
Kazantsev hopes to obtain a Juris Doctorate and a Master's degree in Business Administration and pursue pursue a career in International Diplomacy.
Her talent is vocal and her platform is Love Shouldn't Hurt: Protecting Women Against Domestic Violence.
 The daughter of Russian immigrants told the Press of Atlantic City that she was a victim of domestic violence while in college.
"It was something that definitely changed me," she said. "I'm better now and I'm stronger now. I want to show others they can handle it too."
"We need to talk about the issue," she added to the New York Post. "We need to make it something people aren't scared of. We need to stop asking, 'Why doesn't she just leave?' but instead have the courage and empathy to help women on their way."
Kazantsev said that she plans to sing Pharrell William's "Happy" while tapping a red plastic cup like Anna Kendrick's character did in "Pitch Perfect."
"I keep time with the cup," she said. "It's not your average Miss America talent in terms of singing Broadway tunes or opera. I'm sticking to what I can do."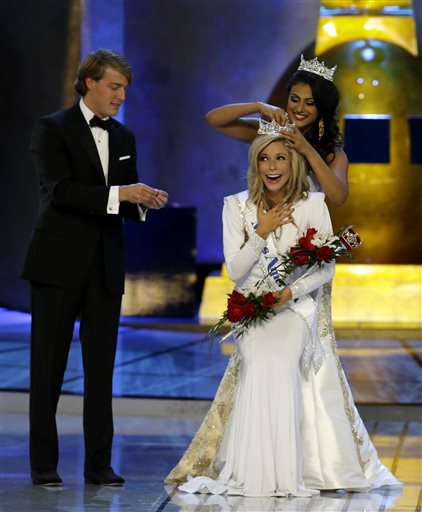 (Facebook)

(Facebook)

MORE:

Miss Florida Victoria Cowen: Pictures, Age, Talent, Facts for Miss America 2015 Contestant
Miss New York 'Happy' Performance From 'Pitch Perfect' With Cup Slammed by Twitter (+Vine Video)