A fifth grade class at Minisink Valley Intermediate School hosted 11 U.S. veterans to honor and celebrate their service to the country with a ceremony and brunch on May 24.
Fifth grade teacher Rosemary Marcolina has invited veterans from across Orange County for 22 years. This year's fifth graders started to prepare for the veterans visit eight weeks ago. Fifteen student committees were assigned different responsibilities for the ceremony.
Fifth grader Gregory Furman wore his Boy Scout uniform to class that day. "I love spending time with people who have served our country," Furman said. "They are special people and truly deserve to be celebrated."
The students gave the veterans letters, poems, drawings, and musical performances, as well as proceeds of a food drive to benefit soldiers and families served by Castle Point Veterans Hospital.
The veterans shared their service stories, from the rigors of active duty and wartime hardships to humorous training experiences, and passed around wartime photo albums and memorabilia.
Vets told what it means to serve—service is everyone's job. "In the service you help everybody out and you stay until the job is done," said Arthur Olah who served in the U.S. Air Force between 1972-76 as a jet engine mechanic and later as crew chief of a T-38 jet.

Four of the veterans have grandchildren in Marcolina's class. Two others graduated from Minisink Valley.
A group with the American Legion George Smith Post 1607 in Unionville passed out paper American flags and memorial poppies.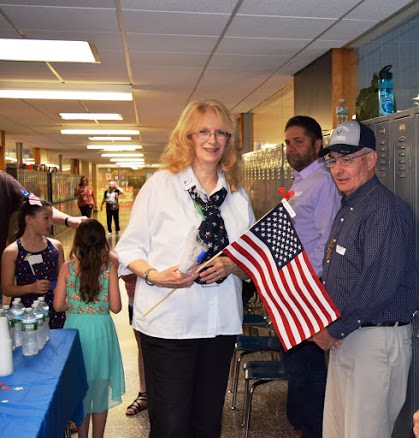 They presented Marcolina with a triangular flag case in recognition for her long-standing efforts to acknowledge local veterans. Other veterans represented Greenville Veterans of Foreign Wars Post 3175.
Parents prepared brunch and decorated the hallway and classroom in a patriotic theme. Family members, school administrators, and staff were also in attendance.
Honored veterans were Arthur Olah, Ken Balzano, Nick Solimando, Frank Lamando, Ronnie Aiello, John Clausen, Thomas Hauck, Russell Jung, Joseph Giannoccora, Joe Heron and Michael Olivari.
To contact this reporter, email yvonne.marcotte@epochtimes.com.