The Milwaukee Bucks never trailed as they ambushed the visiting Golden State Warriors Thursday night as Giannis Antetokounmpo tallied his third triple-double of the season en route to a 118–99 victory.
The Bucks made the record books with a 39-point halftime lead, 77–38. Since the use of the shot clock in the mid-1950s, only the Seattle Supersonics led by more points over the Boston Celtics at halftime.
The Bucks' record is currently 20–17. The win ended a two-game losing streak, while the Warriors had the best record in the NBA before losing four out of the last five games, dropping them to 30–11.
"We played a team that was ready, and played a great first half," said Warriors coach Steve Kerr. "So we're a little out of sorts, and we just got to get back on track, and we will."
The Bucks had four of 12 scorers in double-figures. Antetokounmpo, last year's league MVP, led the game by scoring 30 points on 11–17 shooting, 12 rebounds, and 11 assists. Khris Middleton scored 23 points on 7–13 shooting, and five of seven three-pointers. Bobby Portis contributed 20 points with seven rebounds, and Grayson Allen added 15 points with five rebounds.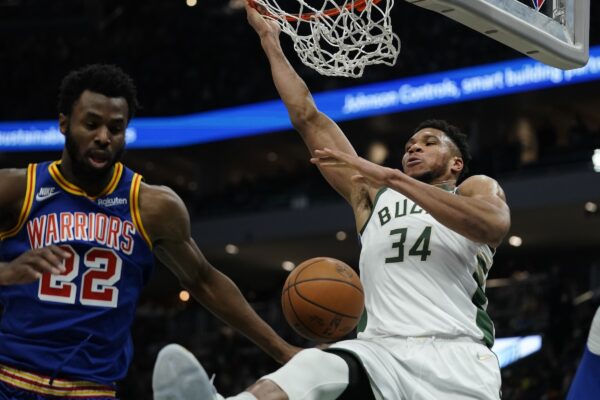 Milwaukee's shooting percentage was a spectacular 51.2 from the field, 44 of 86, and 43.9 percent, 18 of 41, from three-point range.
"Obviously we know that we are the defending champs, everybody's going to play hard against us," said Antetokounmpo. "But at the end of the day, it's about us. How can we play hard and focus on ourselves."
The Bucks held Warriors' leading scorer Stephen Curry to only 12 points, eight rebounds, and four assists, as they double-teamed Curry on defense.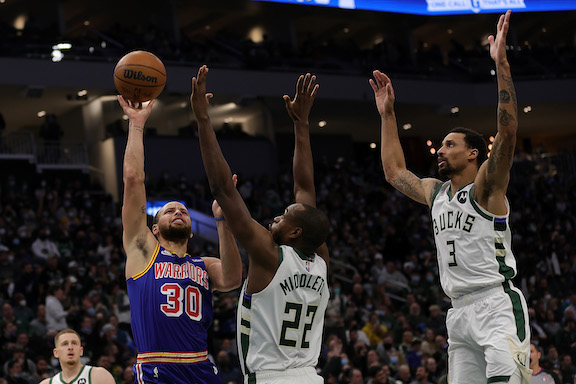 "We just got off to a terrible start where everything went wrong on both ends of the floor," Curry said. "We obviously have stuff to work on but it's not a situation where we don't know what to do, and how to get it done. We want to be able to ride the ship as quick as possible, but there's no panic."
Andrew Wiggins led the Warriors with 16 points on 6 of 11 shooting; Jonathan Kuminga added 15 points and seven rebounds.
With playing time limited to 20 minutes, Klay Thompson scored 11 points in his third game returning from ACL and achilles tendon injuries, after sitting out two and a half years. He will miss the next game, as "part of the process of his recovery is he's not going to play back-to-backs early on," said coach Kerr.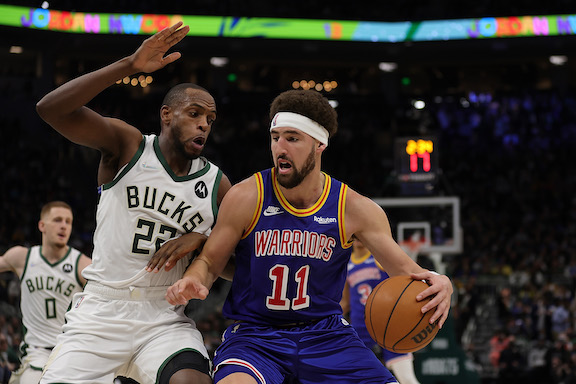 The high-scoring Warriors never led in the game; their usual three-point production was held to only 33.3 percent, 16 of 48. Since moving to the Bay Area in 1962, the Warriors' 39-point halftime deficit was the largest ever.
At halftime, the Bucks shot 63 percent from the field, and 50 percent, 10 of 20, from three-point range, and had four players already in double figures. Antetokounmpo scored 23 points, seven assists, and seven rebounds, and Portis added 17 first-half points.
The Warriors took momentum in the third quarter defensively, holding the Bucks to 20 points, while scoring 34. Thompson and Wiggins scored eights points to trim the lead to 25 by the end of the quarter.
The Warriors continued to make the score more respectable, outscoring the Bucks 27–21 in the fourth quarter. Nevertheless, the Bucks cruised to victory 118–99.
Draymond Green has been out much of the last three games with left calf tightness for Golden State; he's a major factor of their interior defense and rebounding.
"I know we just got our butts kicked, but we're just in a rough patch in our season," Warriors coach Kerr added. "It happens to every team, every year pretty much with very few exceptions."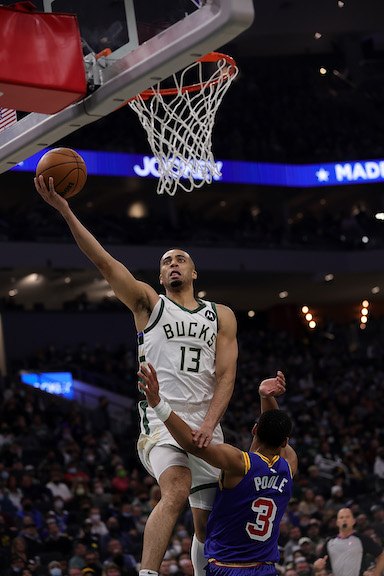 The Warriors continue their road trip at Chicago on Friday night, while the Bucks host Toronto on Saturday.