Officials in northern Michigan are searching for a woman who went missing last week while staying at a remote cabin after making a mysterious phone call asking for help.
The Benzie County Sheriff's Office said 47-year-old Adrienne Quintal, of Warren, was staying at her family's cabin in Honor, a remote town in on Michigan's Lower Peninsula, according to Fox News.
She made a call at 2:45 a.m. to a "third party" in Warren and  "asked for help," the sheriff's office said. The "third party," who was not named, contacted the sheriff's office.
"Deputies and Michigan State Police arrived on scene at 2:58 a.m. and observed evidence of possible foul play but were unable to locate Adrienne," police wrote in a news release cited by Fox.
Quintal left behind items such as her vehicle, a cellphone, and purse, said officials, according to People magazine.
On the same night, sheriff's deputies and Michigan State Police troopers searched the area and used a K-9, but they weren't able to find her.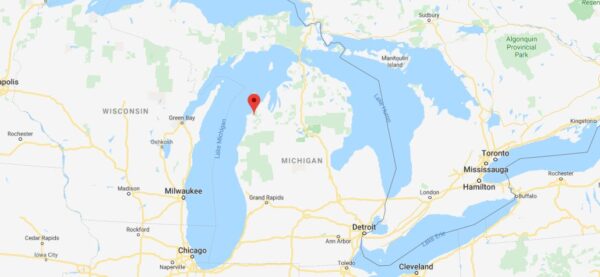 The woman's son, Nick White, told Fox2 that his mother went to the cabin with her boyfriend. The boyfriend returned back home to Southfield, Michigan, he said, adding that it was two days before she went missing.
"He was up there with her, he came home to drop supplies off, we are working on the condo here," White said.
White said she was at the cabin to work on it.
"She was also just getting ready for hunting and hanging out and enjoying the wildlife," he added to Fox2.
On Friday, officials said that it's not clear if she went missing voluntarily or if she was abducted, according to People.
Quintal is described as having long brown hair with brown eyes and is approximately 5 feet 7 inches and weighs 125 pounds.
Anyone with information about the case should call the Benzie County Central Dispatch at 231-882-4487 or the Michigan State Police Silent Observer at 1-866-774-2345.
Missing Children
There were 424,066 missing children reported in the FBI's National Crime Information Center in 2018, according to the National Center for Missing and Exploited Children (NCMEC). Under federal law, when a child is reported missing to law enforcement they must be entered into the database. In 2017, there were 464,324 entries.
"This number represents reports of missing children. That means if a child runs away multiple times in a year, each instance would be entered into NCIC separately and counted in the yearly total. Likewise, if an entry is withdrawn and amended or updated, that would also be reflected in the total," the center notes on its website.
"Unfortunately, since many children are never reported missing, there is no reliable way to determine the total number of children who are actually missing in the U.S.," NCMEC (National Center for Missing & Exploited Children) added.
In 2018, the center said it assisted officers and families in more than 25,000 missing children cases. Of those cases, 92 percent were endangered runaways, and 4 percent were family abductions.
The center said that it participates in the Amber Alert Program, which is a voluntary partnership between numerous entities, including broadcasters, transportation agencies, and law enforcement agencies. The Amber Alert Program issues urgent bulletins in the most serious child-abduction cases.
According to the NCMEC, to date, 941 children have been successfully recovered as a result of the Amber Alert Program.
The center notes that of the more than 23,500 runaways reported in 2018, about one in seven were likely victims of child sex trafficking.