Green Party candidate Jill Stein could receive a considerable amount of money back from the state of Michigan after its statewide recount was halted by a federal judge this week, according to the Detroit Free Press.
State law stipulates that she had to pay $973,250 for a recount of Michigan's 7,786 voting precincts. She delivered a check for the recount last week.
Michigan's Secretary of State is now set to refund her a portion of that money after Michigan recounted a small portion of the state's precincts, the Free Press reported. U.S. District Judge Mark Goldsmith stopped the recount effort on Wednesday, as 26 Michigan counties started counting ballots again.
The Free Press reported that 1,364 precincts were counted in all, meaning that Stein still has to pay $170,500.
"That's fair, that we pay the fee for the ones that were counted," Stein's attorney, Mark Brewer, told the paper. "The law provides that for the precincts that were unrecountable, that she should get a refund."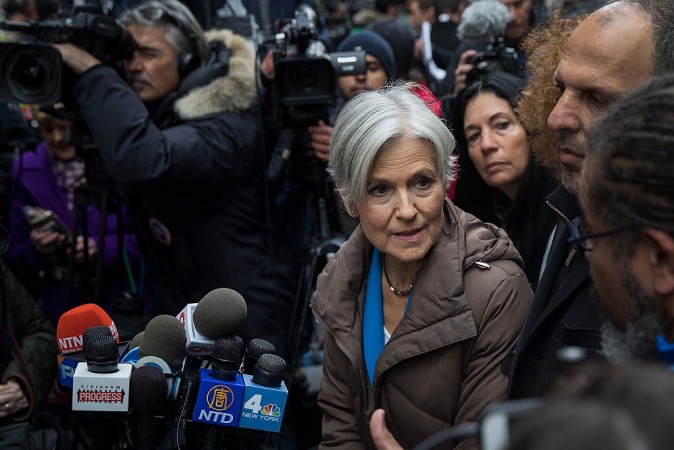 Another campaign spokesperson said that they want the full amount back. "In the event that the Supreme Court fails to act, we expect the $970,000 filing fee to be returned to the campaign," Margy Levinson said.
On Friday, two Michigan Supreme Court members who made President-elect Donald Trump's list of possible U.S. Supreme Court nominees have removed themselves from consideration of an appeal by Green Party presidential nominee Jill Stein to restart a recount, AP reported.
Chief Justice Robert Young and Justice Joan Larsen removed themselves from the case on Friday. The removals come two days after a federal judge ended the recount that began Monday. He tied his decision to a state court ruling that found Stein had no legal standing to request the recount.
Stein then appealed to the Michigan Supreme Court. It still has only a remote chance to succeed before the high court. Three of the five remaining justices were nominated by the GOP. Those five members haven't yet decided whether to take the case.
A Green Party-backed recount nearly completed in Wisconsin is being challenged in federal court there on Friday. Stein is also asking a federal court to start a recount in Pennsylvania on Friday.
Trump narrowly defeated Democrat Hillary Clinton in all three states. Stein received only about 1 percent of the vote in each.
The Associated Press contributed to this report.