Facebook parent company Meta has warned that it will pull news articles from its social media platform if Congress passes the Journalism Competition and Preservation Act (JCPA).
The legislation was introduced by Sen. Amy Klobuchar (D-Minn.) in March 2021 and would effectively remove some existing antitrust laws; making it easier for small news publishers to collectively negotiate with tech giants such as Facebook for a larger share of digital advertising profits.
JCPA has received backing from dozens of democratic and Republican lawmakers but not everyone agrees with the bill.
Andy Stone, Meta's head of policy communications, wrote on Twitter on Monday that the legislation is "ill-considered", and noted that Congress is reportedly considering passing the bill as part of its annual defense bill in December.
Stone said that if lawmakers were to pass the bill, Meta "will be forced to consider removing news from our platform altogether rather than submit to government-mandated negotiations that unfairly disregard any value we provide to news outlets through increased traffic and subscriptions."
He added that the bill fails to recognize that publishers and broadcasters put content on the platform because "it benefits their bottom line – not the other way around."
'Terrible Precedent for All American Businesses'
Additionally, Stone said the bill would set a "terrible precedent for all American businesses" because it would create a "cartel-like entity which requires one private company to subsidize other private entities."
This is not the first time that Meta has issued such a threat; last year a similar Australian law, which went into effect in March, saw Facebook briefly block all news on its feeds in the country. The tech giant later reversed its decision after holding talks with the Australian government.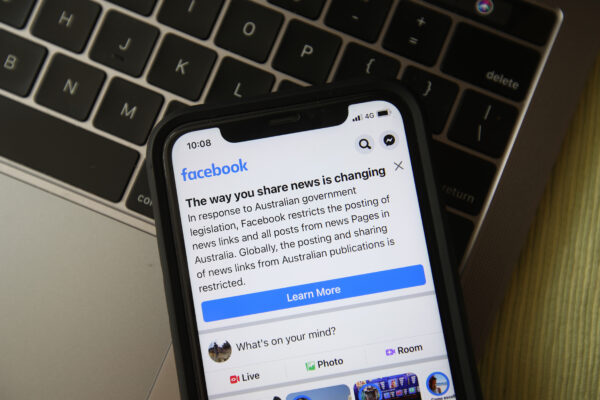 Under current laws in the United States, online and print media outlets are banned from forming a joint coalition and demanding concessions from tech companies to allow their content to be published on the platform.
The JCPA would do away with that, creating instead a four-year exemption under U.S. antitrust law that allows the news outlets to negotiate with tech giants for a larger share of ad revenue in exchange for their news content being published on the sites.
Specifically, the bill states: "A news content creator may not be held liable under the antitrust laws for engaging in negotiations with any other news content creator during the 4-year period beginning on the date of enactment of this Act to collectively withhold content from, or negotiate with, an online content distributor regarding the terms on which the news content of the news content creator may be distributed by the online content distributor."
Facebook's Threat Is 'Undemocratic and Unbecoming'
The News Media Alliance, a trade group representing newspaper publishers, has reportedly called on Congress to pass the bill as part of the National Defense Authorization Act (NDAA) for the Fiscal Year 2023.
In a statement on Monday, the trade group called Facebook's threat "undemocratic and unbecoming," and pointed to the fact that tech platforms compensate news publishers across the globe, which the group said demonstrated that there is a demand and economic value for news.
"These threats were attempted before the Australian government passed a similar law to compensate news outlets, played out unsuccessfully, and ultimately news publishers were paid," the group said. "The Australian law resulted in countless jobs for local journalists and $140 million to news outlets, which translates to billions in the U.S."
However, the bill has not received widespread approval, with over two dozen groups, including the American Civil Liberties Union, the Center for Democracy & Technology, Public Knowledge, and the Computer & Communications Industry Association calling on lawmakers not to pass it as part of the NDAA.
In a letter (pdf) to lawmakers, including outgoing House Speaker Nancy Pelosi (D-Calif.), the groups stated that the bill "does not protect competition or local journalism," and would instead "create an ill-advised antitrust exemption for publishers and broadcasters to marshal their muscle to impose a group boycott on an online platform's ability to share news and information with the public, unless the platform accedes to their demands."
Joseph Lord contributed to this report.