Leaders from the United States, Russia, and across Europe paid tribute to Helmut Kohl at a memorial on Saturday, marking the achievements of a man who propelled a united Europe.
Kohl was Germany's leader from 1982 to 1998 and guided the divided state into a unified whole. Angela Merkel was a minister in his government, recruited from her role as leader of the opposition in the former East German state as soon as the two countries were united.
"Without Helmut Kohl, the lives of millions of people who until 1990 lived behind the wall would have gone totally different. Of course, also mine," said Merkel.
"Dear Chancellor Helmut Kohl, you had a deciding part in that I stand here. Thank you for the chances that you gave me. Thank you for the chances that you created for many others. Thank you for the chances that we as Germans and Europeans that we have received from you. You have infinitely achieved much. Rest in peace. Now it's upon us to keep your legacy."
Merkel wasn't the only world leader to pay tribute to the former chancellor. Former President Bill Clinton said Kohl gave people the chance to be involved in something bigger than themselves and Russian Prime Minister Dmitry Medvedev said Kohl was "the architect of the world order,"  and a "wise and sincere person."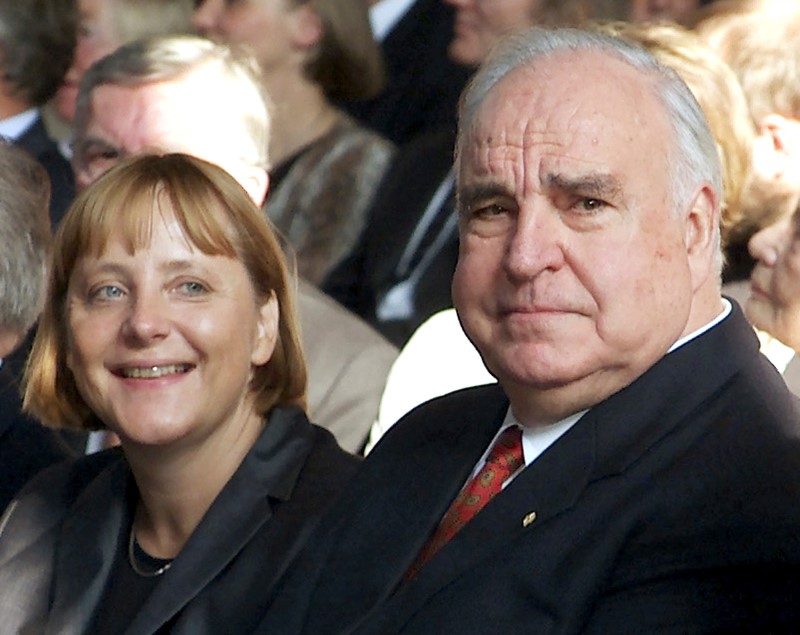 The world lost a man who brought it closer together, said Former Luxembourg prime minister and current president of the European Commission Jean-Claude Juncker.
"I am not speaking here as the Commission president, rather as a friend who became Commission president. With Helmut Kohl, a postwar giant leaves us. In his lifetime he entered into history. In the history books he will stay forever."
The two-hour memorial took place in one of the EU's three working parliaments, in a city that has passed between Germany and France several times, a symbol of sorts to inspire European integration.
Afterwards, Kohl's casket was flown by helicopter to his hometown of Ludwigshafen across the Rhine. It was later carried in procession before being transported by riverboat to his final place of rest in the city of Speyer.