Beijing announced more CCP virus patients over the weekend as restaurant workers became infected after exposure to a market linked to the capital's latest outbreak.
Meanwhile, locals said they believe authorities were underreporting cases, as medical staff were dispatched from other parts of the country to help treat COVID-19 patients in Beijing and the city launched more travel restrictions.
The city stopped all intercity bus services on June 19, while bus service within the city only sold 90 percent of seats in order to allow social distancing. Subways would be filled to only 80 percent capacity.
Chinese state-run media also reported that about 45 percent of flights at the city's two international airports were cancelled during the past few days. All train stations also refunded passengers who bought tickets before June 16 and will not be making new trips.
Suspected Underreporting
On June 21 afternoon, the Beijing city government upgraded two areas of the city from "medium risk" to "high risk" of virus spread. Meanwhile, four areas of the city were upgraded from "low risk" to "medium risk."
Since mid-June, new virus cases have appeared in ten of 16 districts in Beijing. A total of four areas have been designated as "high risk" and 37 regions as "medium risk."
According to authorities, the total diagnosed patients in Beijing in the past 10 days has reached 227 people, with the youngest being only 19-month-old.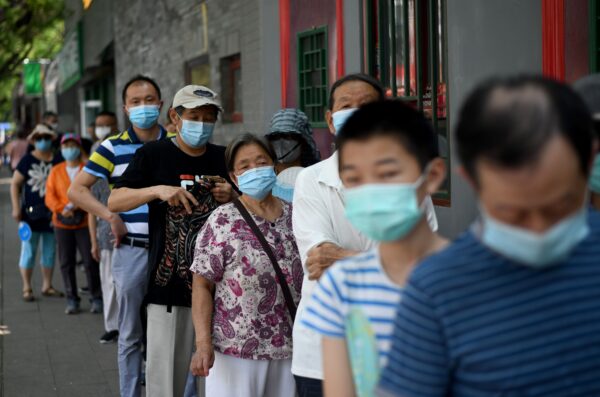 But government actions and information reported by insiders indicated the outbreak was much worse than authorities publicly admitted.
Beijing resident Ms. Tang told Radio Free Asia that the "Beijing You'an Hospital diagnosed more than 300 patients yesterday [June 14]. Most of them are from Fengtai district and Daxing district.
The Ditan hospital, a facility designated to treat COVID-19 patients, announced on June 18 that the hospital would no longer accept any non-COVID patients. The hospital has 1,070 beds. 102 experienced medical staff were dispatched from other hospitals in Beijing to Ditan Hospital to help treat COVID-19 patients.
And on June 20, over 70 experienced medical staff arrived at Beijing from Wuhan—the central Chinese city where the virus first broke out—to help treat patients and perform nucleic acid tests at the Beijing Hospital, China-Japan Friendship Hospital, Peking Union Medical College Hospital, and other hospitals in the city.
Medical teams from Jiangsu, Zhejiang, Shandong, and Henan provinces were also sent to Beijing on June 19. State media said they would assist in investigating the outbreak and prevent further infections.
Outbreaks in Restaurants
City authorities have attributed the latest resurgence to the sprawling Xinfadi market. Many businesses reopened in May as the Chinese Communist Party convened one of its key political meetings in the capital.
Many restaurants purchase their produce from the market, resulting in many restaurant workers becoming infected.
Pang Xinghuo, vice director of the Beijing Centers for Disease Control and Prevention (CDC), announced at a press conference on June 18 that all seven employees of one restaurant were diagnosed with the virus after one of them visited the Xinfadi market.
Two days later, Pang announced that eight employees at the Mianmian Judao restaurant, which is situated close to the market, were infected.
In the past days, authorities also reported infections at four other restaurants in the city.
The city's restaurant industry is on edge. "We closed our restaurant [on June 16]," said a restaurant owner in Huaxiang township, Fengtai district in a phone interview. "Now the outbreak is very serious, and we don't dare to operate."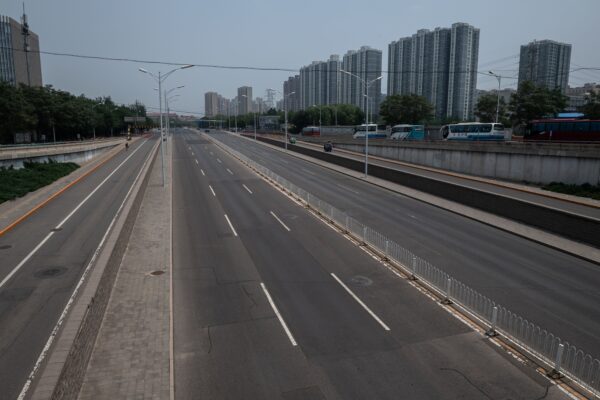 Another restaurant owner in Majiabao neighborhood, Fengtai district told The Epoch Times that his restaurant was still open, but authorities required that he and his employees take nucleic acid tests.
An insider from a health-related department in the Beijing city government told the Chinese-language Epoch Times that restaurant employees must take the tests—once every seven days—if they want to work.
Authorities have heavily restricted people from revealing the true situation to the public, thus making it difficult to assess the severity of the outbreak. Beijing police announced on June 19 that it detained and punished at least 60 people who had spread "outbreak-related rumors."
Other Cluster Outbreaks
The Beijing government announced at least 10 cluster outbreaks in recent days.
On June 21, Pang and Fan Zhimin, publicity director of PepsiCo China, said at a daily press conference that eight employees from Pepsi's potato chips factory in Beijing were diagnosed with the CCP virus.
They said the factory has since closed, with 480 employees isolated at quarantine centers, and all their families and living partners were instructed to self-quarantine at home.
According to China's enterprise database Tianyancha, the factory has 869 long-term employees. Pang and Fan did not explain what happened with the other roughly 380 employees.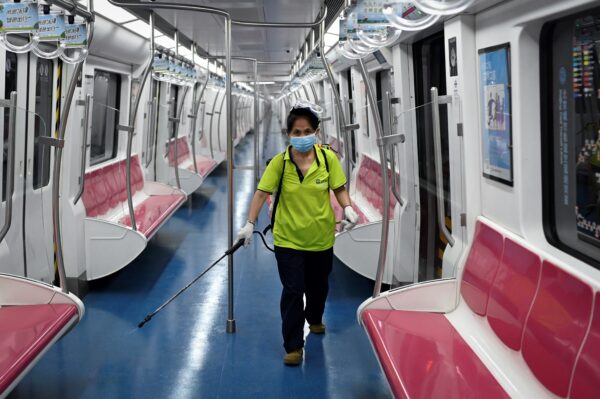 On June 19, Wu Bin, deputy director of the Changping district government, said at a daily press conference that a nurse who works at the emergency department at Peking University International Hospital was diagnosed with the virus on June 18.
Wu said the nurse was identified as a close contact of a diagnosed patient on June 14. Previously, she worked at the hospital every day.
After her diagnosis, the whole hospital was closed and all medical staff were isolated at the facility for further tests.
Through recent travelers to Beijing, the virus has now spread to Liaoning, Sichuan, Hebei, Zhejiang, and Henan provinces. Baoding city in Hebei launched "wartime" preparations on June 13 to prevent the virus from spreading. It has announced new cases almost every day since then.