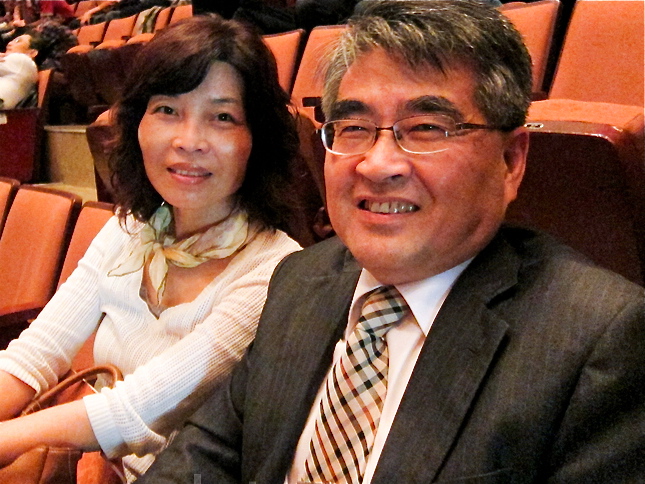 KAOHSIUNG, Taiwan—With the sun shining brightly in the early afternoon, locals were congregating in anticipation outside the National Sun Yat-sen University Sun-Yat-sen Hall to see the grandeur of authentic Chinese culture being brought to life by Shen Yun Performing Arts New York Company at Saturday's matinee performance on March 17.
Wei-Jou Juang, director of Kaohsiung County Medical Association, was among the audience. He had come on the recommendation of his friends. He gave his affirmation to the spirit of "Good versus Evil," one of the themes of this year's Shen Yun performance, and gave his highest praise to the Shen Yun Orchestra.
Shen Yun's one-of-a-kind orchestra, with its all-original compositions, blends East and West like no other. The distinctly Chinese sound of ancient instruments like the erhu and the pipa are bathed in a rich sea of Western strings, percussion, woodwinds, and brass. The result—two great classical music traditions producing one fresh, unexpected sound, states the company's website.
Mr. Juang marveled at the Shen Yun Orchestra. He said: "The performance by the live orchestra was wonderful. I saw a great performance with my eyes, and heard music with my ears that resonated deeply in my heart. Then I realized, this performance is better than outstanding, it is world-class."
Shen Yun presents the theme of good versus evil through story-based dance. Mr. Juang believed that the artistic presentation of the unrelenting fight against evil was beneficial and could bring about an improvement in social culture.
The state-of-the-art animated backdrop, which expands and transforms the stage, came as a surprise to Mr. Juang. He said, "The backdrop was excellent and very creative. There isn't anything like it in Taiwan."
Mr. Juang said that he enjoyed every program and was grateful for the inspiration he got from the performance. He said he would recommend Shen Yun to his friends, and he hoped that everyone would participate in this artistic delight. He added, "I believe the popularity of Shen Yun will continue to grow."
Reporting by Hui-Min Jian and Frank Fang.
Shen Yun Performing Arts, based in New York, tours the world on a mission to revive traditional Chinese culture. Shen Yun Performing Arts New York Company will perform in seven cities in Taiwan until April 8 and then continue to top venues in Australia and New Zealand.
For more information visit ShenYunPerformingArts.org
Read the original Chinese article