Senate Majority Leader Mitch McConnell (R-Ky.) said that if Attorney General William Barr believes President Donald Trump's Twitter posts are interfering in investigations, he should heed his advice.
"The president made a great choice when he picked Bill Barr to be the attorney general," McConnell said on Thursday night following an interview that Barr gave. "I think the president should listen to his advice."
Barr told ABC News on Thursday that Trump's public comments about cases, including one involving former adviser Roger Stone, "make it impossible for me to do my job" and urged the president to stop posting on Twitter about certain matters.
"I think that if the attorney general says [tweeting] is getting in the way of doing his job, then maybe the president should listen to the attorney general," McConnell told Fox News.
In his interview, Barr said that Trump has not asked him to "do anything" on any certain criminal cases since he was appointed. Hours after Barr's remarks, Trump said he has "the legal right" to intervene in criminal cases, but he added: "I have so far chosen not to!"
This week, the Department of Justice intervened in the sentencing of Stone, who had been convicted of lying to Congress, witness tampering, and obstruction of justice. Prosecutors said he should serve between seven and nine years in prison, but the agency's top officials made a decision to reduce it.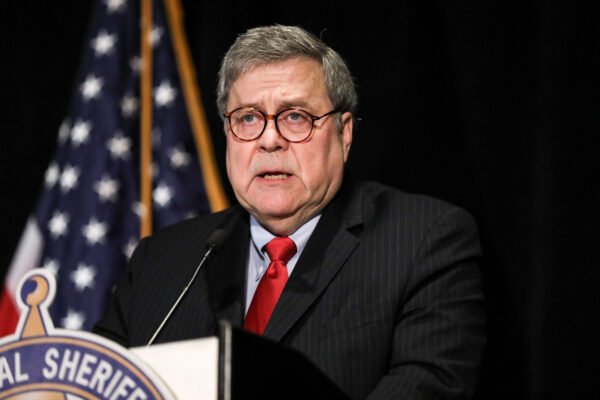 Trump, in a series of posts on social media and comments to the media, said the sentencing was "unfair" and "horrible." In the aftermath, four prosecutors involved left the stone case.
Barr added, "I think it's time to stop the tweeting about Department of Justice criminal cases." He said that he has "a problem" with some of the president's posts on Twitter.
Democrats in Congress have seized on the intervention in the Stone case as well as Trump's public remarks, saying that an investigation is warranted. The House Judiciary Committee confirmed that Barr will now testify in front of the panel on March 31.
Both Senate Minority Leader Chuck Schumer (D-N.Y.) and House Speaker Nancy Pelosi (D-Calif.) called for investigations into Barr and the Department of Justice.
White House Press Secretary Stephanie Grisham responded to Barr's ABC News interview and said Trump has "full faith and confidence" in the attorney general's abilities.
"The president wasn't bothered by the comments at all and he has the right, just like any American citizen, to publicly offer his opinions," Grisham said, adding that Trump has to use social media to put out his message in light of "fake news" being published by legacy media outlets.
McConnell's remarks echo those made by a number of GOP senators, including Trump ally Sen. Lindsey Graham (R-S.C.).
"I don't think he should be commenting on cases in the system, I don't think that's appropriate," Graham told reporters.