Senate Majority Leader Mitch McConnell (R-Ky.) said Monday that the Senate impeachment trial should stick with the precedent established during the impeachment trial of then-President Bill Clinton in the late 1990s.
McConnell, speaking from the Senate floor, warned that the Senate shouldn't "deviate from a unanimous bipartisan precedent set in the 1999 trial of President Clinton and write new rules for President Trump."
"The Senate does not just bob along on the currents of every news cycle," McConnell said.
McConnell's comments come as he and Senate Minority Leader Charles Schumer (D-N.Y.) remained intransigent in their negotiations on how to conduct the trial. It's not clear when House Speaker Nancy Pelosi (D-Calif.) will transmit the two articles of impeachment, which accuse President Donald Trump of abuse of power and obstruction of Congress, to the Senate.
"The Senate has a unanimous bipartisan precedent for when to handle mid-trial questions such as witnesses—in the middle of the trial," McConnell stated on Monday. "That was good enough for President Clinton, so it ought to be good enough for President Trump. Fair is fair."
Schumer has made public comments about wanting to call in witnesses, including current White House Chief of Staff Mick Mulvaney.
The New York Democrat again made the call for witnesses on Monday after former White House adviser John Bolton stated that he is willing to testify in the trial if he is called to the stand. "It is now up to four Senate Republicans to join Democrats in voting on rules for the trial," he wrote.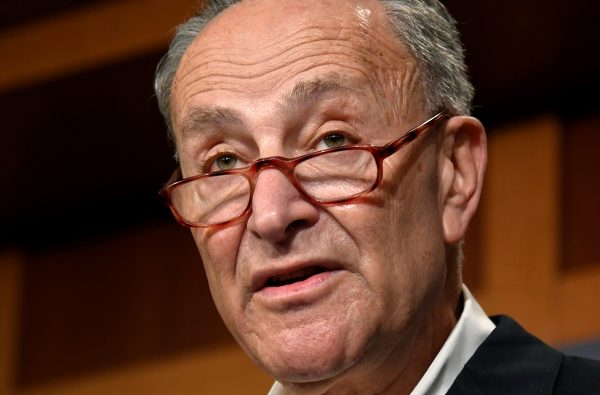 Those "four Republican senators can join us," Schumer also told ABC's "This Week" on Sunday. "We have the ability to require votes on the four witnesses we have asked for, whether there's an agreement or not. We have the ability to ask for the documents. And I hope, pray, and believe there's a decent chance that four Republicans will join us."
As to who those four Republicans might be, it's not yet clear. Sens. Mitt Romney (R-Utah), Susan Collins (R-Maine), and Lisa Murkowski (R-Alaska) have publicly broken with Trump on several issues. However, there is a possibility that several Democratic senators will join Republicans.
Last week, McConnell told his fellow senators that he believes the two articles will be heading to the Senate soon despite the current impasse.