Senate Minority Leader Mitch McConnell (R-Ky.) said on Dec. 6 that lawmakers are at a "significant impasse" on reaching an agreement on a must-pass spending bill, and indicated that a short-term continuing resolution (CR) may be necessary instead.
"We're at a pretty significant impasse," McConnell told reporters on Tuesday. "Time is ticking. We have not been able to agree on a top line yet, and I think it's becoming increasingly likely that we might need to do a short-term CR into early next year."
Government funding is currently set to run out on Dec. 16, leaving the lame-duck Democratic Congress with two options: a full-scale omnibus spending bill that would cover all appropriations for fiscal year (FY) 2023, or a short-term CR that would expire sometime after the new Congress sits.
The former would set appropriations levels for the entirety of FY 2023 rather than simply temporarily preventing a government shutdown. The latter would cover only temporary expenses; while it would prevent the government from going into a shutdown, it would make no alterations to the appropriations levels set out in the FY 2022 budget, which was crafted by Democrats.
For Democrats, who will control only half of Congress beginning next year, this second option is far preferable: it means that they, not Republicans, will still have control over government spending for half of the 118th Congress.
McConnell indicated last week that he was open to working with Democrats to pass a spending bill, despite calls from some Republicans for the Senate to agree to no such deal.
Now, however, McConnell says that lawmakers are "running out of time."
A CR, he added, "might be the only option left that we could agree to pursue."
Senate Majority Leader Chuck Schumer (D-N.Y.) has indicated that he is nevertheless working on crafting a deal with McConnell.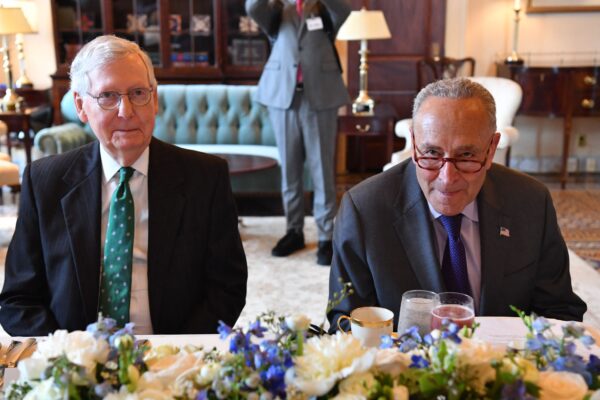 "Leader McConnell and I have agreed to try and work together to make sure we get a yearlong funding bill done," Schumer said. "We hope it can be done this year, and we know that each side is going to have to give in order to send an omnibus to the president's desk, and, of course, it needs 60 votes."
Getting 60 votes in the Senate is the biggest hurdle that Democrats will face in trying to pass an omnibus spending bill.
Pushing a spending package through the lower chamber will be a breeze for Speaker of the House Nancy Pelosi (D-Calif.), who will need no GOP votes to pass the appropriations bill.
In the Senate, however, the bill would be obligated to first overcome the 60-vote filibuster threshold before it could come to the floor for a final, simple majority vote.
To achieve this outcome, Democrats will need the support of at least 10 GOP senators for the bill.
McConnell, one of the most influential Republicans in Congress, has shown in the past that he has the ability to make or break a measure's success within his caucus, meaning that McConnell could help Democrats overcome the filibuster with his backing.
'Wait Until We're in Charge': McCarthy
House Minority Leader Kevin McCarthy (R-Calif.) weighed in on the issue during an appearance on Fox's "The Ingraham Angle."
In the interview, McCarthy told Senate Republican leaders not to make a deal with Democrats to pass a spending bill, saying they should "wait until [Republicans are] in charge" of the House.
McCarthy demurred from answering whether he had spoken to the top Senate Republican about the issue but said that making a deal now is the "wrong" approach.
Ingraham noted that "This omnibus thing takes away your [Republicans'] power for 10 months."
"Exactly," McCarthy agreed.
"We're 28 days from Republicans having the gavel, we would be stronger in any negotiation," the California Republican, the frontrunner in the race for speaker, told Ingraham. "Any Republican trying to work with them is wrong."
He added, "Why would you want to work on anything if we [don't] have the gavel inside Congress.
"Wait until we're in charge."
Republicans Say 'No Deal' to Omnibus Deal
Several Republicans have insisted that leadership wait to craft a full budget until after Jan. 3, 2023, when Republicans will hold the lower chamber.
Rep. Chip Roy (R-Texas) led a charge on this front to ensure that Republicans not allow Democrats to craft the FY 2023 budget.
"Federal dollars are fueling rampant inflation and funding the Biden administration's radical agenda," Roy wrote in a September letter obtained exclusively by the Epoch Times. "This includes empowering authoritarian bureaucrats at agencies like the IRS and FBI, implementing open-border policies that are threatening our communities, imposing COVID-19 mandates that shut down schools and are forcing our military servicemembers out of their jobs, and advancing self-destructive energy policies."
Similar demands were set forth by Sens. Rick Scott (R-Fla.), Ted Cruz (R-Texas), and Mike Lee (R-Utah) in an op-ed for Fox News.
"Month after month for the last two years, Democrats and President Joe Biden have been able to advance their radical agenda while Republicans have largely been sidelined," the trio wrote, citing a series of partisan bills advanced under the reconciliation process during the 117th Congress with little to no GOP input in either chamber.
"It's time for Republicans to stand united and demand that Congress pass a clean continuing resolution (CR) that simply maintains current federal spending levels—and not a penny more—until a new Congress begins," the op-ed continued.
In a Nov. 30 letter, the three lawmakers, joined by Sen. Mike Braun (R-Ind.), re-upped these demands, telling McConnell to only accept a short-term spending deal.
"We believe it would be both imprudent, and a reflection of poor leadership, for Republicans to ignore the will of the American people and rubber stamp an omnibus spending bill that funds ten more months of [President Joe Biden's] agenda without any check on his reckless policies that have led to a 40-year high in inflation."
Still, despite concerted GOP opposition to anything but a short-term CR, Democrats still have the possibility of pushing it through with McConnell's backing.
McConnell did not immediately reply to a request for comment.
The 118th Congress will assemble in Washington for the first time on Jan. 3, 2023.