Senate Majority Leader Mitch McConnell (R-Ky.) said in an interview on Thursday that he is optimistic a pandemic relief bill will be crafted in the near future, following nearly two weeks of talks over expanded unemployment benefits and more.
McConnell said both Republicans and Democrats have a desire to stimulate the economy amid months of high unemployment numbers and jobless claims. Numerous states shut down businesses in an attempt to curb the spread of the CCP (Chinese Communist Party) virus, a coronavirus that causes COVID-19 and broke out in China before turning into a worldwide pandemic.
"Exactly when that deal comes together I can't tell you, but I think it will at some point in the near future," the Kentucky Republican said in a televised interview.
His statement comes in contrast to ones made by White House chief of staff Mark Meadows, who told reporters on Wednesday that he isn't optimistic a deal will be made at all.
"I think at this point we're either going to get serious about negotiating and get an agreement in principle or I've become extremely doubtful that we'll be able to make a deal if it goes well beyond Friday," Meadows told reporters after a meeting with top Democrats. "We've been spending so much time together that if you're not making progress, there's no sense to continue," he added.
House Speaker Nancy Pelosi (D-Calif.) and Senate Minority Leader Chuck Schumer (D-N.Y.) have repeatedly said there is progress being made in daily meetings with Treasury Secretary Steven Mnuchin and Meadows.
President Donald Trump, meanwhile, said that he might take direct action on addressing evictions and payroll tax cuts, saying he could issue an executive order to postpone payroll taxes for Medicare and Social Security, as well as extending a federal moratorium on evictions that expired last month.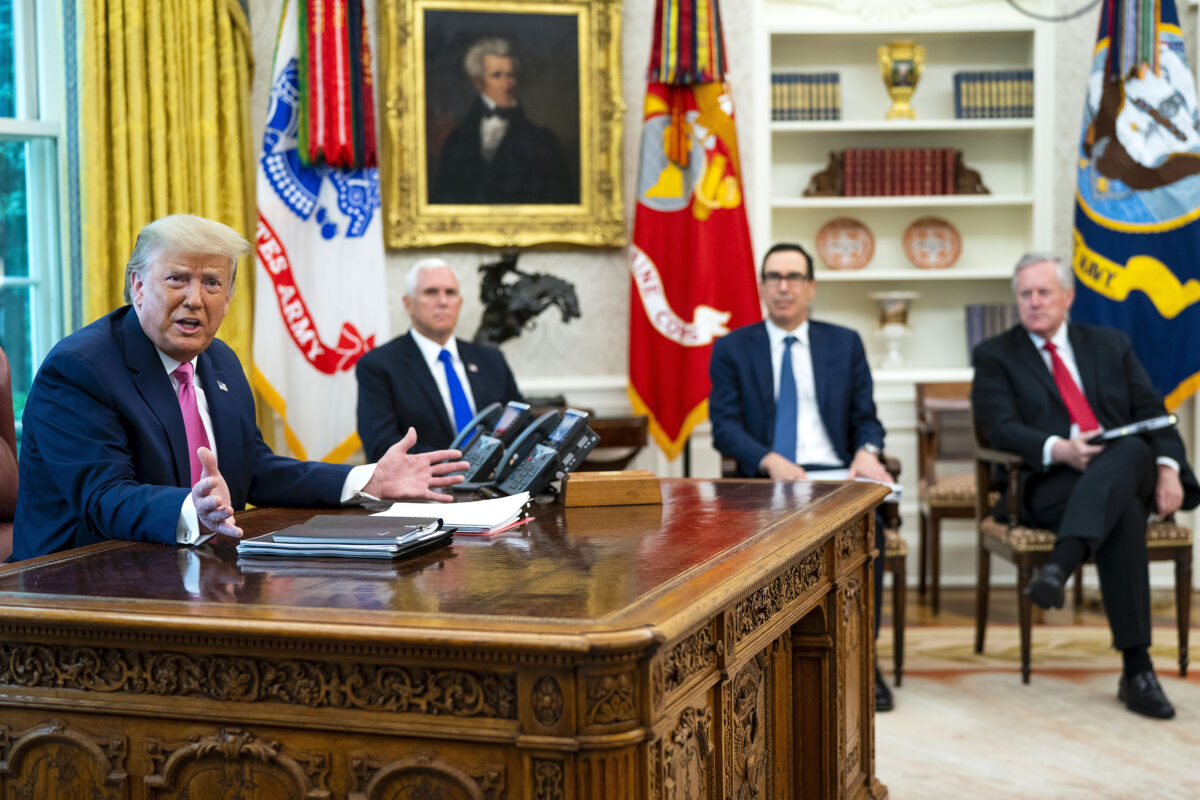 Unemployment benefits worth $600 per week, which expired on July 31, have been perhaps the most contentious issue. Democrats say they want to extend those benefits until next year or until the jobless rate drops, while Republicans have offered a program to pay $200 per week and later, 70 percent of wage replacement.
The two parties are also at odds over providing aid to state and local governments. Republicans, in their HEALS Act, offered no funding while Democrats are seeking $1 trillion in aid.
McConnell said on Thursday, "The argument is over how much [aid] is appropriate at this particular juncture." McConnell, meanwhile, said that he will have to rely on Senate Democrats and some Republican senators to pass a bill because some GOP lawmakers oppose even a $1 trillion bill.
"I've got members … who think we've done enough, but that's not my view," he said.