The Mayor of Australia's iconic Blue Mountains has announced that he will ban the Australian Vaccination risks Network (AVN) from using public land "to disseminate dangerous misinformation about vaccinations."
"I believe any request by anti-vaccination groups to hold events in the Blue Mountains should be refused," Blue Mountains Mayor Mark Greenhill said in a statement on Aug. 12.
Specifically, he said that the application by the AVN to park their tour bus at a public park in the Blue Mountains should be rejected by the Council.
AVN is a not-for-profit, incorporated association that questions the quality of scientific evidence purporting to support the safety, effectiveness and necessity of vaccination as a means of preventing disease and achieving good health.
A group of parents and health professionals who were concerned about vaccination and vaccination mandates founded the organisation in 1994 in New South Wales.
AVN had stated in their application: "I wish to seek permission to use parking at a public park within your Council on the 3rd Sep. 2022. Our organisation is the Australian Vaccination risks Network Inc, and we are planning to tour your area."
Their tours give those who have been injured or the families of those who died as a result of vaccines and the COVID jabs a voice.
"Most media, the medical community and the government want to pretend that they don't exist," Founder and past President Meryl Dorey told the Epoch Times.
"But the bus is a mobile studio where they are able to tell their stories and be believed. They are not anti-vaxxers, nor is the AVN. They did what they were told and they paid a high price. They do not deserve to be bullied, discriminated against, censored or segregated."
'This is not about freedom—it's about science,' Mayor Says
As Australia is still in the midst of a global pandemic and more than 12,500 people have died from COVID-19, Greenhill said that this was not the time for freedom.
"Cases are again currently surging, and globally we have seen more than six million deaths," Greenhill said.
Greenhill criticised AVN's holding of medical associations accountable as being unscientific.
"It is a view that is not based on scientific fact. This is not about freedom—it's about science. When it comes to vaccines, as with climate change, we defer to science," he said.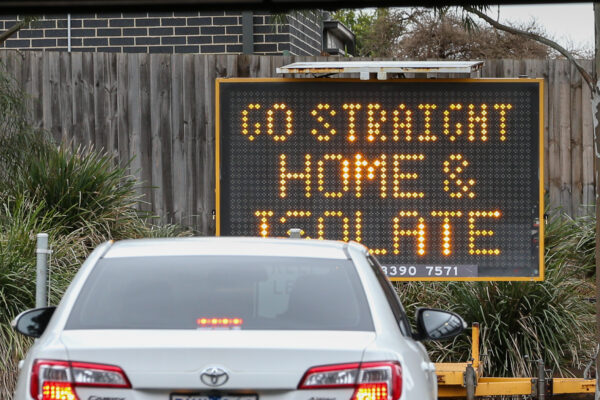 Other points Greenhill wants the Council to acknowledge are that:
The dissemination of dangerous misinformation about public health matters challenges the gains made over the twentieth century to eradicate diseases.
To achieve herd immunity, 95 per cent of the population must be vaccinated to protect those vulnerable people who cannot.
Antivaccination campaigns put at risk those vulnerable members of our community.
COVID-19 has provided a salient example of how dangerous diseases can be without a vaccine.
Science must be put first, and misinformation about vaccines must be countered with balanced information, especially when so many people are anxious about the COVID-19 pandemic.
The Epoch Times has reached out to the Blue Mountains mayor on the issue but has not received a comment at the time of publication.