In a speech marking the centenary of the Chinese Communist Party (CCP)'s founding, its leader Xi Jinping said that foreign forces would get their "heads bashed" if they attempted to bully China. He added that the regime would "smash" any attempts from self-ruled Taiwan to claim formal independence.
In his hour-long address from Beijing's Tiananmen Square, Xi vowed to bind the CCP to all Chinese people, pledged to strengthen China's military, and sang high praises of Marxism.
In the over 80-degree temperature outside, Xi was the only one who wore Mao Zedong-style grey tunic suit, while all the other male CCP leaders dressed in black suits with ties.
During Xi's speech, the about 70,000 selected audience members who sat at the square all applauded at the same time, at the same speed, and without enthusiasm. After Xi's speech, it rained, an unlucky omen in Chinese culture. During the whole process, the CCP senior leaders and the audience kept their poker faces, even while shaking hands.
Hu Jintao, the former CCP leader, and Wen Jiabao, the former premier, participated in the celebration, but their predecessors Jiang Zemin and Zhu Rongji didn't show up, which is unusual in the CCP's history.
"The purpose of the CCP's celebration is just showing its force …  which is hiding its weakness in both domestic and diplomatic affairs," Su Tzu-yun, director of the Defense Strategy and Resources Division of the Institute for National Defense and Security Research in Taiwan, told The Epoch Times.
Su noted that the CCP regime is struggling economically, politically, with the Taiwan Strait issue, and in relations with other countries.
"The CCP regime tried to transfer Chinese people's focuses from their dissatisfactions on the regime to foreign affairs by [targeting the West and Taiwan]," Su commented.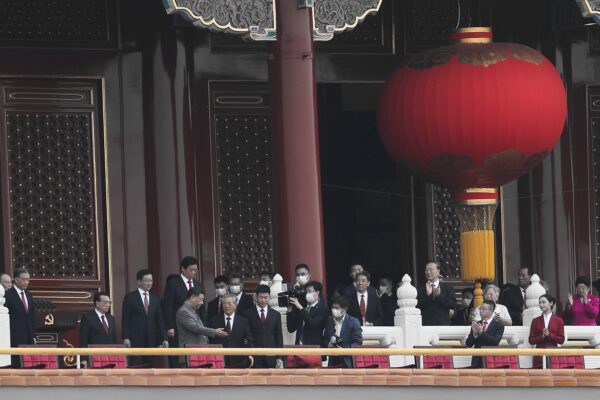 Xi's Speech
Xi, the CCP's most powerful leader since the regime's founder Mao Zedong, addressed his speech in a communist tone, in which he claimed that he represented all CCP members and even all Chinese people, on Thursday.
"The CCP is in solidarity with Chinese people, will live together and die together," Xi said. "Any attempts to separate the CCP from Chinese people will absolutely fail. The over 95 million CCP members and the more than 1.4 billion Chinese people will never allow such a scenario to happen."
Then Xi spoke as a representative of all Chinese people.
"Chinese people would never allow any foreign force to bully, oppress, or subjugate us [the CCP and China]. Anyone who dares try to do that will have their heads bashed bloody against the Great Wall of steel forged by over 1.4 billion Chinese people," Xi said.
Xi claimed that unifying Taiwan is the CCP's historical task. He then said: "All sons and daughters of China, including compatriots on both sides of the Taiwan Strait, must work together and move forward in solidarity, resolutely smashing any 'Taiwan independence' plots."
Xi closed his address by wishing for the CCP to never be disintegrated.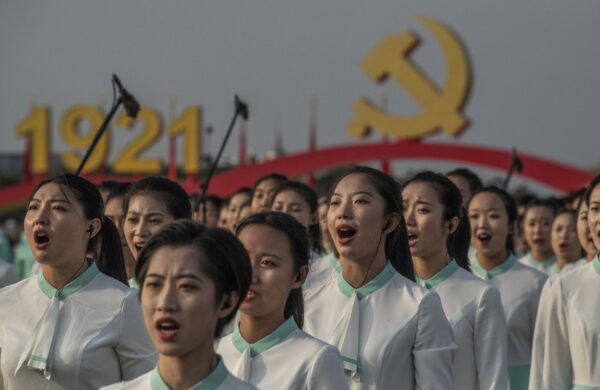 Commentary
Commentators didn't express much concern about the threats Xi delivered, but all noticed that the facial expressions of Xi and other senior CCP leaders were dignified during the celebration.
"They should be happy to celebrate the party's centennial … They were anxious and panicked," Su Tzu-yun said. "It's a reflection of the difficult situation that CCP is facing."
The U.S.-based political commentator Chen Pokong commented in his independent media channel on July 1: "Xi Jinping read his speech without any emotion on his face, which is like reading a condolence."
Talking about Xi's threats, Su said he didn't worry that the Beijing regime would unify Taiwan by force in a short time, but still suggested: "Taiwan should strengthen our self-defense forces."
Taiwanese Mainland Affairs Council stated on July 1 that the Taiwanese people rejected the CCP's one-sided principles, and the core values of Taiwanese society are "democracy, freedom, human rights, and the rule of law." The council urged Beijing to follow Taipei's diplomatic suggestions, which are "peace, reciprocity, democracy, and dialogue."
The Chinese regime claims the island as its own, despite the fact that Taiwan is a de facto independent country with its own military, democratically-elected government, and constitution.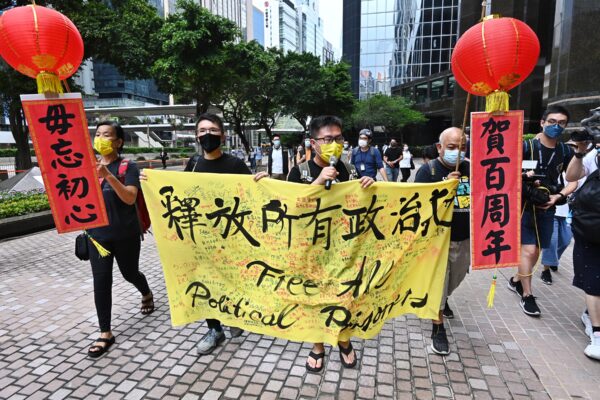 As the CCP celebrated its centennial, Hong Kong pro-democracy activists face increasing pressure of arrest and protested in the city. They urged the Beijing regime to release all the detained political prisoners and dissidents.
According to the U.S.-based organization Dui Hua Foundation, which is dedicated to collecting data on political prisoners in China, the CCP regime had detained 44,932 political prisoners as of March 31.
Luo Ya contributed to this report.