The runner-up in Manitoba's Progressive Conservative Party's leadership race, Shelly Glover, has filed a court application challenging rival Heather Stefanson's win as the party's new leader.
Stefanson was sworn in as Manitoba's 24th premier on Nov. 2.
Glover, who narrowly lost to Stefanson when the leadership ballots were counted on Oct. 30, claimed there were "substantial irregularities" in the election and that the wrong person had been sworn in.
On Oct. 30, Progressive Conservative (PC) president Tom Wiebe announced Stefanson beat Glover by 363 votes, becoming the first female premier of Manitoba.
The results, announced at about 5 p.m. at Winnipeg's Victoria Inn, had the new leader receiving 8,405 votes while Glover garnered 8,042.
Stefanson replaces her predecessor, Brian Pallister, who stepped down in September and later resigned as member of the legislative assembly representing the riding of Fort Whyte in Winnipeg in October.
In a package of documents filed to Manitoba's Court of Queen's Bench on Nov. 2, Glover argued that Stefanson's win is invalid and that the premier's office remains vacant.
"In the alternative, an Order that [Glover] is duly elected to be the premier-designate of Manitoba," the application states.
Glover's legal counsel Dave Hill, in the same document, said that the grounds for doing so is because "there were substantial irregularities in the Election, calculated to affect the result."
The documents filed to the court also include sworn affidavits from Glover and one of her scrutineers, Kevin Cook, a retired Winnipeg police officer.
In her affidavit, Glover said she was given different numbers by the PC party of how many votes would be counted than what was eventually provided when Stefanson was announced the winner.
"My campaign leadership was provided with a spreadsheet at 12.27 AM on October 30th, 2021, which indicated that 16,045 ballots would be counted that day," she said.
The former Conservative MP added that when Wiebe announced the results at about 5 p.m. with "82 spoiled ballots and 17 disputed ballots," and that she had received 8,042 votes, she thought she had beaten Stefanson.
"Instantaneously, given the number of votes I had received, I believed that I had won the Election," said Glover, as her opponent would have only left with 7,904 votes.
But Wiebe went on to announce Stefanson had won 8,405 votes, leading her to conclude that a total of 16,546 votes had been counted rather than 16,045, she said.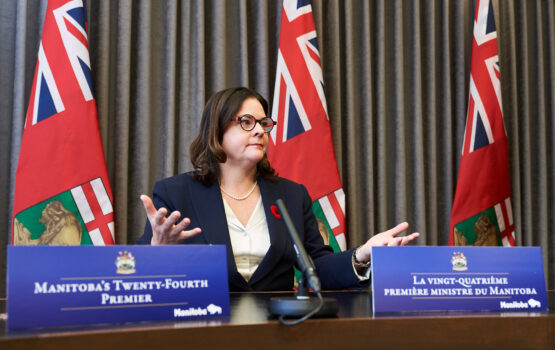 The Epoch Times reached out to the PC Party for comment but did not hear back by deadline.
In an emailed statement to The Canadian Press on Nov. 2, the PC party said that the leadership vote was run independently and ballot counting was overseen by party auditors as well as a scrutineer from each campaign.
"We hope that after our election committee talks to Ms. Glover and her advisers and responds to her concerns that they will see that the process and the results were handled appropriately, accurately and without favour," the statement said.
Cook disagreed. In his affidavit, he said he saw a few men, supervised by Wiebe, removed "unsecured" ballot boxes from the counting room on Oct. 30.
He added that Destiny Watt, the head scrutineer for Glover's campaign, asked Wiebe why the unsealed ballot boxes were being removed, and what the final tally of votes was.
"Mr. Wiebe told Ms. Watt that the ballot boxes would be secured in a vehicle, and that she would find out the tally of votes 'with everyone else,'" he said.
"None of the Scrutineers from [Glover's] campaign were permitted to leave the ballroom to observe the chain of custody of the unsealed ballot boxes."
Speaking to reporters at a press conference following her swearing-in, Stefanson called Glover's legal challenge "really disappointing."
"I'm not going to get focused on that moving forward," she said on Nov. 2. "We're here, we've formed a government, and we're going to continue to listen to Manitobans."
"Our focus, absolutely, has to be on governing, not getting involved in these other situations," the premier added.
With files from The Canadian Press