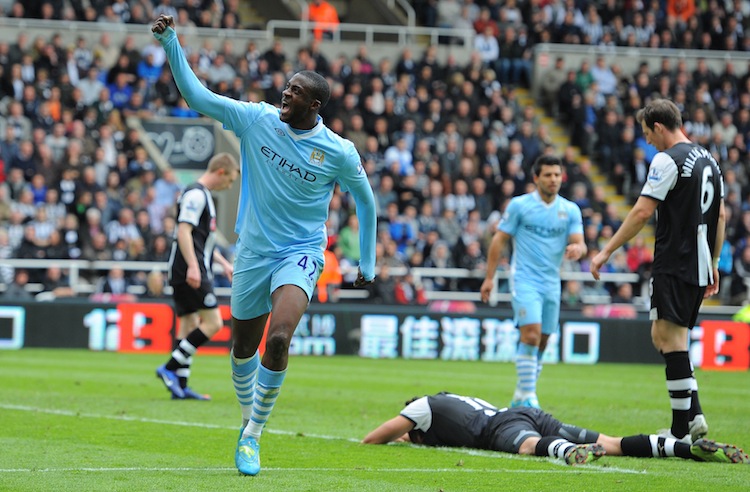 Manchester City are one step closer to carrying off the Barclays Premier League title, having overcome a determined Newcastle United 2–0 at Sports Direct Arena in the North of England—the same ground on which they clinched their last top flight championship way back in 1968. The man who did the damage was Yaya Toure who bagged both goals for the visitors.
City are currently even with Manchester United, who beat Swansea 2–0 at Old Trafford a little later in the day. City has a goal differential advantage of eight going into the final game. City are at home to QPR, while United travel to the North of England to take on Sunderland. United need a better result than City next Sunday to take the title.
The statistics favored City as the teams lined up prior to kick-off, having won the last four encounters between the two sides, with no defeats in the last ten. In fact it is six and a half years ago since the Magpies managed a victory in this fixture thanks to a winning goal from one Michael Owen.
No changes were made to either starting XI from their last respective league outings. There was one new face on the bench for City with Adam Johnson being preferred to Mario Balotelli whose days at Eastlands may well be numbered.
First Half Honors Even
The home team began the most purposeful, but by the 10-minute mark City's initial nerves had dissipated and they won the game's first two corners in quick succession. Just a minute later David Silva forced Tim Krul to make the first meaningful save of the match.
As the half wore on City took control and certainly looked the more dangerous side going forward. Newcastle's best chance came after a mistake by Pablo Zabaleta let Jonas Gutierrez in, but Joe Hart was equal to Hatem Ben Arfa's crisply struck shot.
The Magpies almost cracked four minutes before the break when Gareth Barry had two attempts on goal during a frenetic scramble in the Newcastle box, the best of which was cleared off the line by Davide Santon.
City's Relief
As the second period got under way, City were still asking most of the questions, though the home side continued to threaten on the break, especially when the tricky Ben Arfa had the ball at his feet.
With the Premiership title at stake Mancini had to try something, so on 62 minutes he sent on Nigel De Jong for Samir Nasri. On the face of it, replacing a creative player with a holding midfielder seemed like a surprisingly negative move since a goal was urgently required, but the strategy was to give Yaya Toure, City's match winner on previous big occasions, more freedom to make forward runs.
Only eight minutes had passed before Mancini's plan bore fruit. De Jong and fellow substitute Edin Dzeko were both involved in the build up, and when the ball reached Toure on the edge of the box after a nice give-and-go, the Ivorian was coolness itself as he placed the ball impeccably just inside Krul's left hand post. The keeper was at full stretch but couldn't even get his fingertips on the ball, so perfect was the placement.
Aguero and Toure both had chances to calm the jangling nerves of the City faithful but the Argentine uncharacteristically shot wide with only the keeper to beat, and then Toure lost his footing as he rounded Krul after coming in on a breakaway.
With just a minute of regulation time remaining the result was finally put beyond doubt. Trying to get something out of the game Newcastle committed players forward, but when they lost possession City broke free, and who was there to round off the attack but that man Yaya Toure.
In the wake of their midweek exploits at Stamford Bridge against Chelsea, Newcastle understandably looked to be tiring as the second half drew to a close, but to their credit, they refused to give up and Joe Hart was called upon to make saves from both Demba Ba and Shola Ameobi in stoppage time. The dynamic Papiss Cisse had a quiet game after scoring 13 goals in his prior 12 games.
The City and England keeper kept his 17th clean sheet of the season and so will carry off the golden glove award for this campaign. Hart's closest rival was in fact the man at the other end of the pitch. Tim Krul had 15 clean sheets to his name at the start of play but with only one match left can not now overtake Hart.
Interviewed on Fox Sports at the conclusion of the match Hart said, "We've earned the right to be where we are," but was quick to remind everyone that there was still one round of matches left to play so nothing could be taken for granted.
The relief on the faces of the long suffering City supporters who had traveled north was there for all to see, but nobody is celebrating too hard just yet. This has been a season of the most remarkable twists and turns and City have still to face Queen's Park Rangers next Sunday.
Rangers, themselves desperate for points to stave off relegation are, of course managed by Mark Hughes who was sacked to make way for current City boss Roberto Mancini. Hughes, along with fellow City rejects Joey Barton and Sean Wright-Phillips, would like nothing better than to put one over on the sky blues.
Mancini echoed Hart's comments, as reported on ESPN Soccernet.com: "Today was difficult because Newcastle are a good team. I think we deserved to win, but it was a difficult game. But I will only feel confident after QPR."
The Epoch Times publishes in 35 countries and in 19 languages. Subscribe to our e-newsletter.