A Kentucky man whose wife of 38 years was fatally mauled by two pit bulls on Christmas Eve is blaming the death of his loved one on the dogs' owner.
"I'm sure he will see this," John Saylor told WATE. "I hope he does. He's responsible for my wife's death."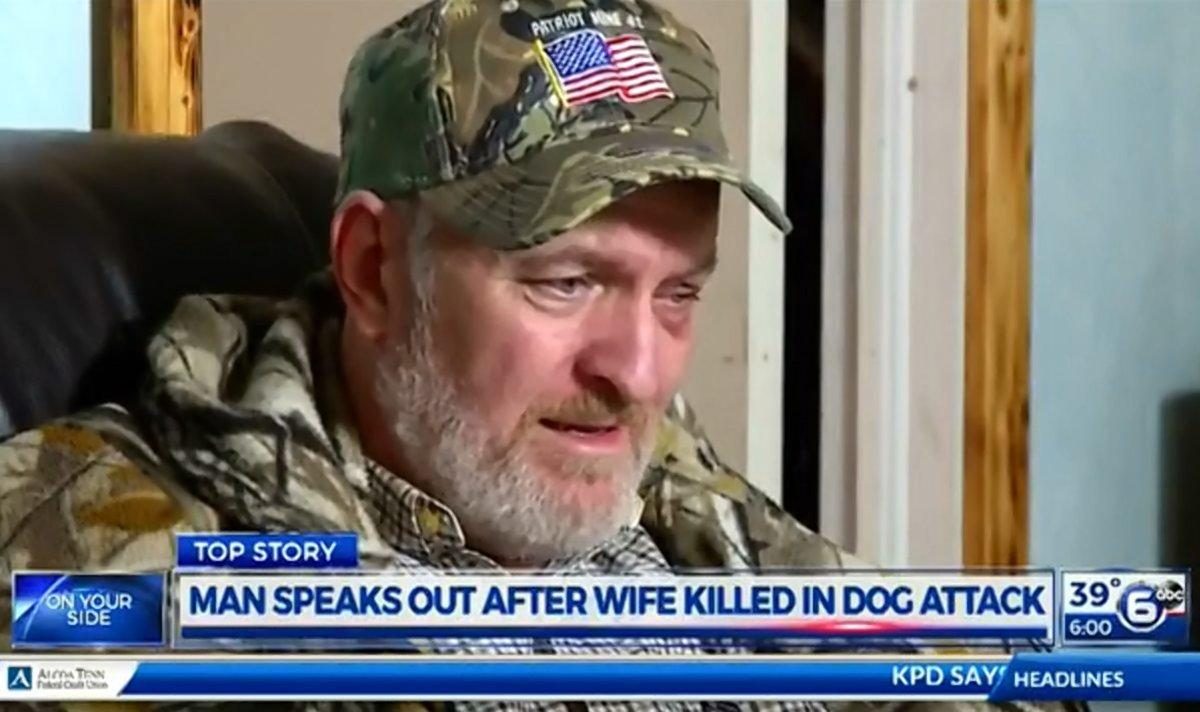 Saylor's wife, 66-year-old Lorraine Brock Saylor, went out to feed her cats on Sunday but took longer than usual. Saylor went outside to check on her and was attacked by two pit bulls, Fox News reported.
Saylor fought the dogs off, went inside his home, grabbed a gun and came back outside. When he returned he found his wife's lifeless body.

"She was weak and about 105 pounds," Saylor said. "I said, 'Oh God! Oh no! Please no!' I checked her pulse just in case."
Saylor ended up shooting one of the pit bulls while the other escaped. He suffered 20 bites during the fight and was taken to a hospital.
As he recovered at home, Saylor said he was heartbroken about his wife death and that he never thought she would die in such a tragic way.
"She was a kind-hearted woman," Saylor said. "I remember the last time I kissed her on the forehead not knowing that would be my last kiss."
Police identified Johnny Dale Lankford, 42, as the owner of the two pit bulls. Lankford was already at a local jailhouse at the time of the attack, facing charges including domestic violence and unlawful imprisonment.

Lankford now faces an additional charge of harboring a vicious animal.
Bell County Sheriff's Department received a call at 10:20 a.m. on Sunday, Dec. 24, about someone's brother and sister-in-law being attacked by dogs.
Sheriff's deputies arrived at the location of the incident on Highway 66 in the Wiser Branch area in Arjay and "discovered a woman and her husband had been savagely attacked by two pit bulls," Lex 18 reported citing a department press release.

Arjay is 160 miles southeast of Louisville.
Lorraine Brock Saylor suffered severe injuries and died at the scene, USA Today reported citing sheriff's deputies.
Johnny Saylor, Lorraine Saylor's husband, shows us the jacket he was wearing when 2 pit bulls attacked him. Lorraine did not survive. Johnny says this jacket "saved his life." @LEX18News pic.twitter.com/c2GQv7bhiN

— Jacqueline Nie (@JacquelineLEX18) December 26, 2017
"I'll never forget, as long as I live. I looked over toward the front porch and she was laying," Saylor told Lex 18. "I screamed 'my baby, my baby."
Police continued to search for the second dog until it returned home about 2 p.m. on Sunday. The dog was taken to Bell County Animal Control and was reportedly later put down.
"I seen the dogs before. They always had bloody ears. About 6, about 4 months ago," Lankford's uncle, Ulyess Lankford, told Lex 18. "They had bloody ears where they been fighting. There's a lot of dogs like that in these hollers."
2017 Year in Review
From NTD.tv