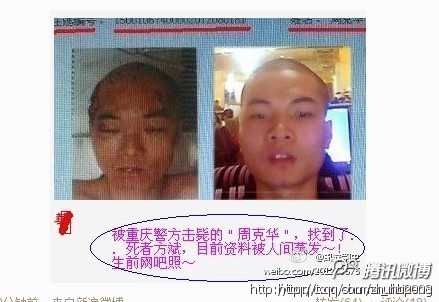 On Aug. 14 Chinese authorities announced that they had put an end to the bloody rampage of Zhou Kehua, a former mercenary turned serial killer whose periodic rampages, consisting of robbery and murder, lasted eight years until he was shot dead. 
But a recent open letter says that Zhou Kehua was not actually the one killed on Aug. 14. Instead, it was a police officer that looked like him, Fang Bin.
Now, police from Changsha, a city in the central Hunan Province, where Fang Bin is from, are trying to set the record straight by secretly traveling to Internet cafes and posting their complaints, along with alleged evidence, online, exposing what they describe as the fabricated case.
The open letter, posted online by Zhang Guoyong, the general manager of Qingdao News, Weihai Branch, purports to be from a police officer from Changsha, accusing the Chongqing police of shooting his colleague instead of the serial killer. Chongqing is one province to the West of Hunan.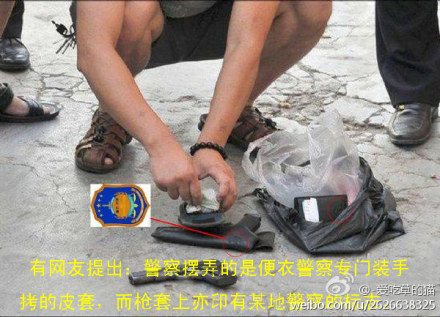 Chinese military had joined forces with Chongqing police in a manhunt for Zhou, apparently shooting him dead in the Shapingba district of Chongqing, near the Gele Mountains where he was thought to have hidden for a time.
The first open letter was titled "Police officers from Changsha, Hunan, can not hold back their anger any longer, they will seek justice for the death of their colleague! The truth behind the case of Zhou Kehua will be exposed very soon." 
The post contained a link to a photograph of the colleague Fang Bin and a photograph of the man who had been shot, showing their resemblance. The link was later deleted from the Internet, presumably by the Chinese regime's army of censors. 
Netizens who saw the photo questioned whether the man that was shot was actually Zhou, claiming that the photo of the slain man released by police did not look like much like Zhou, but instead bore a striking resemblance to Fang Bin.  
The anonymous Changsha police officer, who took the name "SB328," believes his colleague was framed and highlighted several inconsistencies in the case. The gun holster found on the body, for example, had a police emblem on it, according to images circulated online. 
SB328, speaking on behalf of himself and other Changsha police, wrote in his letter that they do not care about their membership in the Communist Party or their jobs, they just want to speak out on behalf of Fang Bin, who they believe was killed. 
"Don't say that people in Hunan do not have a conscience. We all started to act. Although there have been three meetings with each department during which the Ministry of Public Security said that whoever leaks information online will be fired, we will not comply," he wrote. 
"Our colleague is murdered, his family members are under house arrest, but the murderer is awarded with a title… In order to speak out for the victim, some of my colleagues traveled to underground Internet bars in small towns and used new ID names to post information, and some used software from overseas to break through the firewall and post information."
He said colleagues in forensics have "all acted as one" in an attempt to expose the case.
In a peculiar twist, police were said to have searched the residential areas of Chongqing near the Gele Mountains door to door, two days after Zhou Kehua was supposedly shot dead, while showing Zhou's photo to occupants to ask if he had been seen.
Read original Chinese article. 
The Epoch Times publishes in 35 countries and in 19 languages. Subscribe to our e-newsletter.