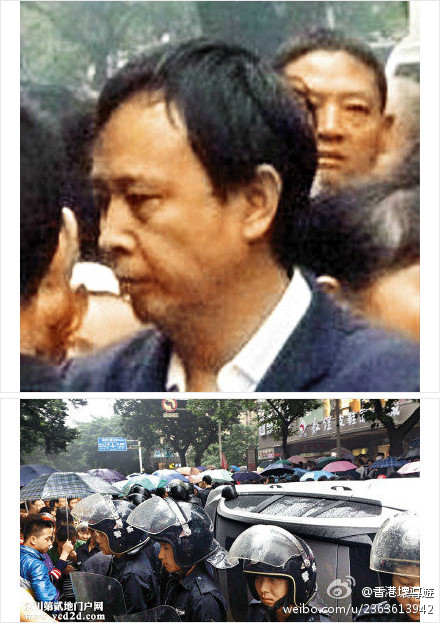 A man in Chongqing ran over a female motorcyclist in his sedan recently, and then proceeded to slap her while boasting about his wealth, according to an account of the incident online and in interviews with witnesses. 
An angry crowd gathered and flipped over his car. 
Acording to an eyewitness named Mr. Wu, at around 7:40am on Sept. 20, a female motorcyclist was riding through a traffic light intersection when a speeding sedan came up from behind and collided with her motorcycle. The sedan's driver brought his car to a sharp stop, then got out and slapped the woman a few times in the face. 
The woman expressed shock at being slapped after being hit by the car. She thought he had come to help.
Bystanders quickly began expressing their sympathy and support for the woman, and some of them wanted the driver arrested. The man then shouted "I'm not scared of the police, go ahead and call them!" 
Seeing the crowd's growing support for the woman further angered the man. He loudly proclaimed that he was from a rich family, and that for him, it was simply a matter of recompensing any injured parties. He then proceeded to slap the woman a few more times, according to witnesses. The angered bystanders then worked together and flipped his car over.
Police soon gathered and quelled the crowd. 
Later that day, it was announced on a website sponsored by the Chongqing Yongchuan District Propaganda Department that the man involved in the car accident was Zhong Jingchuan, an employee of Yongchuan Postal Service, and that case was still under police investigation.
A Chinese netizen posted on an online forum that he found the name Zhong Jingchuan on the website of the Yongchuan District Charity Federation, listed as the director of Yongchuan District Postal Service Charity Association. It has not been verified if this is the same person.
A Yongchuan District local named Ms. Wang told The Epoch Times that she did not witness the incident, but heard that the incident was a repeat of the "My father is Li Gang" incident.
In 2010, a drunk driver ran over two university students, killing one of them. Upon being apprehended by security guards, the driver warned them, "My father is Li Gang!" The driver was later discovered to be Li Qiming, the son of the deputy director of the local public security bureau.
Read the original Chinese article.
The Epoch Times publishes in 35 countries and in 19 languages. Subscribe to our e-newsletter.
Click www.ept.ms/ccp-crisis to read about the most recent developments in the ongoing crisis within the Chinese communist regime. In this special topic, we provide readers with the necessary context to understand the situation. Get the RSS feed. Who are the Major Players?