Authorities have charged a man suspected of wrapping a dachshund dog's legs and jaws with duct tape before throwing it from his car window into a freezing ditch in rural Missouri, where it was found 12 hours later, cold, but still alive.
Authorities in Jefferson County are still looking for the owner of the dog, which they have called "Jimmy." The owners are not the same as the suspect, who was named on Feb. 14, as Paul Garcia, 39, charged with animal cruelty and armed criminal action.
According to Jefferson County Sheriff, the dog was found in a ditch on the weekend by a deputy while out on patrol, in freezing temperatures.
While Jimmy was recovering from the cold and a possible concussion, detectives were working hard to find a suspect. Fortunately, the deputy had kept the tape which had bound Jimmy's feet and jaws. Investigators were able to freeze the tape and then extract fingerprints—which appeared in their database as belonging to Garcia.
Sheriff Dave Marshak said, "We now have a subject in custody for this crime because of the patrol deputy, skilled crime scene technicians, fingerprint examiners, and detectives."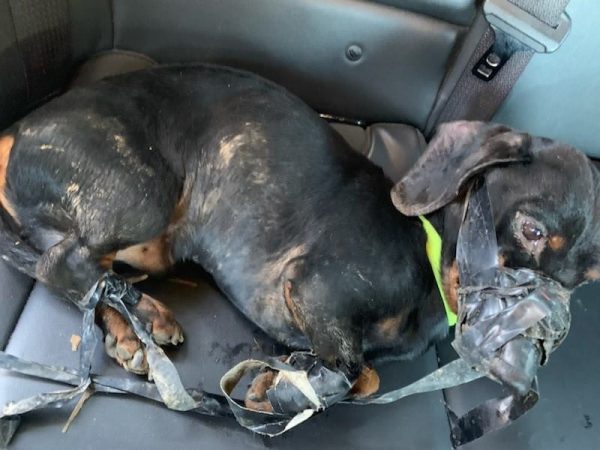 A video posted on the sheriff's Facebook page shows Jimmy walking round at the animal shelter, tail wagging, apparently none the worse for wear, as he is petted by staff.
"Jimmy" is doing much better. This is a look at him at the animal hospital where he's being treated.We want to get him back to his owners. Right now he is NOT available for adoption.Please call 636-797-5515 if you know his family.

Gepostet von Jefferson County Sheriff's Office am Donnerstag, 14. Februar 2019
But they are still trying to trace his owner.
"Do you recognize this dog?" wrote the Jefferson County sheriff in a statement. "He was dumped in a ditch last weekend near Old Highway M and Schneider Road. He was cold, starving, and may have had a concussion."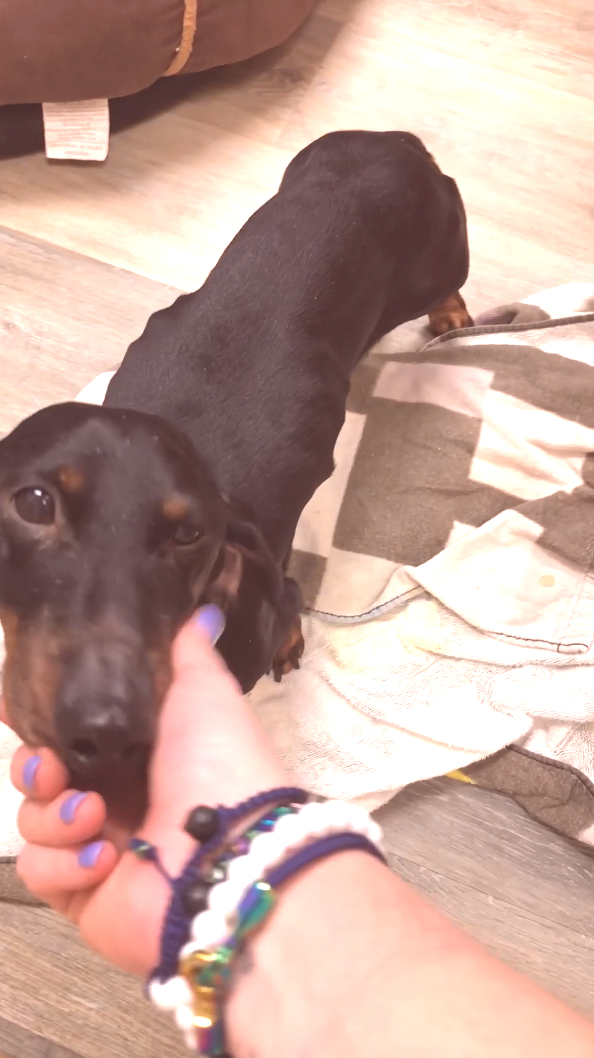 The sheriff's office emphasized that for now, at least, Jimmy is NOT up for adoption.
Jimmy, as he's become known, is doing much better now.
In a statement on Feb. 14, the Jefferson County Sherrif's Office said, "It is alleged that Mr. Garcia wrapped electrical and duct tape around the mouth and muzzle area of a black and brown dachshund canine. The canine's front and hind legs were also bound together by tape. Mr. Garcia then transported the canine to the area of Highway M and Schneider Drive in Jefferson County where he pulled over and threw the canine out of his window onto the side of the road."
Garcia has a cash bond of $50,000.00.
On social media, many people were touched by Jimmy's story, with offers to pay for his hospital bills spilling over into broader offers of donations to the animal shelter.