A Tennessee man has been arrested after a dog was beaten with a baseball bat and hammer before being doused in gasoline and set on fire.
Cody Shay Townsend was arrested and charged with aggravated animal cruelty, aggravated burglary, and trespassing, according to Fox 17.
Benton County Sheriff Ken Christopher said that Townsend got into a car at the same time as a woman and refused to get out, instead making bizarre statements.
The woman eventually forced Townsend out of the car and he walked down the road to a house in Holladay. When he tried to enter the house, a dog confronted him.
That's when the suspect allegedly hit the dog with a hammer and baseball bat before dousing it in gasoline and throwing it on a stump that was on fire.
DISTURBING 😡Middle Tennessee dog beaten with hammer, baseball bat then set on fire, officers say https://t.co/trEvb5cbSJ pic.twitter.com/n7EXr4tEKX

— FoxNashville (@FOXNashville) April 30, 2019
The situation was described differently in another report.
Authorities told WSMV that Townsend was burning stumps to get rid of them when a dog wandered up. That's when he took the dog and shoved it underneath a burning stump before dumping gasoline on it.
The dog survived and was rushed to the Camden Animal Hospital.
Most of its body was burned, Christopher told Fox.
Couple Arrested After Dog Starved to Death
A man and woman in Indiana were arrested and are facing animal cruelty charges after police officers found a dead dog in the home they moved out of after filing for divorce.
Court documents obtained by Fox 59 showed that Michael Setser, 31, called Amanda Setser, 28, numerous times telling her to pick up the dog, Chuck, and her cats because he wasn't going to take care of them.
But she told him she couldn't take the animals because she couldn't take care of them.
Even when she returned to the trailer on Jan. 12 to get some of her belongings she noticed the dog breathing heavily and looking ill but didn't take him to a veterinarian, police said. The dog ultimately died in his crate.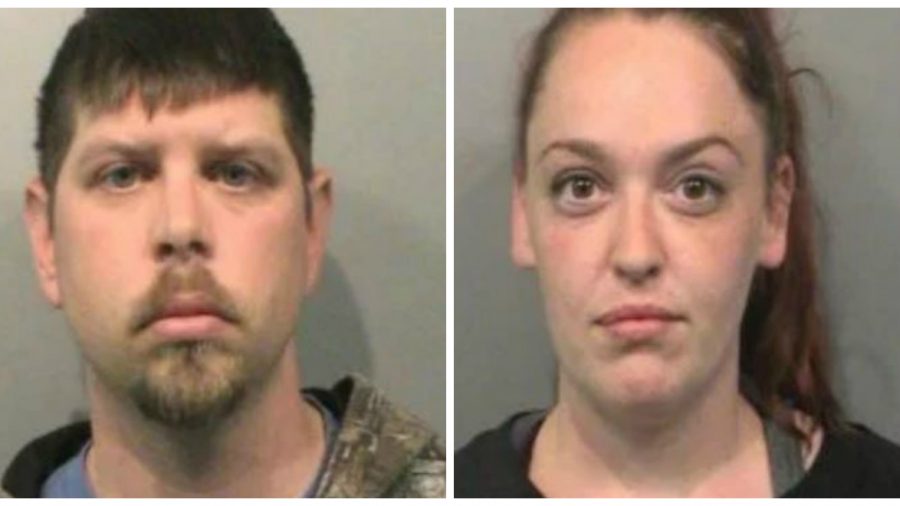 According to a report from the Johnson County Sheriff's Office obtained by the Daily Journal, the Johnson County Animal Control received a tip that a dog had died of starvation at the couple's former house in Greenwood.
The tipster told police that Michael Setser called Amanda Setser and told her that Chuck had died.
Amanda Setser met Animal Control officers and they saw that the dog was dead. An officer later told police officers that there was no water in the kennel and that food was scattered in the kennel.
A veterinarian who performed a necropsy said Chuck died of starvation. It wasn't clear if the cats survived.
"Both parties failed to take Chuck with them or provide him with food and water," the prosecutor's office said in a news release.
"These domesticated animals are helpless and completely dependent on their owners to care for them," Chief Deputy Prosecutor Joe Villanueva said in a statement. "Crimes like these could easily be avoided if people would just show a little compassion and take their animals to the Johnson County Animal Shelter."
Under a new Indiana law, someone convicted of animal cruelty cannot own, harbor, or train a companion animal, reported Fox 59.
"Now they can file criminal charges of cruelty, and then restrict the person from owning or keeping animals for a period of time," Friends of Indianapolis Dogs Outside Executive Director Darcie Kurtz told the broadcaster.
Several counties of the state have ordinances dictating what pet owners cannot do. In Marion County, for instance, dogs can't be chained or tethered outside between 11 p.m. and 6 p.m. If temperatures reach above 80 degrees dogs need some sort of shade and if it breaches 90 degrees dogs have to be inside.
"People don't necessarily think dogs are suffering like they are during extreme cold, but they do, especially these longer haired dogs," Kurtz said.