One of the men criticised for apparently accosting the UK's chief medical adviser Chris Whitty has apologised, claiming that the social media video of the incident has cost him his job.
"To be honest I just wanted a selfie with Chris Whitty to show my mum," Lewis Hughes told The Sun newspaper. "There was no malicious intent, I didn't want to upset him."
Whitty became a household name during the early period of the pandemic when he regularly appeared alongside Prime Minister Boris Johnson giving televised briefings and fielding questions on the scientific advice behind the UK government's pandemic response.
Footage from June 27 in St. James's Park, London, shows two men jeering as they grab hold of Whitty, who appears to struggle to free himself.
At one point one of them can be heard saying, "One photo please?"
The police said that they had recorded the incident as common assault, but that Whitty did not want to make a formal complaint.
Hughes said that he had lost his job as an estate agent after the video went viral and prompted widespread criticism, including from the prime minister, who called the two men "thugs."
His former employer has yet to respond to a request for comment from The Epoch Times.
Hughes admitted to having a drink before the incident.
"If I made [Whitty] feel uncomfortable, which it does look like I did, then I am sorry to him for that," he said.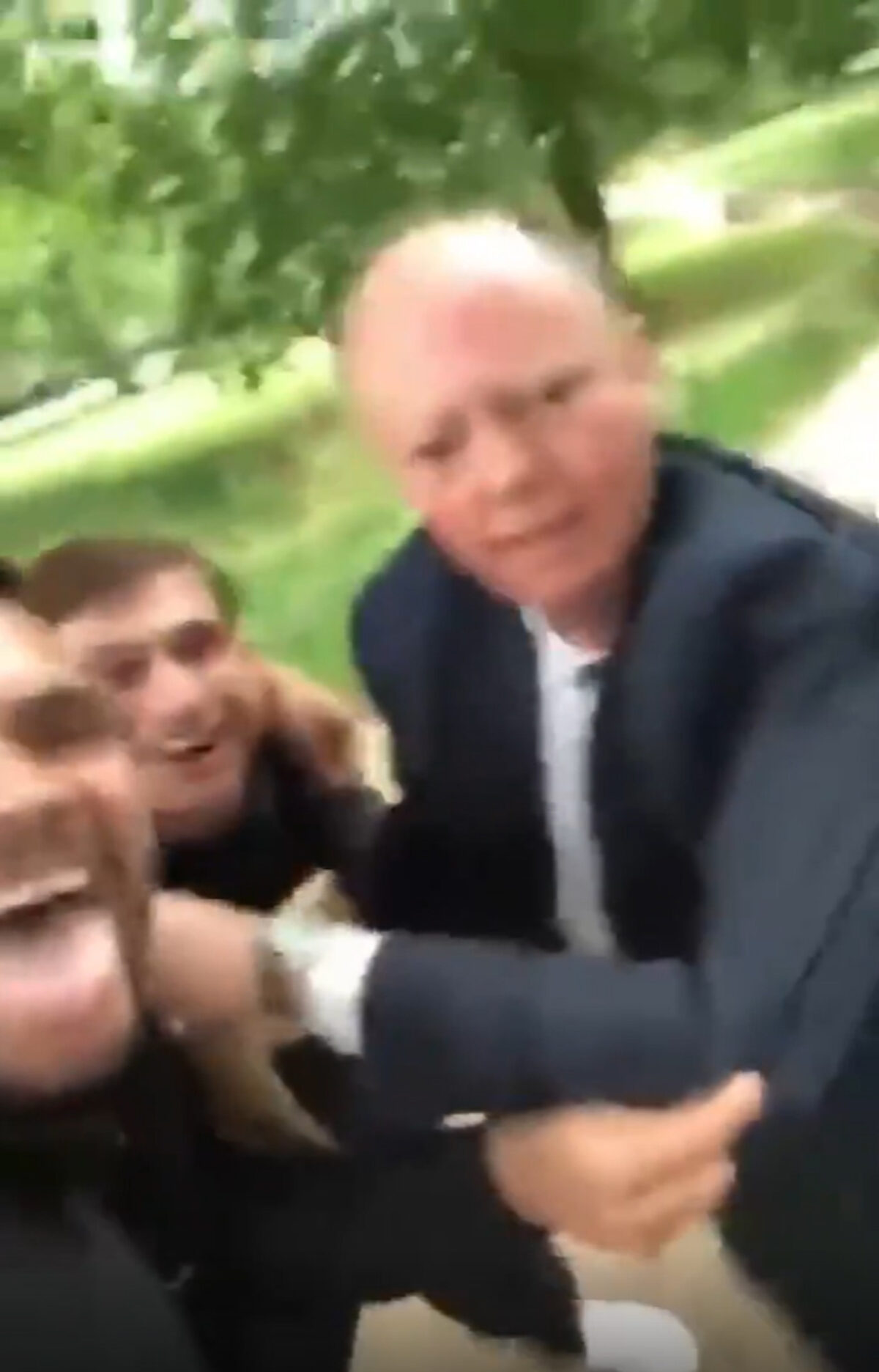 But his friend Jonathon Chew, who was also in the video, was less repentant, according to The Sun.
"I don't think we did anything wrong, we just saw him, and thought that's the guy from the TV," said Chew, who has autism and ADHD. "He's been on our screens every day for the last year, he's famous."
According to The Sun, the duo had been attending an anti-lockdown protest in central London when they spotted Whitty in the park.
Personal security expert Will Geddes said that in his experience of protecting public figures, the advent of smartphones and social media has fuelled the growth of such incidents.
"We've seen a real amplification of those that are wanting to achieve, obviously, notoriety or fame or recognition or exposure by posting certain content on their social media," he told The Epoch Times. "Now, inevitably, you see those that are upping the ante every single time to get even more controversial postings or video footage," he said.
It is the third time that footage of Whitty apparently being harassed has surfaced on social media, prompting questions over whether he should be assigned personal protection.
Geddes said that he was astonished that Whitty, as such a public figure and also involved in controversial decisions, had not been assigned some kind of protection officer.
He said that in the security industry, they look at whether someone is in the public domain to assess risk, not whether their notoriety is by accident or by design.
"I've certainly protected many people who fall within the same category as professor Whitty, who have maybe embraced that initial role, feeling that they are contributing their experience, their expertise, to the better good of everybody around them," he said.
"But inevitably there are always two sides to every opinion. There will be those that will support it, and those that will be opposed to it. And then there will be those, inevitably, there are the farthest reaches of opposition that actually take exception to it."
A spokesman for the Metropolitan Police previously told the Epoch Times via email, "We are aware of a video being shared online showing an incident that took place in St James's Park at around 19:20 on the evening of Sunday 27 June.
"Officers were in the vicinity policing a nearby demonstration and intervened when they saw what was happening.
"They spoke to the victim and checked his welfare. He had not suffered any injuries and informed officers that at that time he did not wish to make any allegations. He then went on his way.
"Officers continued to speak to the two men and recorded their details. They were robustly warned about their behaviour and ordered to leave the area.
"Police remain in contact with the alleged victim. The incident has been recorded as a common assault and continues to be investigated by the Met's Public Order crime team."