New Zealand police have charged the man accused of murder at two Christchurch mosques with engaging in a terrorist act, according to a May 21 police statement.
In an attack broadcast live on Facebook, a lone gunman armed with semi-automatic weapons targeted Muslims attending Friday prayers in March, killing 51 worshippers and wounding dozens more.
The May 21 charge under terrorism suppression legislation was filed against Brenton Tarrant, according to the statement.
"The charge will allege that a terrorist act was carried out in Christchurch on 15 March 2019," Commissioner of Police Mike Bush said.
Tarrant's lawyer didn't immediately respond to a request from Reuters for comment.
Tarrant is next due to appear in court on June 14, after being remanded in custody in April and ordered to undergo psychiatric assessment to determine if he was fit to stand trial.
Police notified roughly 200 family members of attack victims and survivors about the additional charges at a meeting on May 21, the statement added.
49 Murder Charges, 39 Attempted Murder Charges
Tarrant was charged with an additional 49 murder charges as well as 39 counts of attempted murder on April 5, according to New Zealand Police.
He was charged with one count of murder on March 16 after he allegedly gunned down 50 people and injured dozens more in the mass shootings on March 15.
Police added that further charges also are being considered.
New Zealand Prime Minister Jacinda Ardern called the shootings an act of terrorism in her address to the media on March 15, and the worst-ever peacetime mass killing in the nation's history. New Zealand's national security threat level was revised from low to high.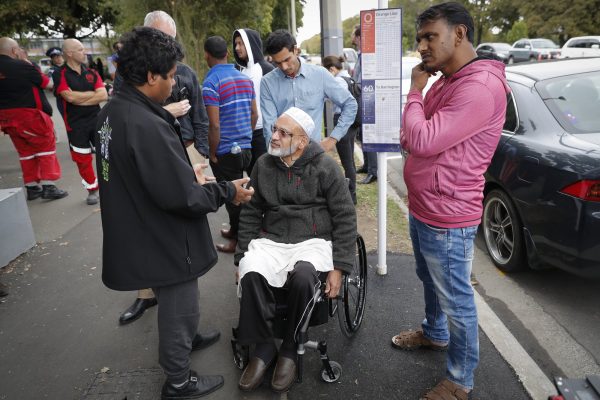 Tarrant announced on March 16 that he was firing his legal representative, Alpers & Co–Northwest Law Office senior associate Richard Peters, and said he was planning to represent himself in court, as he "thinks the job would be done better himself," Peters said on March 16.
Media access and reporting on the court proceedings are usually tightly restricted by New Zealand's debated suppression laws, which aim to protect the defendant's right to a fair trial by avoiding tainting the views of potential jurors by early and at times incomplete news reports. But Tarrant didn't apply for name suppression or bail after his arrest on March 15.
Peters said in March that he suspected Tarrant may want to use the high-profile trial as a platform to spread his views and the trial judge would have to manage the risk of the courtroom becoming a "political soapbox."
Some media have decided not to publicize Tarrant by his name to avoid giving him a platform for his extremist views. Ardern has also argued against giving the accused gunman notoriety.
"Look after one another, but also let New Zealand be a place where there is no tolerance for racism," she told students at Cashmere High School in March. "That's something we can all do."
Tarrant released a 74-page manifesto before the attack that he called "The Great Replacement," referring to the replacement of white Europeans by Islamic and other immigrants, in which he identified his political and social values as closest to the People's Republic of China, a communist regime. Countless media reports have labeled Tarrant's views as "far-right."
According to The Associated Press, the manifesto that was purportedly penned by Tarrant is similar to the one written by Norwegian mass killer Anders Behring Breivik.
Tarrant wrote in the manifesto that "China [is] set to be the worlds most dominant nation in this century (sic)" because the country is "lacking diversity."
"Were/are you a supporter of Donald Trump?" he also wrote in his question-answer style document. "As a symbol of renewed white identity and common purpose? Sure. As a policymaker and leader? Dear god no."
Police have said they are certain Tarrant was the only gunman but are still investigating whether he had support from others.
Tarrant allegedly said in the manifesto that he had been planning the attack for two years and had already identified Christchurch as the attack location three months prior. New Zealand security analyst Paul Buchanan told Radio New Zealand's Checkpoint program on March 15 that Tarrant could be working with as many as 10 people.
"There are a whole bunch of white supremacist groups. We're talking maybe a dozen groups of this sort mainly concentrated in the South Island," Buchanan said. "It's very possible this individual is still on the loose. There could well be some support network that's actively trying to hide him."
Philip Arps, 44, appeared in a Christchurch court on March 20 on two charges of distributing the killer's live stream video of the attack on the Al Noor mosque, the first mosque that was attacked, a violation of the country's debated publications law. Each charge carries a maximum sentence of 14 years in prison.
Arps, heavily tattooed and dressed in a T-shirt and sweatpants, hasn't entered a plea. He remained expressionless during the hearing, his hands clasped behind his back.
Judge Stephen O'Driscoll denied Arps bail.
Charging documents accuse Arps of distributing the video on March 16, one day after the massacre.
Most details of bail hearings are suppressed under New Zealand law. The judge made an additional suppression order regarding the police summary of facts in the case, limiting reporting of the accusations to the charges themselves.
With reporting by Reuters, The Associated Press, and Epoch Times staff members Jack Phillips and Melanie Sun.