SANTA CLARA, Calif.—In sweltering 102-degree weather, white and red tents stood in neat lines as a DJ played music in the background at the Westfield Valley Fair's open market in Santa Clara, California, on Aug. 14.
The vibe was a mix between a farmer's market and an upscale shopping mall, with brands such as Kay Jewelers, Athleta, Coach, and Shoe Palace set up outdoors.
In the San Francisco Bay Area, indoor malls are required to stay closed as a precaution against the spread of COVID-19. However, Westfield Valley Fair, an upscale mall in Santa Clara, has taken its shopping outside with its open-air market, from July 24 to Aug. 30, on Fridays, Saturdays, and Sundays.
"I like the scene outside. I like everything, so other than that, there's not much of a difference [from being inside a mall] besides the AC," Orlando Bautres, a shopper at Hugo Boss, told The Epoch Times. "But I'm the type of person that likes to travel, so the heat doesn't bother me."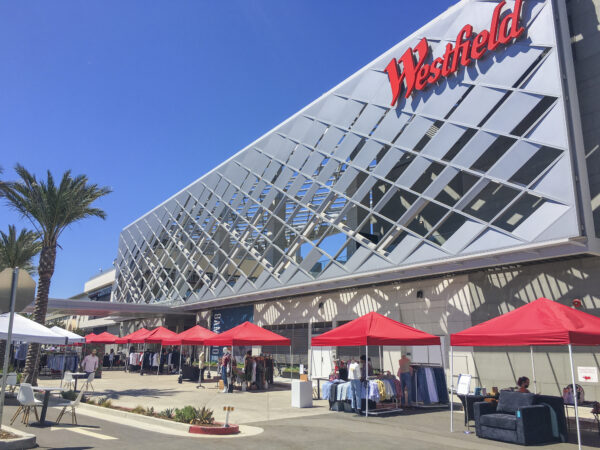 The Retailers
Lovesac furniture store put out a single midnight-blue couch under its tent. It's a limited display space, but showroom manager April Handlin said it's been a great experience nonetheless.
"I think a lot of people have been accepting the new shopping experience and enjoying it, and being glad that there is somewhere that they can get out for the weekend and get their retail therapy in," Handlin told The Epoch Times.
The Coach store had an array of backpacks, purses, handbags, and wallets on display.
"Westfield security is the best," Monique Fuentes, store manager for Coach, told The Epoch Times.
All merchandise is kept in their store and moved out an hour before the open-air market starts. They usually have two people working at their store and another two at the tent.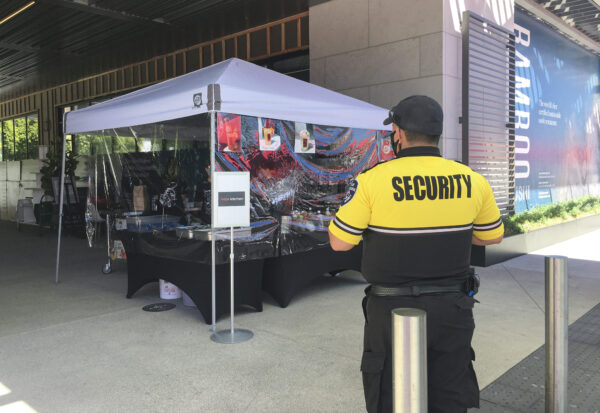 Fuentes said Coach has participated in the event since the beginning. There was little foot traffic on the first weekend, since it was still new. Gradually, the event started drawing more people who were passing by from Santana Row commercial district across the street.
The tents also attracted people who were shopping in stores such as Bloomingdale's, Macy's, and Nordstrom, which have outdoor entrances and are allowed to be open. However, vendors expect to see less foot traffic due to the heatwave.
"I think it's created a good sense of community with retailers and just socializing the best we can right now," Fuentes said.
At Cotton on Kids, children's clothes were hung up on mobile racks and neatly laid out on a table.
According to Angelica German, a keyholder at Cotton on Kids, they can only display a limited amount, so they put out their bestselling products.
Two people are always managing the tent, and they can always go inside for breaks.
"Inside is cooler. Here, not so much, but we do have the fan," German told The Epoch Times.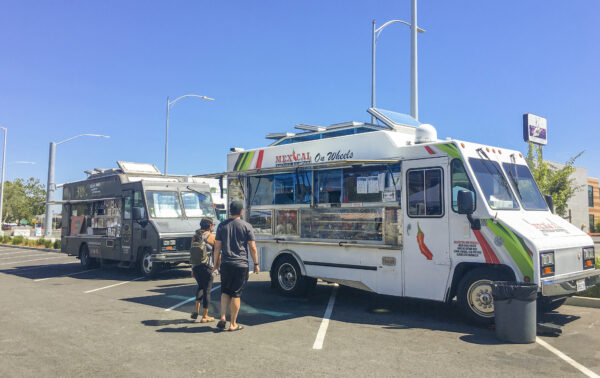 Food and Drink
Food and drink vendors also have found ways to adapt to the outdoor business.
At Rabbit Rabbit Tea, customers order drinks through a self-ordering system at the tent. An employee at the store on the second floor of the mall receives the order and prepares it, then delivers it to the customers at the tent outside.
It takes about 15 minutes from the time a customer orders to the time the drinks are delivered. If the customer is not around, the drinks are kept chilled in a mini-refrigerator at the tent.
"It's definitely more of a struggle, but it's our job," said Gina Becerril, a barista at Rabbit Rabbit Tea. "It's going pretty well."
Besides the delivery system, everything feels normal, and she finds it nice to be outside, she told The Epoch Times. They try to switch shifts with the people inside to stay cool.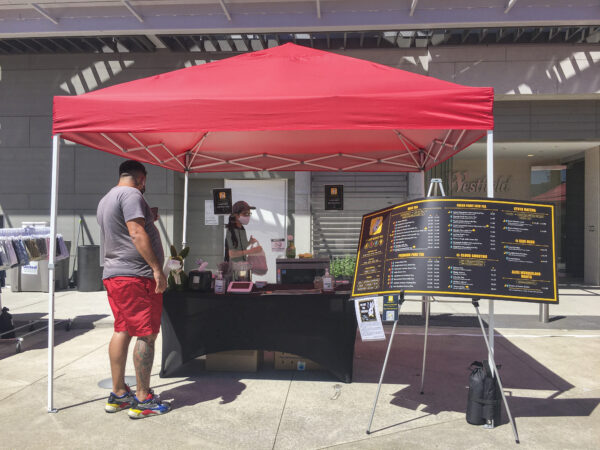 Vinh Pham, owner of 3 Brothers Kitchen, has been operating a food truck serving Asian fusion food for the past eight years.
It was their first day participating in the open-air market, and he felt excited to join in with the atmosphere.
It's been hard with the heat, since they don't have air-conditioning.
"I wish we did," Pham told The Epoch Times. "We've got windows on the top."
Business is slow for him, which he understands since most people are trying to stay cool indoors.
"Since the start of the COVID-19 pandemic, Westfield has been committed to finding safe and innovative ways to support our retail partners and offering our guests a seamless shopping experience," Kate Diefenderfer, director of marketing at Westfield, said in a statement. "We're proud to offer our shoppers a variety of options and services while indoor operations continue to be restricted."
Westfield also offers luxury cabanas by appointment only and al fresco dining.
"We are particularly excited about our cabanas, which will feature the same best-in-class luxury shopping experience our guests have come to expect, in a personal outdoor setting. We look forward to welcoming customers back to our plaza with these reimagined shopping amenities," she said.