Residents in the four richest cities in southern China's Guangdong Province were caught off guard when authorities suddenly began imposing lockdown measures over the past few days. Locals told The Epoch Times that many people are concerned because they didn't have enough time to stock up on food and other necessities, and others don't trust the Chinese regime's data on the number of local infection cases.
Authorities in Guangdong Province announced on June 21 that one infection was reported and 230 people were being treated for COVID-19 at local hospitals, according to state-run media Xinhua.
On June 20, authorities in Guangzhou, Shenzhen, Dongguan, and Foshan, where over 56.2 million people reside, began closely monitoring the movement of people and vehicles traveling in and out of the cities in order to curb the spread of the new COVID-19 outbreak.
The same day Zhanjiang city reported an outbreak, Zhuhai and other 12 metropolitan cities in Guangdong also ordered residents not to travel out of town, according to the provincial government's website.
The Chinese-language Epoch Times reached out to some residents in the locked-down regions. Many expressed concern about not having enough food supplies at home, including baby formula. Business owners were frustrated because cargo ships aren't allowed to enter or leave the harbors and products can't be unloaded, including some perishable items.
Residents also mentioned that many people are anxious and don't know how to protect themselves from COVID-19 after news broke out about infection cases among those who have been fully inoculated with Chinese-made vaccines.
Locals in Guangzhou, Shenzhen, Dongguan, and Foshan said they don't believe the government data on the number of infections and are convinced the outbreak is getting worse.
"We didn't hear any new infections being announced by the authorities, but they haven't unlocked the container terminal at the harbor. … The control is tightening up," Cheng Dong (pseudonym), a businessman who works at a factory close to Yantian harbor in Longgang district, Shenzhen, told the Chinese-language Epoch Times on June 19.
Cheng said a large number of cargo vessels weren't allowed to enter the Shenzhen harbors and have been waiting at sea for several days, while other ships decided to sail to the next stop. The products from his factory couldn't be shipped out. "Our storage is full. We have no place to put the newly produced products," Cheng said. He's worried the outbreak could be far worse than authorities have claimed.

Food Supply Shortage
Authorities identified the Indian variant as the strain of CCP virus causing the new outbreak in Guangdong. It started in the provincial capital of Guangzhou on May 21 and quickly spread to other cities despite draconian lockdown measures, including closing off residential compounds and some medical clinics, limiting travel, and requiring all residents to test for COVID-19.
The Indian variant is reportedly more contagious, and local authorities in nearby cities locked down residential compounds without giving advance notice. Residents said grocery stores were forced to shut down and people are running out of food supplies at home.
My family "has almost nothing to eat due to the sudden lockdown of the village on June 18. … There's nowhere we can buy food even if we have money," Wang Ping (pseudonym), resident of Xiashiwei village in Shenzhen, told the Chinese-language Epoch Times on June 19.
Wang's neighbor Chen Xian (pseudonym) is in a similar situation. He said: "Our family has six members, four are children. All the food we have is in my store [in another part of the village]. I can't go to my store to get the food, nor leave the village to buy [food and other supplies] due to the lockdown."
Chen was fortunate that a friend delivered instant noodles and milk to the entrance of his village, but he can only get the supplies after he takes a COVID-19 test.
Xiashiwei is a village close to the Bao'an International Airport, with tens of thousands of residents, most of whom are migrants and work at the airport.

Zhang Xin (pseudonym) lives at Jushu village in Liwan district, Guangzhou, and has a toddler who relies on baby formula. Jushu has around 15,000 residents and has been locked down since June 3.
After being locked down, "my baby was almost out of formula, and I couldn't find any to buy. … Four or five days after that, I asked the authorities, and they arranged a government-operated online shopping platform [to supply the formula]. However, the price is over 70 yuan ($11) per can more than the market price," Zhang said. "For food, we can only buy packages supplied by the regime … few choices and higher price."
Zhang's monthly salary is 2,000 yuan ($310), and the cost of rent for the room she shares with her family is 1,000 yuan ($155) per month.
Xin Bing (pseudonym), a resident at a residential compound in Dongguan, spoke to the Chinese-language Epoch Times on June 19 about the situation in his neighborhood.
"Yesterday afternoon [June 18], many government workers dressed in protective suits came to our compound with five or six shuttle buses. We didn't know what was going on and thought maybe they were going to take us somewhere for quarantine," Xin said. "Afterward, we realized they sealed off our neighborhood."
"Last night, over 1,300 families who live in the compound lined up for COVID-19 testing," Xin said. Before the test, "we rushed to shop at the stores inside the compound, and the shelves were emptied right away. Starting today, we're only allowed to shop online."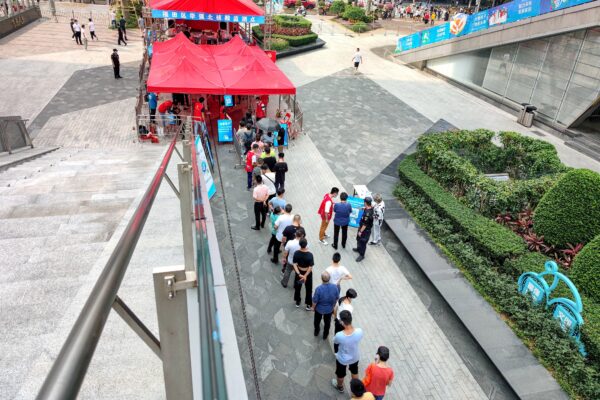 Vaccinated People Getting Infected
The interviewees told The Epoch Times that some local governments announced that several people were infected with COVID-19 despite receiving two doses of vaccine. They questioned the effectiveness of the homegrown vaccines but said they still decided to get vaccinated out of fear.
Beijing's Centers for Disease Control and Prevention announced on April 21 that the COVID-19 vaccine couldn't fully protect people, so some who had been inoculated had to undergo testing at the time.
The Chinese regime continues to reassure the public that vaccination can relieve COVID-19 symptoms for those who do get infected.
On June 20, China's National Health Commission announced that Chinese people had been vaccinated with over 1 billion doses of COVID-19 vaccine by June 19, with 100 million doses being given in the most recent five days.
"We're required to be tested after one person is diagnosed [in the neighborhood]," Liu Ya from Dongguan told the Chinese-language Epoch Times on June 19.
Liu is worried about the number of locked-down communities in the province, and she started worrying that anyone in her area might be infected, even if they've been vaccinated. Other interviewees expressed the same concerns.