An earthquake of magnitude 4.4 struck La Verne, California, at 7:33 p.m. local time on Aug. 28, the United States Geological Survey (USGS) reported.
Around a minute later, a 3.4 magnitude aftershock struck the same location.
The epicenter of the quake was 2 miles north of La Verne and 3.7 miles deep. The aftershock radiated from a depth of 2.7 miles. The shaking from the quakes lasted for about 30 minutes.
The quake was felt by those living in approximately a 50 mile radius of La Verne.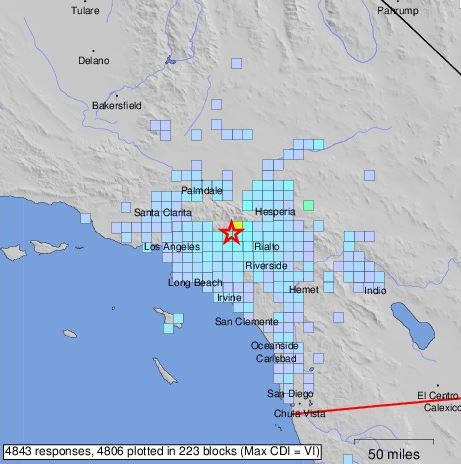 The primary quake was reported to give a feeling of sharp jolts near the epicenter and rolling motions farther away, Los Angeles Times reported.
Carillo's Close Call
Vickie Carillo, who lives around a mile away from the epicenter, was watching "Jaws 2" with her son at the time of the earthquake, the Times reported. She said that her boys and her two Jack Terriers felt as if "somebody had grabbed it and was shaking the house." The family picked their dogs up, ran outside, and gathered with around a dozen neighbors.
While the aftershocks were happening, Carillo said they walked around for 20 minutes and then went back inside when things were calm again.
She said the quake had opened doors that were closed and that she found many objects thrown onto the floor.
Moving House, but Not Really
Victor Flores lives in a two-story house in the hills of La Verne with his wife and daughters, Los Angeles Times reported.
He described how "hard and quick" the earthquake had hit while he was home with his family.
"It was moving the whole house," Flores said. "It shook hard for what seemed like 10 to 20 seconds, and then it just kept going. It as really loud too, kind of like thunder."
The whole family ran to their backyard, but they ran back inside when they saw the water in their pool intensely rolling in and out.
Fortunately, there hasn't been any serious casualties or damage to the affected areas.
"At this time there have been no reports of damage and no injuries. Officers are continuing to patrol the city," La Verne Police Department wrote on Facebook.